Monsoon flooding you need to see to believe: Weekend rains and rescues
This weekend monsoon thunderstorms continued to dump on the four corner states. Watch a school bus rescue, an elderly couple trapped in their home and waiters knee deep in water.
Monsoon-fueled storms from Friday through Sunday across Arizona, Colorado, Utah and New Mexico dumped as much as 8 inches of rain in areas. The FOX Weather Forecast Center reports that this is a once in every 2 to 10 year event, according to National Weather Service data. 
"The 2022 Monsoon season has been a busy one, with over double the average number of flash flood warnings issued this season to date," said a Meteorologist in the Forecast Center. "5-8 inches of rain has already fallen across parts of Arizona and New Mexico, it won't take much rain to cause additional flooding since the ground is so saturated."
SOUTHWEST MONSOON SEASON IS HERE: WHAT YOU NEED TO KNOW
Arizona leads the pack for damage with 467 flood reports so far this year. The deluges have lead to catastrophic flash flooding.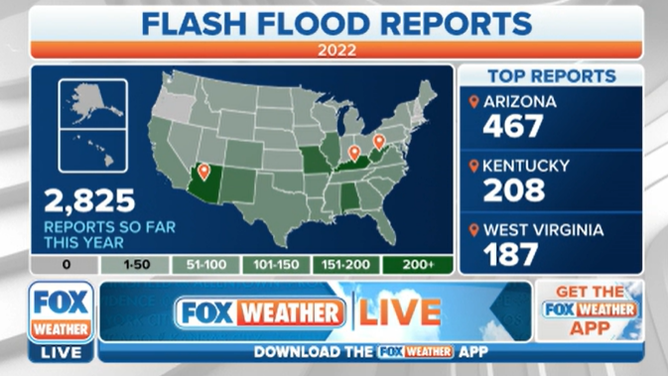 Arizona
Schoolkids in Picture Rocks, Arizona found out first hand how quickly floodwaters rise. The Pima County Sheriff's Department and firefighters carried 39 children and two bus drivers to safety after water overwhelmed their shool bus Friday.
Thankfully there were no injuries as the kids were rescued and moved to another bus.
"If you find yourself coming up to a road that's flooded turn around," Paramedic for the Queen Creek Fire and Medical Department, Matt Highstreet told FOX 10 – Phoenix. "It only takes six inches of rushing water to sweep your car right off the road."
Tuscon, Arizona
Tuscon, Arizona wasn't taking any chances with floods this weekend. They added additional swift water rescue staff on the schedule.
"The way the monsoon works is these storms blossom up really fast, though, huge amounts of water in a very localized area and then create downstream impacts which typically cover multiple areas, neighborhoods, washes," explained Chuck Ryan, Tuscon Fire Department Chief in the interview above. "Which then generate multiple calls for water rescues, vehicles stranded in water, people caught in the water, things like that. What I would like the public to be aware of is during these times is how busy we really get."
Ryan said lighting damaged several structures recently as well as took our a few 'beloved' saguaro cactus.
Cochise County, Arizona
The Cochise County Sheriffs' Office was forced to close several roads over the weekend. Watch the floodwater rise over streets in their Facebook post.
Flagstaff, Arizona
Monsoon floods stranded an elderly Flagstaff, Arizona couple. Thursday, was the first day in three weeks that Ruth and Glen Cisco were able to leave their home, they told FOX 10 Phoenix.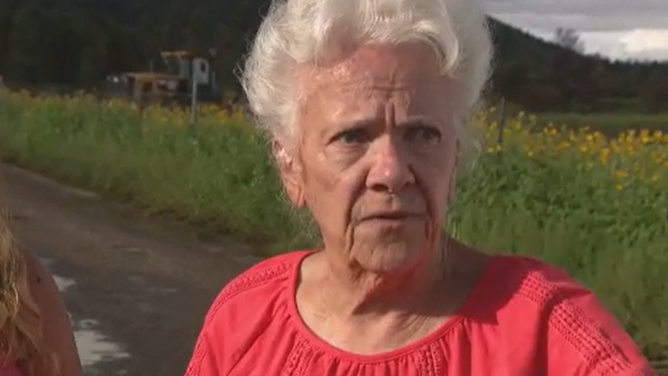 Mud, three feet high blocks their driveway, road and surrounds their home. The mud packed down, making driving possible from their garage across the neighbor's lawn on Thursday. That was before this weekend's shocking rainfall totals.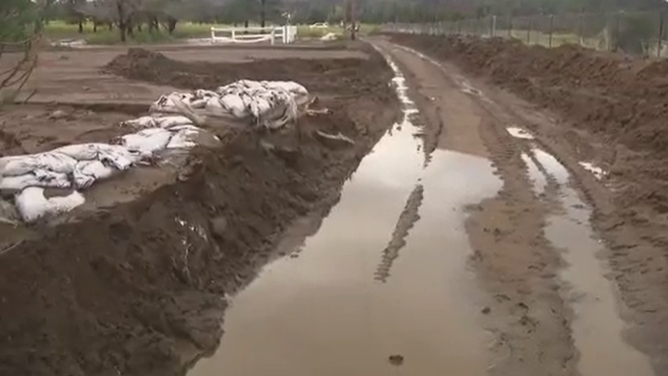 In the meantime, neighbors walk over food and grandchildren walk over medications. Glen Cisco recently suffered a stroke and neighbors worry that emergency care couldn't get to the house if he has another medical emergency. The county won't let flood victims dig out.
"The county put out a letter that says that anything that you do to deviate water flow could affect people downstream and upstream and financially you'd be responsible," concerned Cindy Garcia told FOX 10.
The Ciscos and Garcia can only watch the rain fall and mud pile up and wait until October which is generally the end to monsoon season.
Gilbert, Arizona
Some residents in Gilbert managed to find the silver lining in recent storms. Kids and adults alike set out to swim, paddleboard and boat in what used to be the neighborhood green space. 
"We came back we saw everyone playing, and she's like mom can we please play in it?" Mindy Sanders told FOX 10 about her daughter's request. "I said well I don't want to swim in it, but we can get the kayaks out."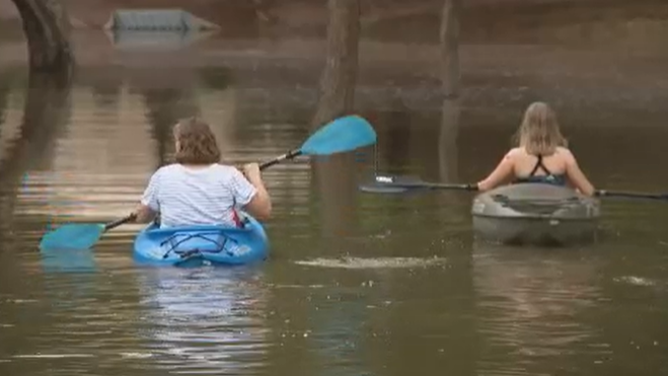 The NWS reported that about one inch of rain fell and turned this field into a water park. FOX 10 said the water accumulated in low-lying areas and some had two feet deep of water.'
New Mexico
The National Park Service evacuated over 200 visitors and staff from underwater caves at Carlsbad Caverns National Park.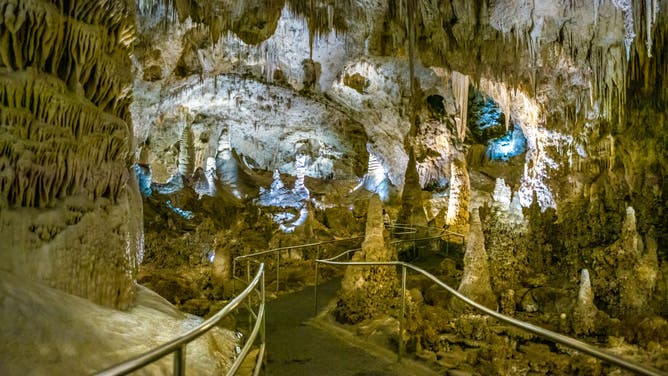 For a while, visitors were forced to shelter in place because rushing water rendered roads impassible, according to the Eddy County Office of Emergency Management. They also reported that first responders rescued several people in cars that tried to cross flooded roads. 
Utah
Restaurant staff at Dewey's in downtown Moab, Utah took off their shoes and waded through the restaurant, with music still playing for the non-existent dinner crowd. Water rose seat high in the dining room as waiters rescued welcome mats and runners making a break for it in the current.
"I can't get over how insane this is," remarked a staff member while walking past an electrical outlet near the kitchen, very close to the water's surface.
MONSOON FLOODING SWEEPS AWAY HIKER AT ZION NATIONAL PARK
Shoppers ran for shelter in the stores along Main Street in Moab, Utah. The front door of this shop held most of the water at bay. @Shannamd42 posted video and called it an "historic flash flood." Look how quickly the water is flowing.
Shop owners down the street watched the floodwaters wash a motorcycle into a car. 
"Oh boy. Look at that. I mean this is nuts," employees remarked while taking the video. "Has this ever happened [before]? Oh man, wow, it's getting fast."
DEATH VALLEY WRINGS OUT FROM HISTORIC 1-IN-1,000-YEAR RAIN EVENT AS MONSOON SLAMS SOUTHWEST
Parents carry kids across flooded Main Street as other shoppers ran for higher ground.
Colorado
High water forced the Grand County Sheriff's Department in Colorado to close several roads and trails. Take a look at the pictures and video they posted of landslides, swift moving water covering roads and standing water on highways.
Monday's forecast
These areas will have just a couple of days to dry out.
HOW TO WATCH FOX WEATHER ON TV
"Luckily, the monsoonal moisture will be less prevalent over the next few days meaning the chance of flash flooding will be decreasing," said the FOX Weather Forecast Center.
The rains also cooled off the region. Highs for the first few days of the workweek will be 10-20 degrees cooler than normal for this time of year.
The FOX Weather app is a great resource that can be used to alert you of any watches or warnings issued for your area. The free FOX Weather livestream is also available 24/7 on the website and app and on your favorite streaming platform. The FOX Weather Update podcast also provides weather information for the entire country.