Severe thunderstorms spread damaging winds, tornadoes across South, mid-Atlantic
The storms raced east into Louisiana later Wednesday morning, bringing wind gusts of 50-60 mph and reports of a few tornadoes.
JACKSON, Miss. --  A second severe weather outbreak in a week ravaged parts of the South midweek, bringing rounds of damaging winds, torrential rains and some tornadoes, leaving over a quarter-million people without power.
The Storm Prediction Center outlined a Moderate Risk for severe storms Wednesday across the Southeast. 
"There were a lot of wind damage reports with some tornadoes, probably mostly EF-2," Chris Broyles, SPC forecaster, tells FOX Weather. 
The storm began its wrath in Arkansas early Wednesday morning with an EF-3-rated tornado that tore through Springdale. Seven people were injured during the storm, two seriously.
The storms raced east into Louisiana later Wednesday morning, bringing wind gusts of 50-60 mph and reports of a few tornadoes.
Storm reports included a tree that fell into a home in Powhatan, trapping a family inside. A Dollar General store was damaged in Hodge, and near Girard, a tree fell into a law enforcement vehicle.
A tornado was reported along US 80 at Gin Road near Rayville and two trucks were toppled along nearby Interstate 20. Possible tornado damage occurred at the Tallulah Academy, according to the National Weather Service.
Spotters also said a roof was blown off a mobile home along Louisiana's Highway 555 in Crowville and multiple trees were toppled around the Baton Rouge and New Orleans area.  A rain gauge at LSU's Tiger Stadium reported 1.03 inches of rain in 13 minutes and 0.15 inches in one minute.
Mississippi Storms
The storms didn't slow down as they pushed into Mississippi. Multiple trees were toppled near Yazoo City due to a possible tornado. A tree fell into a home in Florence.
The storm raced into Jackson with its torrential rains and damaging winds.
"We are getting several damage reports in," Bill Parker, the Meteorologist in Charge at the National Weather Service office in Jackson, told FOX Weather.
He said most of the damage was along the Highway 80 corridor through the southern part of Jackson, just south of Jackson State University.
"We're getting trees down; we've heard some reports of damage to homes, damage to businesses," Parker said. "But mostly damage caused by trees coming down in that area."
One tree fell into Eunessa Hampton's home near Jackson.
"We heard the thundering and stuff and my 6-year-old grandson was in the kitchen and I just heard a big boom," Hampton told FOX Weather. "I immediately ran with him as he was screaming into the closet for shelter. After everything kind of calmed down and I came out, that's when I realized the tree had actually fallen into the house. It pushed in two walls… the center fell in in the kitchen; water is everywhere."
The damage includes one large tree that crashed down near the governor's mansion.
Florence and Hattiesburg spotters reported tree damage as well. About 57,000 people in Mississippi lost power during the height of the storm.
Possible tornado damage was reported just north of Biloxi near Vancleave, near Mclain, around Bigbee Valley and east of Meridian.
So far, there are no reports of any injuries or deaths in Louisiana or Mississippi with Wednesday's storm.
Alabama Storms
Just after 8:30 p.m. CT, the SPC warned of the increased tornado threat as the line of storms crossed the border into central Alabama.  
As the line continued east, spotters confirmed a tornado in Tuscaloosa County. As the severe storms moved through the county, sirens were heard in downtown Tuscaloosa.
Other tornadoes were confirmed, including one that the NWS issued a Particularly Dangerous Situation Tornado Warning for in Bibb County just after 10 p.m. CT. 
At least one person was injured when officials say that a manufactured home was overturned by the storm. 
Radar showed that debris was lofted to 13,000 feet in the air for the tornado in Bibb County.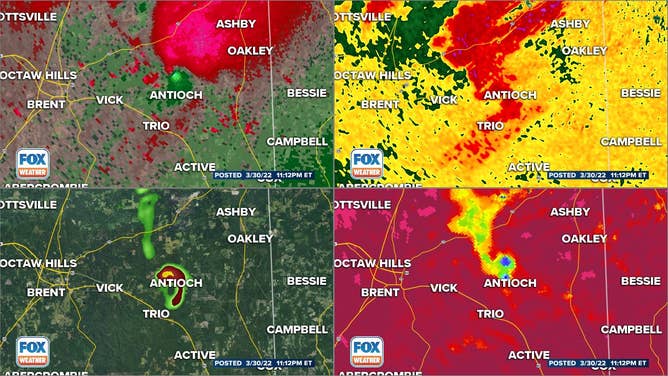 Significant damage was reported after a tornado hit southwest of Birmingham.  
"There was a higher-end tornado southwest of Birmingham this evening," Broyles said. 
Broyles said their radar measurements estimate the tornado near Birmingham to be marked with at least an EF-3.
Mobile took the brunt of the storms shortly after when four tornado warnings were issued in and around the city.
The NWS also warned of waterspouts with the tornado warnings issued off the Alabama coast.
As the sun rises on the Southeast Thursday, crews will be able to assess the damage.
Wind damage stretched north into Tennessee, Kentucky, Illinois and Indiana
While tornado reports were mostly confined to the Gulf Coast states, several reports of damage from straight-line winds stretched into Tennessee, Illinois and Indiana as the line of severe storms stretched over 630 miles during its height. 
Jackson, Tennessee, which reported a gust of 54 mph, had multiple reports of trees down and "major structural damage" to homes in the region. Structural damage was reported at the Forrest Grove Nursing Home while windows were blown out at the nearby Jackson Hospital. The Madison County Sheriff's Office also suffered damage.
The Nashville area wasn't spared either. Gusts over 50 mph send trees toppling around town, including part of the exterior of a hotel blown off at 4th and Church Street.
Damaging winds were spreading into East Tennessee by early Thursday morning, with Knoxville recording a gust of 61 mph just after 2 a.m. CDT. 
A gust of 73 mph was reported in Morganfield, Kentucky with scattered tree falls and power outages across the western side of the state.
Trees were down across parts of Southern Illinois and Indiana as the storms cut through their states. The town of Aiken, Illinois reported severe siding and roof damage to homes there with two outbuildings destroyed.
Mid-Atlantic storms
The severe weather continued through Thursday evening across portions of the East Coast with several major cities put under warnings.
A rotating storm was spotted from Raleigh's International Airport on Thursday afternoon triggering a Tornado Warning.
Meteorologists said several tries were down in the area from the suspected tornado.
Further north, a significant storm around the nation's capital forced the National Weather Service to issue a Tornado Warning for the District of Columbia.
Meteorologists are expected to examine damage on Friday across the mid-Atlantic to determine where twisters formed.