Las Vegas roads swamped as monsoon thunderstorms trigger flash flooding
As much as an inch of rain fell in short blasts as strong thunderstorms rolled over southern Nevada Friday morning, turning some streets into instant rivers and stranding several vehicles.
LAS VEGAS – Strong thunderstorms from the summer monsoon caused flash flooding along parts of Las Vegas Friday morning.
Heavy rains turned roads into lakes, and several vehicles became stuck or submerged on flooded roadways.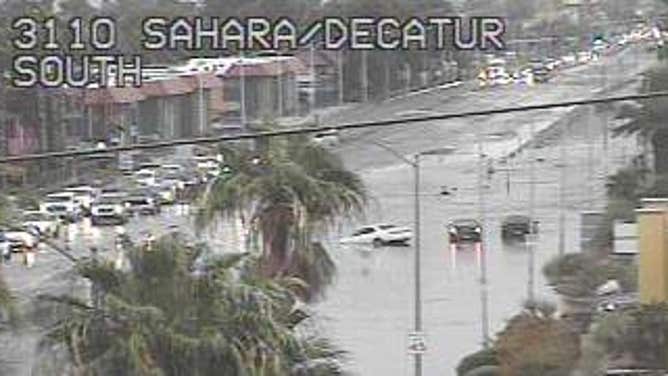 Video shot at the LINQ Hotel and Casino showed water gushing from the parking garage – almost like river rapids.
Rainfall totals reached 0.50 to 1.00 inches or more Friday morning in short bursts of torrential rains. The National Weather Service issued a Severe Thunderstorm Warning for Las Vegas and other parts of southern Nevada, cautioning residents of powerful wind, small hail and heavy rain. 
The flooding came hours after Phoenix was rocked by storms that created a wall of dust. Several flights into Sky Harbor International Airport were diverted and a college football game at Arizona State University was delayed due to the wild weather.
The evening commute in Las Vegas was also impacted by high water created by additional rounds of showers and storms. A Flash Flood Warning was issued for Clark County and the NWS reminded residents that as few as six inches of fast-moving water could knock over an adult.
The FOX Forecast Center says more showers and thunderstorms are likely through the first half of the weekend.
Millions of residents from four states were placed under Flood Watches due to the threat of additional precipitation from the monsoon.