Monsoon triggers massive dust storm across Phoenix, delaying college football and diverting flights
Arizona State University temporarily suspended the football game against Southern Utah and asked fans to seek shelter as strong thunderstorms triggered a dust storm with 70+ mph wind and frequent lightning in the Phoenix area.
PHOENIX – The monsoon season kicked into high gear on Thursday, producing 70 mph wind, lightning, heavy rainfall, hail and even a sweeping dust storm across Arizona.
Maricopa County - home to the Phoenix area – appeared to be one of the hardest-hit locations, with thousands of power outages, diverted flights and the temporary suspension of the Arizona State University football game.
The FOX Forecast Center says a strong to severe thunderstorm that developed just south of Phoenix likely produced winds in the range of 50-80 mph that caused a dust storm to develop. Multiple wind gusts over 65 mph were reported at Phoenix' Sky Harbor Airport over a two-hour period Thursday night, including gusts of 71 and 73 mph. 
A Dust Storm Warning was issued for parts of the metro, and the National Weather Service warned of visibilities of less than a quarter of a mile.
SOUTHWEST MONSOON SEASON IS HERE: WHAT YOU NEED TO KNOW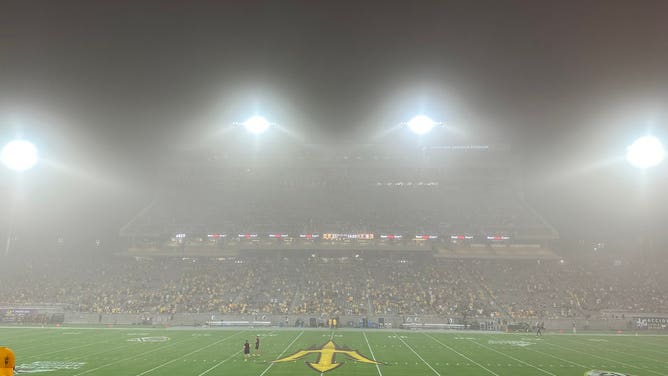 Massive plumes of dust blew into Arizona State University's stadium just before halftime as the Sun Devils were taking on Southern Utah University in Tempe.
The game was temporarily suspended for 2.5 hours, and fans were asked to seek shelter until the weather improved and lightning abated. Arizona State eventually won 24-21, finishing up the game around 1 a.m.
PowerOutage.us reported around 80,000 outages across the state during the peak of the storm, with many located in Pinal, Yavapai and Maricopa counties.
A ground stop paused operations at Phoenix's Sky Harbor International Airport, leading to several delays and cancelations. The airport encouraged passengers to check with their airline to determine the status of their flights.
The monsoon season began in June but got off to one of the slowest starts in memory, which led to historic heat waves across the Southwest.
An uptick in shower and thunderstorm activity is expected to continue through Saturday before drier weather works in Phoenix and much of Arizona over the Labor Day holiday.