Lakes Mead and Powell remain historically low despite improving water levels
Conservation efforts and improved hydrology meant significant improvement for Lake Mead but water levels remain historically low.
The battle for water in the West wages on. The Bureau of Reclamation announced that the country's largest and second-largest reservoirs, Lake Powell and Lake Mead, saw improved water levels but recovery back to a full pool is a long way away, if ever.
"The above-average precipitation this year was a welcome relief, and coupled with our hard work for system conservation, we have the time to focus on the long-term sustainability solutions needed in the Colorado River Basin," said Reclamation Commissioner Camille Calimlim Touton in a statement. "However, Lake Powell and Lake Mead – the two largest reservoirs in the United States and the two largest storage units in the Colorado River system – remain at historically low levels."
Winter record snowfall great for lakes, but not enough
The biggest improvement is that Lake Mead will operate in Level 1 Shortage Condition, which was downgraded from the Level 2 set last year. That will not mean much more water for states and Mexico downstream, though.
BARRELED BODY COULD BE FIRST OF GRUESOME DISCOVERIES AT LAKE MEAD AS DROUGHT WORSENS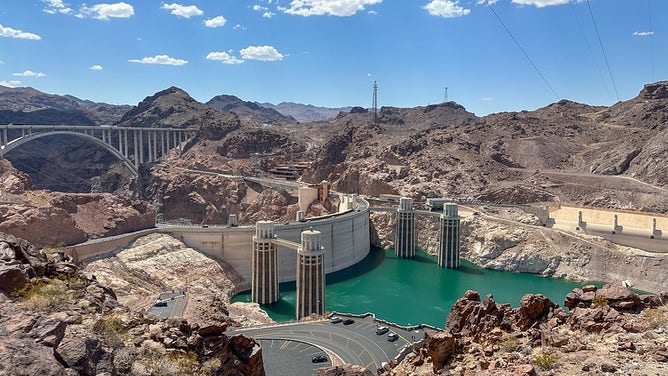 "Lake Mead's release in 2023 is projected to be the lowest in 30 years, approximately one and half million acre-feet lower than an average normal year, reflecting extensive, ongoing conservation efforts in the Lower Basin states funded in part by President Biden's historic Investing in America agenda, above-normal inflows in the lower basin below Hoover Dam and conservation in Mexico," stated the BOR.
Lake Powell, which feeds Lake Mead with its outflow, will continue to operate in a Mid-Elevation Release Tier through 2024, according to the BOR. 
Together Lake Powell and Lake Mead are only 35% full in terms of water storage. Compared to full pool, last seen around 2000 at an elevation of 1,219 feet, Mead is now at 1,061 feet, up from the record low seen last July at 1,040. Currently, the water level is 110 feet above the minimum elevation required to generate power with the Hoover Dam. At 849 feet, no water would flow downstream.
ROBBING LAKE MEAD OF WATER: THE EMERGENCY PLAN AIMED AT KEEPING WATER FLOWING TO THE WEST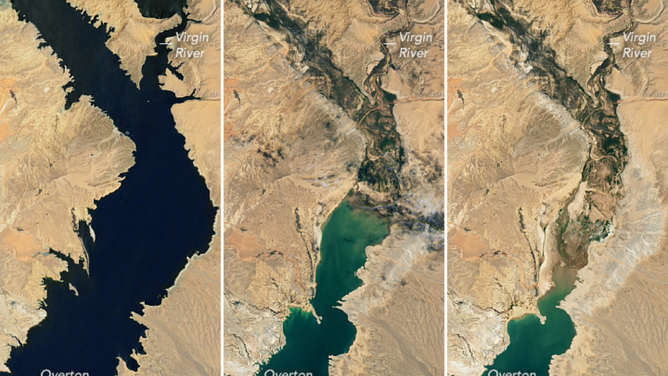 The new norm
Current policy means that Arizona will only receive 18% of the state's annual allotment of Colorado River water. Nevada will receive 7% of the annual allotment. Mexico will only get 5% of the annual allotment.
Lake Powell's current water elevation is 3,576 feet. The BOR's goal in moderating outflow is to keep the elevation at or above 3,525 at the end of December 2023 for the Glen Canyon Dam. The goal is 175 feet below full pool. Dead pool, when water no longer flows out of Powell, occurs at 3,374 feet, according to the Sierra Club. 
Water officials warn that reduced allotments could become the new norm.
"As we experience a warmer, drier west due to a prolonged drought, accelerated by climate change, Reclamation is committed to leading inclusive and transparent efforts to develop the next-generation framework for managing the river system," said Calimlim Touton.
ONGOING 22-YEAR DROUGHT IN WESTERN US IS DRIEST PERIOD IN OVER 1,200 YEARS, STUDY FINDS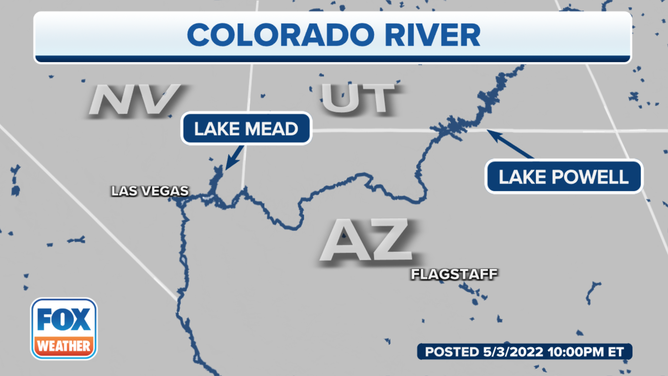 Water managers agree that the future looks grim for these lakes. 
"So the prognosis is this is a good year we're having so far. But it's just a small bump, small increase," Bill Hasencamp, Manager of Colorado River Resources for the Metropolitan Water District of Southern California, told FOX Weather. "But overall, the long-term trend isn't looking good for these two big reservoirs."
LONG TERM 'ISN'T LOOKING GOOD' FOR LAKE MEAD AND LAKE POWELL, AMERICA'S LARGEST RESERVOIRS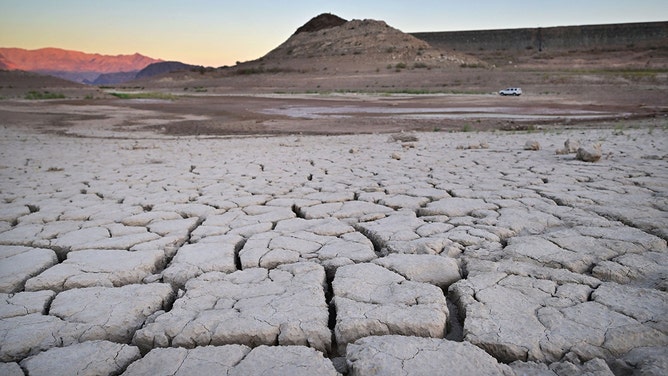 Over 40 million people depend on the Colorado River Basin for drinking water across seven states, tribal lands and parts of Mexico. The Colorado River irrigates 25% of the nation's food, according to the U.S. Bureau of Reclamation (BOR). Hydroelectric power plants deliver electricity to 5.8 million customers. And Lake Powell, the BOR says, is the West's safety net during drought.
"[Lake Powell] serves as a 'bank account' of water that is drawn on in times of drought," states the BOR website. "This stored water has made it possible to successfully weather extended dry periods by sustaining the needs of cities, industries, and agriculture throughout the West."