Kilauea volcano on hiatus after active winter
One day after officials warn that Kilauea could erupt at any time, they dropped threat levels and said the volcano is no longer erupting.
Hawaii's Kilauea Volcano is no longer erupting, according to the U.S. Geological Survey. This comes just one day after a research team found a magma intrusion under the summit prompting the same scientists to issue warnings, saying the volcano could erupt at any time.
Scientists discovered the intrusion on Saturday morning. The molten rock deformed the ground but never broke through the surface in which case the magma would be called lava. Kilauea has been active for about 5 days.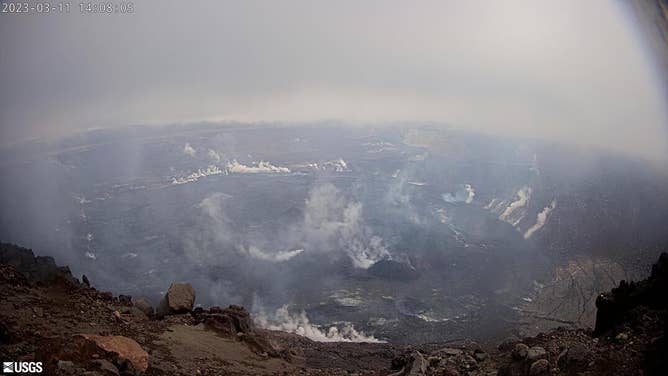 A shallow earthquake swarm followed just under the summit. Next came a 3.4 magnitude temblor about 5 miles away which did trigger a rock slide in the Volcano National Park.
Seismic activity quieted down, and the caldera deformation settled out again. That prompted official to lower the threat levels. 
"Resumption of eruptive activity at Kīlauea summit no longer appears to be imminent, although it is possible that another intrusion or resumption may occur in the near future with little or no warning." said the USGS in a statement.
WHAT MAKES PELE'S HAIR DURING A VOLCANIC ERUPTION?
LAVA SAMPLES HELP SCIENTISTS 'SEE' INSIDE MAUNA LOA VOLCANO
Kilauea, Hawaii's second-largest volcano has been erupting intermittently since 2021. At one point visitors and locals alike flocked to area to be treated by a rare glimpse of Kilauea and the world's largest volcano, Mauna Loa, erupting simultaneously in November and December 2022, according to the USGS.
After a quiet 38 years, Mauna Loa put on a show spewing lava. But scientists say they no longer detect active lava within the caldera and rift zone. Satellite images show that the 2022 lava flow field is cooling as well.