Keeping rescue horses warm in the frigid air proves challenging in Upstate NY
Little Brook Farm rescues horses, mules and miniature horses year round from slaughter, law enforcement seizures, auctions and hardship of the owner.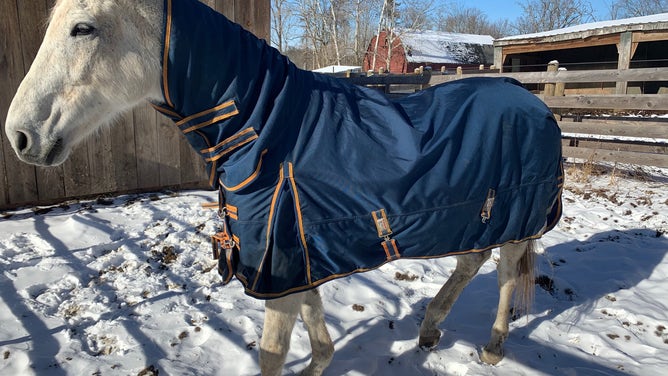 Lynn Cross' passion and life's work is saving horses from abuse and slaughter. Her dedication led her to found the Little Brook Farm, where she nurses them back to health to live out their lives comfortably. But, the cold weather makes this an extreme challenge.
"These are very old horses," she said about many of her horses who live well into their 30s and some into their 40s. "Like an elderly person, you've got to be paying attention. For a lot of them, their circulation perhaps isn't as good as a younger horse."
Three horse years is equivalent to one human year.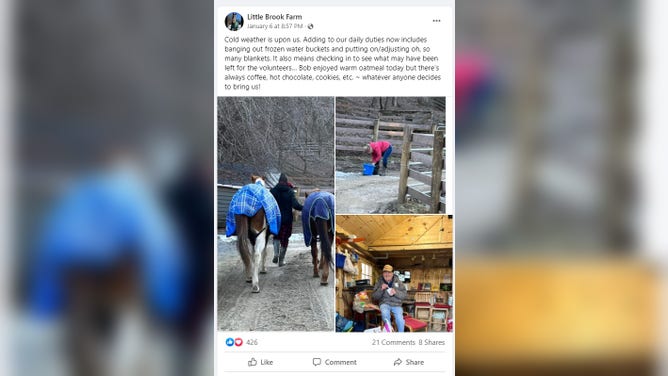 FOX Weather has been following this Arctic blast that chilled Little Brook Farm, the coldest air in the Northeast since 2019. 
ARCTIC AIR INVASION BRINGS COLDEST AIR IN THREE YEARS TO THE NORTHEAST
Cross said her farm in Old Chatham, New York, about 20 miles south of Albany, hit one below zero Tuesday morning and the wind chill neared 20 below. Roads and fields were covered in ice.
"We have one horse, 38, and she's the one I can't get across the ice to bring into the barn," said Cross of Mandy, one of her oldest horses. "So, she's wearing two big, heavy winter blankets. We had to take all her food and water out to her in her running shed." 
The temporary shed had no insulation. Cross and her volunteers had to make several trips per day because Mandy's water bucket kept freezing.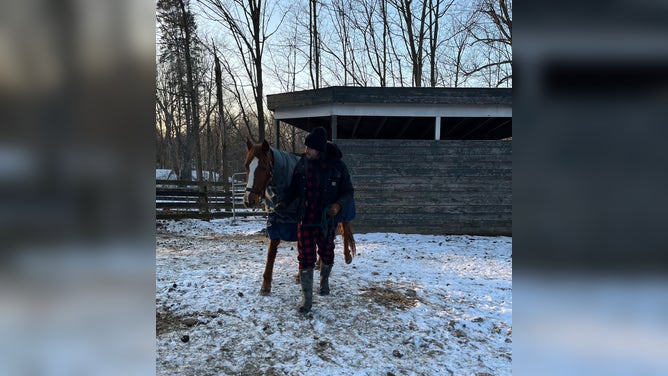 "Aro is a camp horse that we rescued this summer, but he has some arthritis. He has trouble getting up sometimes," added Cross.
A combination of the cold aggravating his arthritis and his inability to walk on the ice kept him immobile. Cross had to call the vet Tuesday morning to get him standing up again. 
"The camp horses don't have a very good existence, and they're just used hard, and most of them are sent to slaughter when they can't be used anymore," said Cross of the neglect the beloved horse suffered.
A volunteer bought Aro a heated water bucket and heavyweight blanket.
How do you know a horse is cold?
"They'll stand hunched over, and they look unhappy, and you'll see them shivering. And I don't want anyone shivering," she said about blanketing the horses.
Not all horses need blankets. They have their own winter coat. Many have never worn blankets. But, with temperatures and wind chills below zero, some animals need the extra-heavy coat. 
"A lot of the horses are getting their blankets swapped out to the heavyweight blankets. But horses have their own natural, fuzzy coat in the winter for insulation," explained Cross.
The blanket presses down the animal's own coat, negating its insulating capabilities. 
"So you have to have a blanket on that's warm enough because that's worse than having no blanket at all," she said.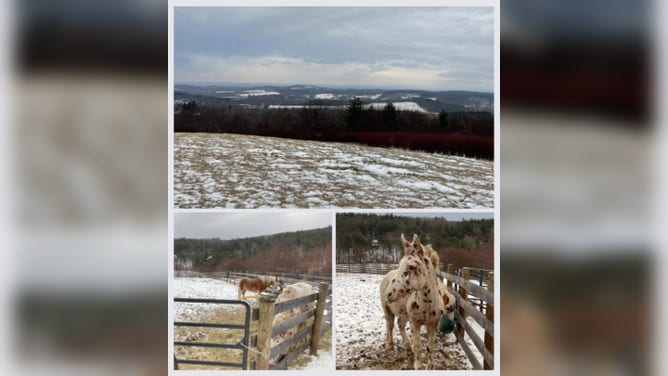 "Horses don't do well with heated buildings. You can put a blanket on a horse, and you can take that off. Going in and out [of a heated barn] can give them more health problems like colic, the number one killer of horses," Cross explained why keeping the horse warm enough but not too warm is challenging. "The stress of being really cold or being really uncomfortable of any sort of these changes in temperatures are really, really hard on the horses."
Senior horses have more cold weather needs
"Senior horses, in particular, they require extra calories to keep their weight in the cold and keep warm, and you have to pay attention to them a little more. A lot of the horses get their grain warm in the morning," admitted Cross.
The ground is frozen, the water buckets are frozen and the volunteers are freezing.
Cross shared a picture of the ice cleats her volunteers use to get traction on the ice.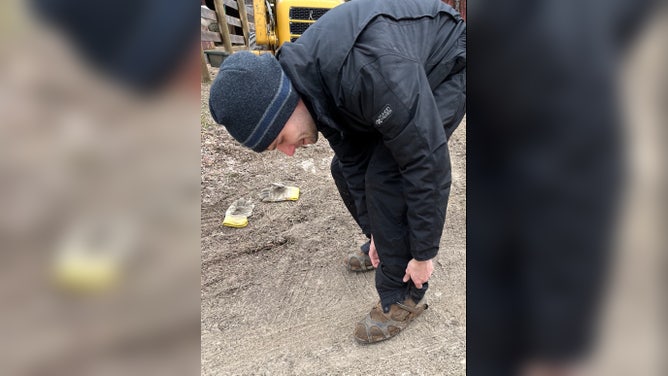 "It's very icy right now. The roads and driveways are just a sheet of ice," she added. "I'm responsible for over 100 animals here, but they're not all here at the main barn. A lot of them are at foster homes, and I have some landowners that let us use their barns facilities at no cost. We drive around every day and take care of the horses that are there. And that allows me to have more horses doing it that way. The downside is that we're driving out on bad roads."
More cold and snow are in the forecast for the weekend.
LATE-WEEK WINTER STORM COULD IMPACT MIDWEST TRAVEL; SOUTH, EAST COULD BE NEXT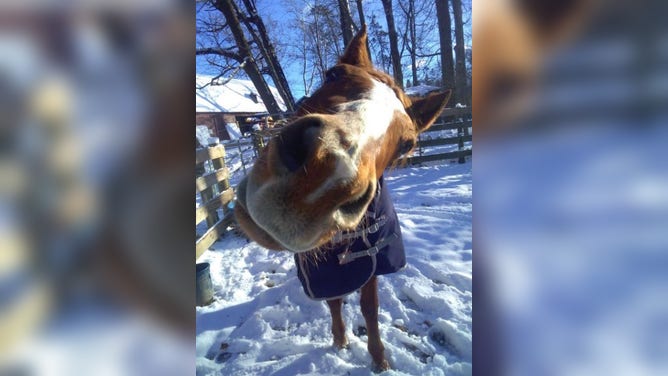 The horses give back in warmer months
In the spring, summer and fall, the rescues in Crosses' non-profit B.I.T.S. (Balanced Innovative Teaching Strategies). Partnered with the New York State Department of Education, the venture provides equine therapy for special needs and at-risk inner-city children.
"The entire class would come with their teachers, their physical therapists, speech therapists -- the whole group would come out on a bus and do a program here with the kids."
The initial class of students visited the farm once a week, she said, "so her [teacher's] kids were autistic, and they just progressed unbelievably so in a year in a year's time."
Visiting school kids ride, learn to groom and build hay mazes for teambuilding. After the farm portion, Cross explained that the kids take the bus to the top of her property for lunch.
"They get their class picture. They get to roll down the hill, which they've never done before, and then take a hike. This one little guy was sad when he was getting on the bus, and he asked if he was done for the day, and I said, 'No, no, no. We have one more thing. You're going on a hike.' And then he says, 'What's a hike?' So that's some of their first times going through the fields in the woods and picking flowers and no cars, nothing. It's just in the middle of nowhere."
Little Brook Farms also runs classes for law enforcement. Police officers, animal control officers, even a district attorney have come to the farm to learn laws and procedures.
"They do all hands on here; how to catch a horse, put a halter on, identify colors, and evaluate body condition. A lot of the police officers that attend our class will then call us when there's an issue with a horse and they have questions. So we end up taking quite a few horses that have been involved with seizures."
Cross said that Little Brook Farm and its volunteers don't mind giving extra attention and care to these horses in the cold because they give so much back to the community in the warmer weather.