Hold the butter: Rare, orange-colored lobsters saved by Red Lobster, Ripley's Aquarium
Ripley's Aquarium is setting out to study the recent discovery of the orange lobsters, which is a 1-in-30-million chance, to see just how rare the vibrant color is.
Not one, but two rare orange-colored lobsters have been discovered and saved by the restaurant chain Red Lobster and Ripley's Aquarium, and now research is being conducted to find out just how rare the vibrantly colored crustaceans are.
Last month, the internet was abuzz with word that the popular restaurant chain made the 1-in-30-million discovery of Cheddar the lobster at its restaurant in Hollywood, Florida, which was sent off to Ripley's Aquarium in Myrtle Beach, South Carolina, to be forever protected from predators in her new home.
HOW TO WATCH FOX WEATHER ON TV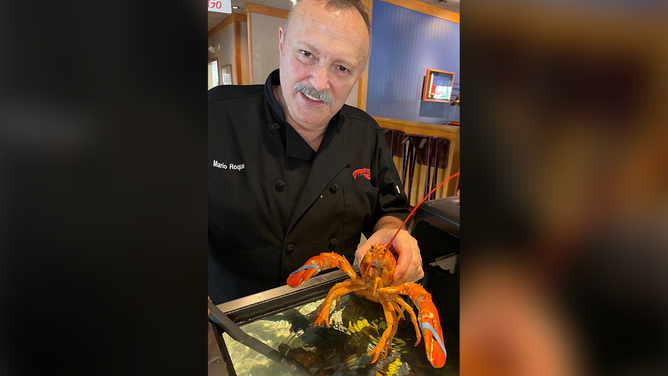 "Sometimes ordinary miracles happen, and Cheddar is one of them," said Mario Roque, a manager at Red Lobster, at the time of Cheddar's rescue in July. "A group of incredible people helped us make this possible. We are so honored to have been able to save Cheddar and find her a new home."
With 1-in-30-million odds that Cheddar would be found in the first place, surely the story would end there, right?
Not so much.
Fast-forward to the beginning of August when the popular restaurant chain made another remarkable discovery. This time, another orange-colored lobster named Biscuit was saved.
This orange-colored lobster was rescued from a Red Lobster in Meridian, Mississippi.
A team from Ripley's Aquarium of the Smokies, located in Gatlinburg, Tennessee, came to the rescue and brought Biscuit to that facility, where it can live out the rest of its days in peace.
With the rescue of Cheddar, Biscuit and a third orange lobster, Pinchy, in Canada, people started wondering if orange lobsters aren't as rare as they were thought to be.
"Orange lobsters are uncommon but perhaps not as rare as we first thought," said Ripley's Aquarium of the Smokies Director of Husbandry, Jared Durrett, in a statement. "Lobsters obtain their color through the pigments they ingest in their diet. If these orange lobsters are being harvested from the same region, perhaps their localized diet contains a pigment that, when paired with the lobster's genetics, creates the orange coloration we are seeing."
Red Lobster has since confirmed that both Cheddar and Biscuit were located in the same fishing area, leading people to believe that the orange color is indeed based on what the crustaceans are eating.
Now, a partnership between Red Lobster and Ripley's will allow the companies to collect data from local fishermen to try and learn the reasons behind the unusual coloring.
Biscuit will go on exhibit at Ripley's Aquarium later this year once she's acclimated to her new home.