Perilous Pacific punch: Historic surf smashes away chunk of 550-year-old Hawaiian lava arch
Photos of the Hōlei Sea Arch taken over two days show a large section of rock is now missing from the base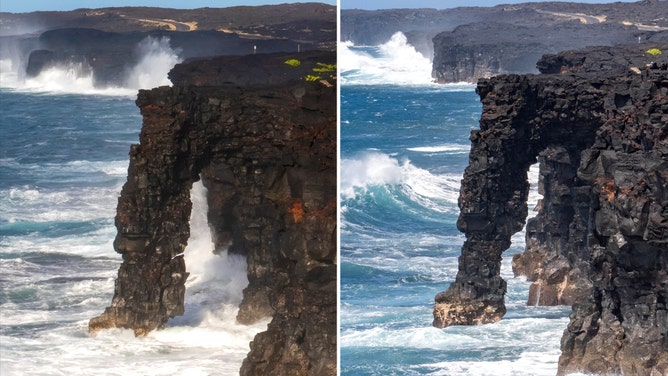 HONOLULU -- A natural lava rock formation in Hawaii that has been hundreds of years in the making is in danger of succumbing to the Pacific Ocean after taking a particularly withering blow from pounding surf over the weekend.
The Hōlei Sea Arch has stood 90 feet tall on the coast in Hawaiʻi Volcanoes National Park, drawing tourists to gape at its natural shape as the Pacific Ocean pounded into an ancient lava flow about 550 years ago, according to the National Parks Service.
But what meteorologists are calling "historic surf" hit Hawaii over the weekend and appears to have taken a large toll on the arch. Photos of the arch taken Sunday and again on Monday morning show a large section of rock is now missing from the base, leading to worries the arch has become even more unstable.
WATCH: COLOSSAL WAVES FROM HISTORIC SURF CRASH OVER 2-STORY CONDO IN HAWAII
The arch has been closed for years due to its instability as Earth cracks, erosion and steep ocean cliffs are a few of the hazards near the arch. But NPS officials warned Wednesday "it is possible the arch could collapse into the ocean at any time without warning!"
They say to admire "what could possibly be a last look" at the arch from a safe viewing distance such as along Chain of Craters Road.
WATCH: HUGE WAVES CRASH WEDDING AT HAWAII COASTAL RESORT
"Sea arches are beautiful, and a temporary part of the ever-changing volcanic landscape," the NPS said. "A continued battering of waves and erosion created the shape we see today."
Be sure to download the FOX Weather app to stay up-to-date on everything in the tropics this hurricane season. The free FOX Weather livestream is also available 24/7 on the website and app and on your favorite streaming platform. The FOX Weather Update podcast also provides weather information for the entire country.