Hail, wind from tornado-warned storm clobber Missouri town
In a matter of minutes a camera view in Bolivar, Missouri, went from clear to eerie
BOLIVAR, Mo. – A powerful thunderstorm swept through the Bolivar, Missouri, area on Thursday.
The National Weather Service issued a Tornado Warning for the area as the storm moved through the region. While there were no immediate reports of a tornado occurring, the storm did produce large hail, fierce winds and blinding rain.
The video at the top of this story shows how quickly conditions went from clear to eerie.
Video showed shared with FOX Weather showed marble-sized hail hammering one back yard. The balls of ice accumulated on the ground, giving it a wintry appearance despite the 70-degree temperatures. Someone can be heard yelling, "Get away from the window," at the person recording the video during the height of the storm.
Spotters reported ping-pong- and half-dollar-sized hail across parts of Missouri and Kansas on Thursday. Hail shattered multiple windshields and windows in Olympia, Missouri.
Heavy rains also cut visibility and created rivers of runoff. The NWS issued Flash Flood Warnings for several Missouri counties until past midnight. So far, between 1 and 3 inches of rain has fallen in the area.
FOX Weather forecasts more severe weather for Friday, but Missouri looks to escape the worst. The most likely area for severe thunderstorms, large hail, strong winds and possible tornadoes stretches from the Texas Panhandle through western Kansas and into southwestern Nebraska.
POWERFUL STORM COULD BRING SEVERE WEATHER, BLIZZARD CONDITIONS TO PLAINS STARTING FRIDAY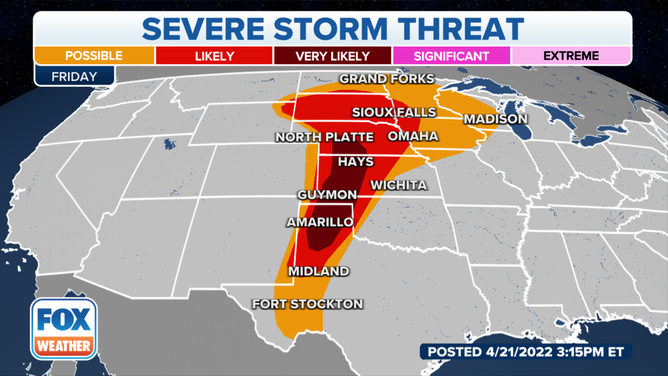 Watch FOX Weather on TV or bring the app and FOXWeather.com with you to stay ahead of the storms.