'Every window is gone': Watch as record grapefruit-size hail pummels car while 3 huddle inside
The onslaught of hail lasted 17 minutes and the 3 inside were 'fearing for (their) lives'
RED DEER, Alberta – Three in Alberta had to huddle for safety inside their car Monday as it suffered an onslaught of grapefruit-sized hail during a thunderstorm that would go on to set a Canadian national record.
Video recorded by Gibran Marquez Cedillo shows the three friends caught in the storm outside Red Deer as the massive hailstones shattered the windshield and side windows.
"Well, my first thought was: just take cover, cover your head," Karlee Bertsch, who was one of the passengers, told FOX Weather. "But then it was every single window started getting shattered. It just kept coming faster and faster… there's just so much fear."
15 minute barrage felt like eternity
Bertsch, who owns the car, said her vehicle suffered major damage after being battered by the hailstones.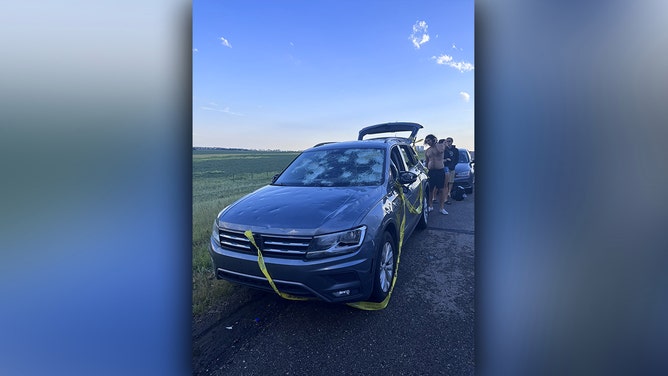 "It's my vehicle. Every window is gone, but two of them, which was my passenger side and the window behind me," Bertsch said. "Everything is dented." 
Another passenger, John Tezcan, told FOX Weather it felt like the extreme weather event was never going to end. 
"I think it was around like a 15-minute mark, but how it felt like was like an eternity," Tezcan said. "You would just kind of head down and hoping for the best."
Cedillo said the three were returning from a warm, summer day at the Calgary Zoo and storm caught them off guard.
"It was just one of those things that hit us out of nowhere," Cedillo said. "The tornado warnings came in about 5, 10 minutes earlier but we were seeing sunshine so, how seriously could you take it?"
The made it through with just some minor injuries.
"We have little cuts here and there; I have a bunch on my back from the way I was turned trying to cover (Bertsch) from all the glass," Tezcan said. "Jebran got hit in the head by a piece (of hail) bouncing off the seat; I got hit in the ribs a couple of times."
Hailstone sets Canadian record
Hail researchers with Western University's Northern Hail Project, who were chasing the storm, arrived about 20 minutes after the cell passed to find the ground littered with grapefruit-to-softball sized hailstones. They collected seven bags worth of stones for analysis.
One stone in particular caught their attention, and sure enough would go on to set a Canadian national record for both the largest and heaviest hailstone ever measured.  
The stone measured 125 millimeters in diameter (4.84 inches) and weighed 292.71 grams (10.3 ounces).
That still pales in comparison to hail stones found in the United States, whose national record is a 7-inch hailstone found in Vivian, South Dakota
Experts: Pull over, crouch down and ride out the hail storm
If you're ever caught outside driving in such a storm, stop the car and pull over as this trio did. Driving compounds the hail stones' impact with your car, according to hail safety tips from the Oklahoma Department of Transportation.
HOW LARGE IS 'GOLF BALL-SIZED HAIL?
However, while stopping under an overpass may look enticing, safety experts say don't stop there as you may create accidents on the highway.  Also, don't head for ditches, as heavy rains from the storm may quickly cause water levels to rise.
Instead, pull well off the road and angle your car to where the windshield is facing the hail.
"Windshields are reinforced to withstand forward driving and pelting objects," the Oklahoma DOT says. "Side windows and back glass are not, they're easier to break."
Your car will provide protection
Safety experts suggest lying down in your car seat and keeping your back to the windows if possible. Also, cover yourself with any available items such as a blanket, jacket or sweatshirt to keep any broken glass from hitting you.
'THE WINDOW'S GOING TO BUST!': COUPE CAUGHT ON TEXAS HIGHWAY DURING MASSIVE HAILSTORM
And as frightening as it might be to stay in the car and be tempted to make a run for shelter, experts stress to stay in your car until the hail passes.
Hailstones approaching grapefruit size can fall at speeds approaching 100 mph, according to the National Weather Service. That can cause serious injury.
"Your car will provide reasonable protection," the DOT says.
Be sure to download the FOX Weather app to track any storms in your area and receive potentially life-saving weather alerts issued by the National Weather Service. The free FOX Weather livestream is also available 24/7 on the website and app and on your favorite streaming platform. The FOX Weather Update podcast also provides weather information for the entire country.