Extreme weather is driving the need to diversify America's power grid
Solar could make up 42% of annual power grid by 2035, study finds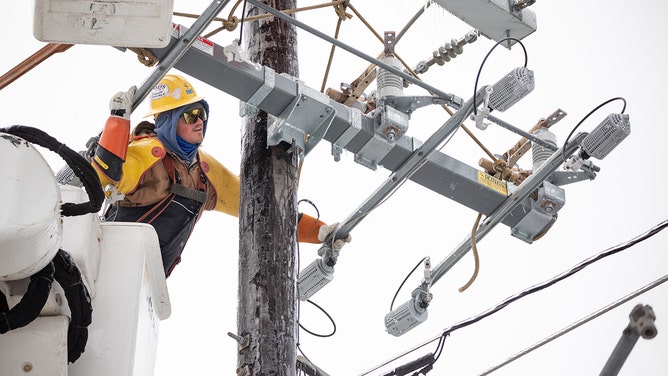 Recent weather events from ice storms, wildfires and hurricanes have made people realize that losing power is no longer rare.
"This fallacy of, 'Oh, it's unprecedented this and that, and this flooding will never happen again' until two years later and all this other stuff, it's hogwash," Sunnova CEO John Berger said.
Berger, who runs a residential energy service firm based in Houston, said weather events like the Great Texas Freeze in 2021, along with the rising price of oil and gas, are among the reasons customers are turning to solar and generators for their homes.
The Department of Energy released the Solar Futures Study in September 2021 conducted by the National Renewable Energy Laboratory, offering a look at what needs to happen to scale up renewable energy and what technological advances are required to ensure a successful power grid.
According to the Solar Futures Study, weather forecasting will become more important to ensure these systems can serve demand under various weather events as the power grid becomes increasingly reliant on solar and wind energy.  
IS THE TEXAS POWER GRID READY FOR THE NEXT GREAT FREEZE? THE ANSWER IS MIXED
A key challenge, according to the study, is that solar and wind rely on variable resources. The sun and wind cannot generate enough electricity to meet demand at all times and to all points of the grid. It requires power system planners to diversify their zero-carbon generation sources either through energy storage or other technological advances.
This might be the biggest challenge to the Biden Administration's goal of a 100% clean electrical grid by 2035 and net-zero carbon emissions by 2050.
"With terawatt-scale deployment of solar, wind and battery storage technologies by 2050, the grid becomes increasingly reliant on weather-dependent variable renewable energy inverter-based resources," according to the study. "This combination of factors raises important questions about maintaining the reliability of the electricity grid."
While ice and wind can down powerlines and cause pipes to burst, renewable energy sources aren't immune to weather-related outages. 
During the February 2021 winter storm that plunged the Lonestar State into below-freezing temperatures for over a week, roughly 10 million Texans were without power for several days.
A University of Texas at Austin Energy Institute study of the Great Texas Freeze blackouts found that all types of technology failed in the winter storm: natural gas-fired power plants, coal, nuclear, wind and solar generation. 
However, compared to solar and wind outages, peak coal and natural gas generators, outages lasted much longer after temperatures dropped below freezing, according to the UT Austin report. For example, natural gas plants were down six days compared to one day for wind turbines and three days for solar generators. A majority of the outages to solar and wind were due to ice and snow accumulation.
GREAT TEXAS FREEZE WAS EXTREMELY COLD, BUT FEBRUARY 1899 IN THE PLAINS WAS IN ANOTHER LEAGUE
"Solar exceeded expectations; solar did very well. There was actually a couple of days in the ice storm where the solar resource were out, and the sun was shining like crazy," Berger said. "So we were able to produce a lot of solar power, but it was our customers that had solar and storage that really shone through."
Berger said Sunnova customers with solar and battery storage fared the best during the February 2021 freeze, and after the storm, their business has seen increasing interest.
The National Renewable Energy Laboratory study found that solar could make up 42% of the U.S. annual grid output by 2035 and 45% by 2050.
Berger said five years ago, there was a lot of optimism about solar, but it wasn't enough. The demand has outpaced predictions. With crude oil prices over $90 a barrel, Berger says, "you haven't seen anything yet" in terms of EV adoption. 
According to Berger, solar pricing has also dropped 70% over the past ten years while utility rates have gone up.
'YOUR WORST NIGHTMARE': HOUSTON WOMAN STILL STAYING IN AIRBNB YEAR AFTER FREEZE THAT HEAVILY DAMAGED HER HOME
However, 20 years from now, Berger said the power grid might look like more of a hybrid system than fully renewable energy and more customers providing their own power than relying on major utility companies.
"We're going to have more centralized power. There's probably gas fire … some solar farms and some wind farms," Berger said of the future. "But we're also going to have a very, very large portion of us that can take our house on and off the utility whenever we feel like we need to do so and have that kind of level of service and reliability that we simply can't get from utility and the overall system and structure is going to be stronger."
Solar batteries can store and provide power collected from solar panels for days depending on the size of your home and what you want to power.
Sunnova encourages homeowners to diversify even outside solar, using a natural gas generator as part of their energy backup plan in the event of severe weather.
A year after the Texas freeze that killed nearly 250 people, Berger said more Texans are moving toward a system of consumer choice, essentially wireless power.