Massive 7.0-magnitude earthquake rocks Philippines
The earthquake occurred in the Sunda plate zone along the Pacific's Ring of Fire.
MANILA – A massive 7.0-magnitude earthquake rocked the Northern Philippines Wednesday morning, sending people scrambling for shelter and killing at least five residents.
The earthquake was centered on the island of Luzon, but the U.S. Geological Survey said the earthquake's impact was felt hundreds of miles away in country's capital of Manila.
According to the Office of the Civil Defense, at least five people were killed, and more than 60 were injured.
Officials reported hundreds of homes and businesses were damaged during the quake, which was centered only around 6 miles below the surface.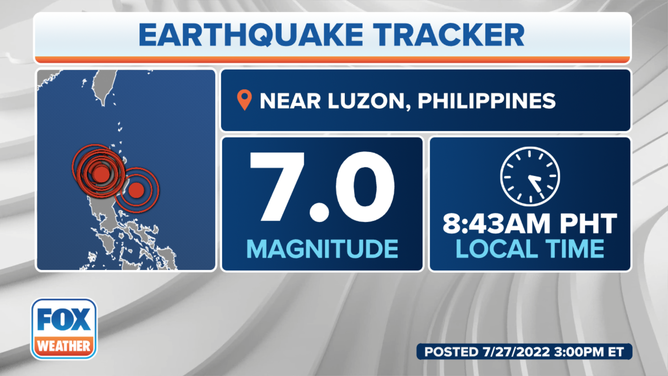 HOW TO WATCH FOX WEATHER ON TV
Witnesses captured video of the stunning moments pieces of a historic bell tower came crashing down on bystanders below.
The Bantay Belfry tower is said to have been built in 1591 and originally served to help alert the city of approaching enemies.
Officials said several other sites were damaged, including the Vigan Cathedral and a local hospital.
7 FACTS TO KNOW ABOUT EARTHQUAKES
Search and rescue teams continue to look through the debris for victims.

The disaster is for the first for President Ferdinand Marcos Jr., who took office less than a month ago.
"We continue to coordinate with each agency as well as with local offices to ensure that the assistance needed by the victims of the disaster is immediately provided," Marcos said.
Disasters such as volcanic eruptions and earthquakes are frequent in the Philippines.
The Philippine Institute of Volcanolgy and Seismology says that more than 100 earthquakes with at least a magnitude of 4 impact the island nation yearly.
The USGS reports 11 earthquakes greater than a magnitude 6.5 have happened in the same region since 1971.