Watch: Dust devil forms next to active volcano in Iceland
Gusting winds can turn dangerous if they blow the noxious fumes and smoke overhead. This is the third eruption in the area in as many years.
GRINDAVIK, Iceland – A man and his daughter traveled to watch one phenomenon of nature, an active volcano erupting in Iceland, but ended up catching a double feature. The pair caught a dust devil forming next to the volcano.
He told Storyful that he was not surprised to see the dust devil because he actually got caught up in one nearby.
"Earlier in the day, my daughter and I were hit by a dust devil, beaten with sand, and I lost a hat," he said, adding that the dust devil "made quite a spectacle with the smoking lava field and fire from the volcano."
WHAT'S THE DIFFERENCE BETWEEN AN TORNADO, WATERSPOUT, LANDSPOUT OR DUST DEVIL?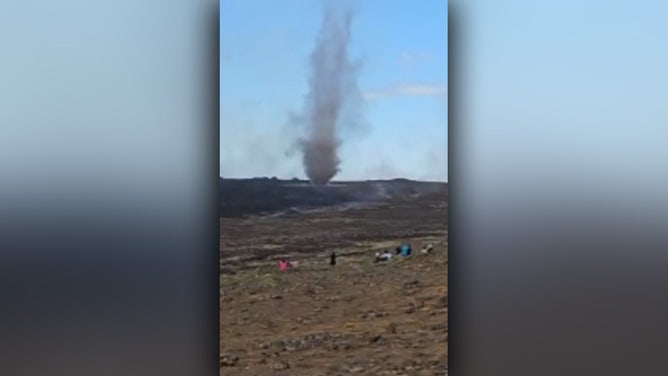 Dust devils: A tornado lookalike
Dust devils typically form in fair weather on sunny and warm days with light winds. 
Intense heating along the ground causes a vast difference in temperature within a few hundred feet. The heated air, now quite buoyant, will shoot upward, with surface winds providing some spin. 
Dust devils usually only last a few minutes and have low enough wind speeds to rarely cause damage. 
'OH MY GOD!': METEOROLOGIST FINDS HIMSELF INSIDE DUST DEVIL IN ARIZONA
Iceland's newest volcano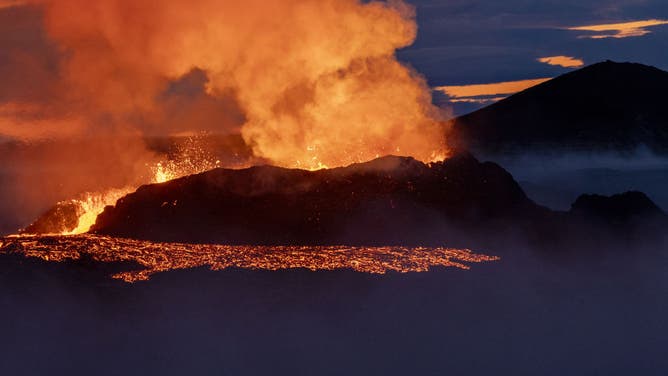 The volcano is one of the newest tourist sights about an hour's drive away from the country's capital Reykjavik. The Icelandic Meteorological Office said that this volcano, at Litli-Hrutur, started erupting on July 10. 
The smoke and lava came as no shock to residents who reported shaking from "constant earthquakes" for about a week leading up to the event. Most measured 3-4 magnitude, but the strongest one was 5.3 M. The met office tallied up more than 4,700 in the 72 hours leading up to the eruption.
ICELANDIC VOLCANO ERUPTS FOR THIRD YEAR IN A ROW AFTER THOUSANDS OF EARTHQUAKES REPORTED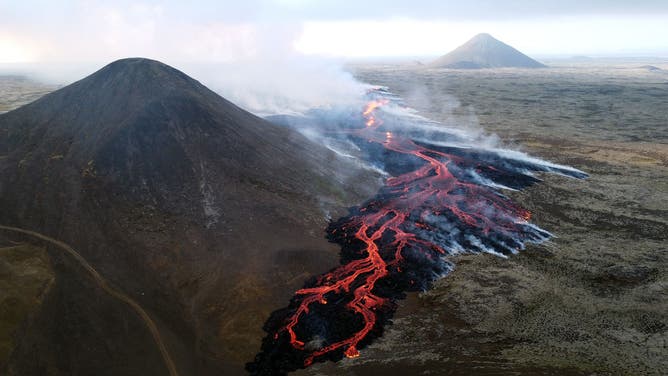 The 560 cubic feet of lava spewed more than half a square mile, calculated by volcanologists at the University of Iceland. Lava flows from a half-mile-long fissure.
Many tourists have visited the new volcano already. Iceland's tourism site reports that the curiosity has already established a hiking path from a parking lot. But, watch the weather, the site warns. 
HOW TO WATCH FOX WEATHER ON TV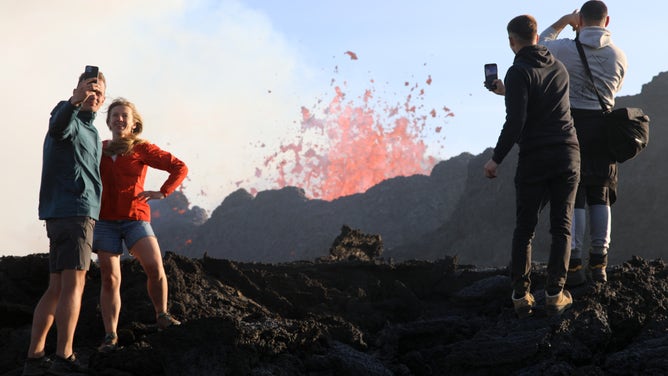 "There are toxic fumes blowing from the fresh lava, as well as smoke from surrounding wildfires, that can cause serious health issues if inhaled," stated the site. "Keep an eye on the wind direction and air quality before starting your hike and for as long as you stay in the vicinity."
Officials also warn that changing wind conditions can also blow the toxic fumes and lava-sparked wildfire smoke over towns and the capital city. They suggest keeping the windows closed.
This eruption Litli-Hrutur is part of the Fagrandalsfjall volcano area, which previously erupted in August 2022 and March 2021. Before then, it was considered to be dormant for over 6,000 years.