Drone video in Alabama, Georgia shows vast destruction after deadly tornado outbreak
A tornado outbreak in the South wrapped roofs around power poles in Griffin, Georgia, and caused widespread destruction in Selma, Alabama, including at a church daycare.
SELMA, Ala. – Video showing the aftermath of large, extremely dangerous tornadoes that swept through the South on Thursday illustrates the power of the twisters, which left small structures and cars thrown about like toys.
The severe weather outbreak turned deadly Thursday, with damage reported in nine states across the South. Video and photos in Alabama, where at least seven were killed during the outbreak, show why the state was the hardest hit.
Drone video taken the morning after the severe weather shows widespread destruction in Selma, Alabama.
At least one tornado touched down in Selma, ripping through businesses and a church daycare and flipping cars. 

The tornado outbreak also killed at least two people in Georgia, including a 5-year-old boy.
Spalding County in Georgia was one of the state's hardest-hit areas, where the University of Georgia Griffin campus, homes and businesses sustained damage.
Drone video taken by FOX 5 Atlanta shows homes and businesses in Griffin the day after the twister touched down in the area south of Atlanta.
TORNADO EMERGENCY RARELY ISSUED: WHAT IS IT?
Roofs remained wrapped around power poles along a main road in Griffin as drivers navigated around the wreckage.
The roof of a Hobby Lobby store in Griffin was blown off during the tornado, and cement blocks were left strewn about the day after the storm. The center of the store was ripped open, leaving a gaping hole in the roof.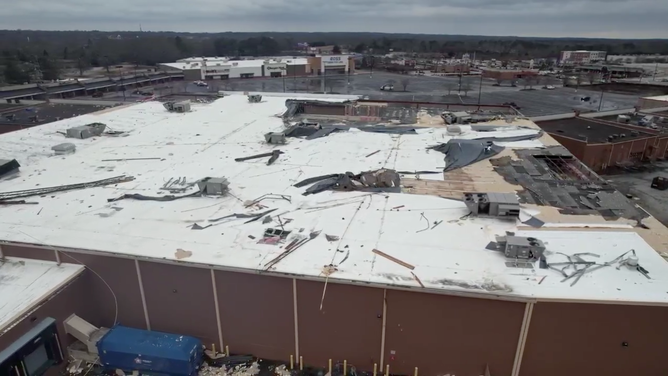 Georgia Power crews continue to work to restore power after nearly 100,000 in the Atlanta area lost power during the peak of the severe weather. 
National Weather Service teams continue to survey the damaged areas across multiple states to determine the strength, path and number of tornadoes that struck the region during the outbreak.