Tornado damage, power outages reported across North Georgia and metro Atlanta
A possible tornado was even spotted near Hartsfield-Jackson Atlanta International Airport. In Griffin, officials confirmed that two tornadoes, ranked an EF-3 and EF-2, hit the city.
Several tornadoes hit Georgia Thursday afternoon, causing damage to towns, including metro Atlanta.
Drivers filmed as a possible tornado moved across I-85, not far from Hartsfield-Jackson Atlanta International Airport. The airport was put on a ground stop as the severe storms moved through the area.
The storms also impacted the country's busiest airport, and FOX Weather's Robert Ray was in the right place to observe the storm's impacts.
"I'm actually sitting on a Delta Air Lines plane coming in from San Francisco. We landed at 3:50 p.m. right when that Tornado warning occurred right when that tornado was spotted near the airport. The pilot came on and said, 'look folks, we are either the last plane or there was a plane right before us to land.' We sat on the tarmac for a good 25 to 30 minutes, as the gates were evacuated, according to the pilot, because of this system that came in," said Ray.
In Griffin, the National Weather Service said that a large and extremely dangerous moved through the city. On Friday, NWS officials confirmed two separate tornadoes hit the city, ranking them an EF-3 and EF-2.
Residents shared pictures of storm damage at a Hobby Lobby in Griffin.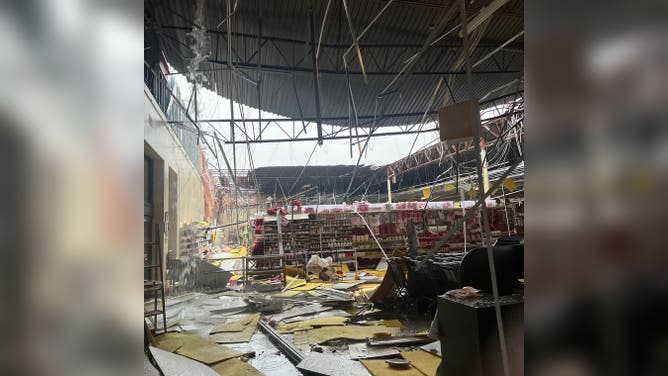 Others showed trees snapped in half and tiles ripped from roofs of homes.
To the west of the Atlanta metro, a business was hit by severe storms, depleting the structure.
The interior of the 18 Wheeler Truck Parts & Chrome was completely exposed to the elements after the wall fell away. Cinder blocks and the bricks that coated the exterior were scattered across the grass beside the warehouse, FOX 5 in Atlanta said.
Police shared other images where severe storms hit.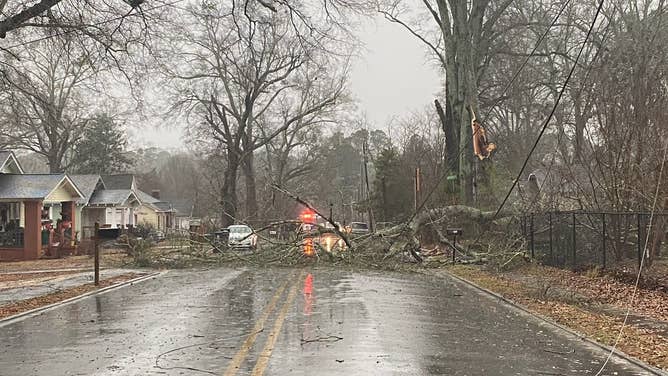 Emergency officials worked to clear blocked roads from storm debris.
Storms continued to move through Atlanta Thursday evening but will exit the state by Friday.