Hurricane Idalia provided cooldown for Florida coral reefs while bleaching continues across Caribbean
Hurricane Idalia may have provided the cooling relief to save some of Florida's coral reefs. As the El Niño-fueled marine heat wave continues, coral bleaching is ongoing in the Atlantic and Caribbean.
KEY WEST, Fla. – Florida coral reefs underwent a mass bleaching event this summer caused by a marine heat wave fueled by El Niño, and the full scale of the coral mortality will take time to fully understand.
The "strong" El Niño climate pattern is causing drought, heat and other weather conditions across the globe, which subjects humans, marine life and wildlife to extreme weather. The coral reefs are no exception.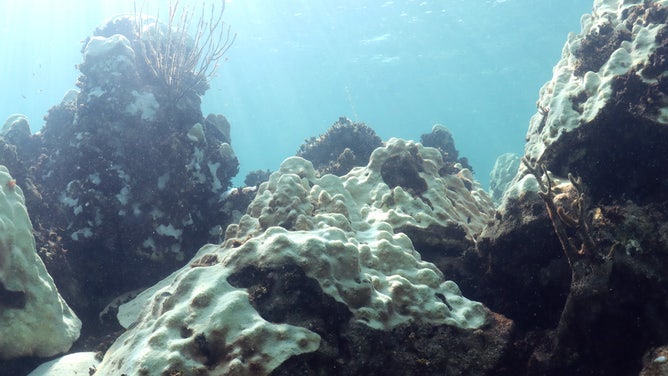 Corals rely on single-celled algae for food, and when the water temperatures rise a few degrees above normal, the tiny algae begin to die from heat stress. Corals expel them in a process called bleaching.
Sea surface temperatures around South Florida and the Keys reached the 90s in June, even topping out at 101.1 degrees in the Florida Everglades. 
"The amount of heat stress that hit Florida this year has never been seen in the Atlantic Ocean, ever," said Derek Manzello, coordinator for NOAA's Coral Reef Watch. "We're not going to really know the whole story for probably another year or two, essentially, because right now, the corals that survived are recovering."
Previous bleaching events in the Florida Keys started in August and lasted four to six weeks.
"This one started in early July and went all the way through and to September," Manzello said. "You're talking three months as opposed to six weeks before. So, that was shocking."
Forecasting coral bleaching to save species
Data from NOAA's Coral Reef Watch helps coral biologists and marine organizations know when and where to act, pulling vulnerable coral species from reefs.
Manzello said that when NOAA predicted bleaching on the Great Barrier Reef in 1998, it put the Coral Reef Watch on the radar of the international coral community. 
The data has helped save endemic species in Hawaii from bleaching and, during another event, was used by authorities in Thailand to decide to shut down recreational diving near reefs.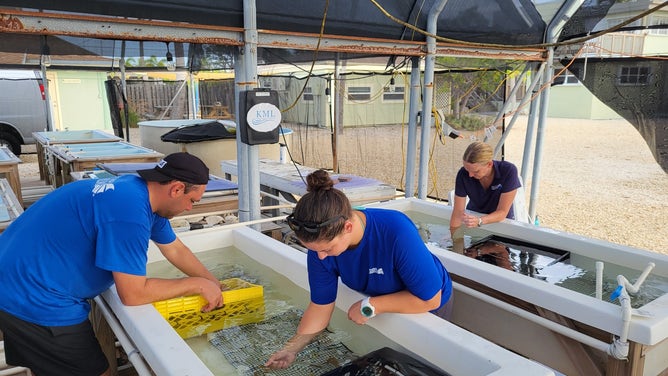 "Users basically utilize it to inform what's happening on their reefs and to understand the threat of coral bleaching and heat stress and understand when the reefs are going to be bleaching," Manzello said.
In Florida this summer, biologists used the NOAA Coral Reef Watch products to understand where the heat stress was most severe and conduct rescue and relocation efforts. 
Labs like the Keys Marine Laboratory raced to relocate thousands of coral to the controlled marine laboratory. Many of the corals are rare and endangered species, according to the University of South Florida.
When these corals can be returned to the wild remains to be seen.
Hurricane Idalia provided cooling relief for corals
When temperatures reached bleaching levels as hurricane season began, biologists said a tropical system could stir up cooler waters and potentially help some corals. In August, Hurricane Idalia barreled up the Gulf of Mexico, making landfall in Florida's Big Bend as a Category 3 storm, churning up water around the Sunshine State.
"Hurricane Idalia really cools things off," Manzello said. "You could argue that that hurricane event is probably why we saw the survival of a lot of corals."
Before Idalia, Florida corals were at Alert Level 2, according to NOAA Coral Reef Watch's bleaching alert data. The waters have cooled, dropping to a bleaching watch on NOAA's scale.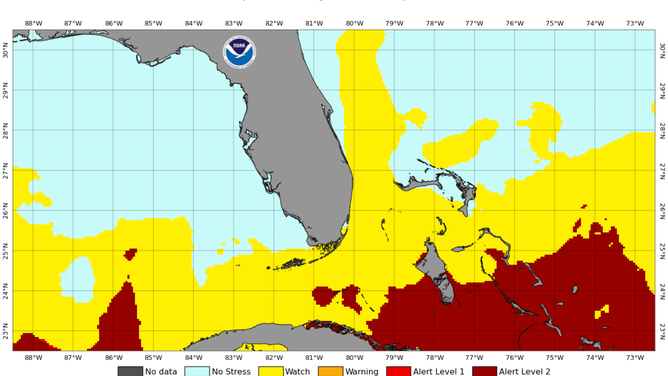 Manzello said 33 out of NOAA's 34 regional monitoring stations in the northwest Atlantic Ocean recorded heat stress conditions this summer – a first since satellite monitoring data started in the 1980s. 
FLORIDA KEYS LAB RACES TO SAVE THOUSANDS OF CORAL SPECIES FROM UNPRECEDENTED HEAT WAVE
The one station in the Caribbean that didn't record deadly heat stress saw repeated tropical impacts during hurricane season.
Uphill battle for coral
Many of the surviving corals in Florida are starting to regain their color as the water cools, but the ecosystems still have a long road ahead.
During past severe bleaching events, much of the mortality occurred due to outbreaks of coral disease following the heat stress.
HOW CARIBBEAN KING CRABS ARE RESCUING CORAL REEFS IN FLORIDA

Elsewhere, the heat stress for coral remains dire. 
Corals in the northwest Atlantic and Caribbean Sea continued to experience the worst heat stress on record.
"Florida is really the tip of the iceberg," Manzello said.
Heading into November, with El Niño forecast to continue into next year, the coral bleaching is not a global event, yet.
During the last global bleaching event, more than 75% of the world's coral reefs experienced bleaching-level heat stress from 2014 to 2017. 
Manzello said the fear now among the coral reef community is that this may turn into a global bleaching event over the next six months to a year.