A hurricane forecast that Hawaiians are likely to celebrate
NOAA announced Wednesday that a 60% chance of below-normal activity is expected for the Central Pacific
While the Atlantic season is expected to be another busy one, forecasters expect below-normal tropical activity in the Central Pacific Ocean during the 2022 season.
The National Oceanic and Atmospheric Administration announced Wednesday a 60% chance of seeing fewer tropical cyclones than normal.

During an average year, only a handful of systems form and most never threaten land because of the remote waters between 140°W and the International Date Line.

Occasionally, a system will impact the Hawaiian islands but to experience the full effects of one of these forces of nature is considered rare.
19 NAMED STORMS FORECAST FOR 7TH STRAIGHT ABOVE-AVERAGE ATLANTIC HURRICANE SEASON
"This year, we are predicting less activity in the Central Pacific region compared to normal seasons," said Matthew Rosencrans, NOAA's lead seasonal hurricane forecaster at the Climate Prediction Center.
Forecasters expect only two to four tropical cyclones to form because of hostile conditions created by the La Niña.
WHERE TROPICAL STORMS, HURRICANES TYPICALLY OCCUR DURING EACH MONTH OF ATLANTIC HURRICANE SEASON
A La Niña weather pattern is seen when sea-surface temperatures in the central and eastern equatorial regions of the Pacific Ocean are below normal.

Last month, the Climate Prediction Center released guidance that shows La Niña has a 59% chance of being dominant through August and at least a 50% probability of continuing through November.
The Central Pacific hurricane season begins June 1 and runs through November 30.
Previous seasons in the Central Pacific Ocean
Last year, the region featured three tropical cyclones that moved into the Central Pacific. The below-average season saw Tropical Depression Felicia on July 20, Tropical Depression Jimena on August 6 and Tropical Storm Linda on August 19.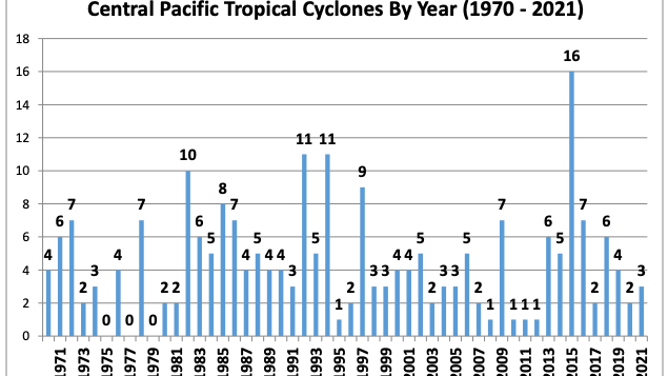 In an El Niño season in 2015, three major hurricanes were spiraling at the same time across the Pacific for the first time on record. NOAA says that it was also the first time three category four storms occurred simultaneously in any ocean basin. Hurricanes Kilo, Ignacio, and Jimena had wind speeds greater than 130 mph.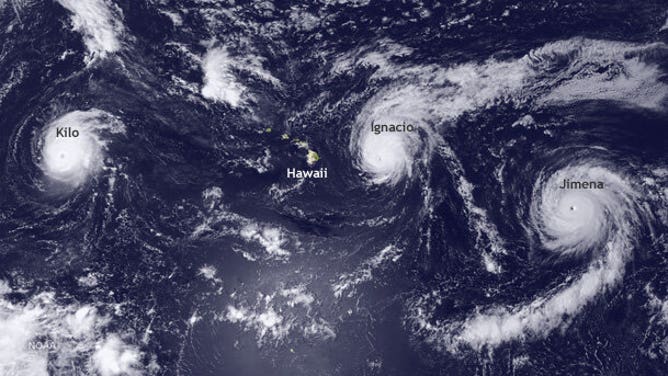 And in 1992, Hurricane Iniki was the most powerful hurricane to hit Hawaii.
"Hurricane Iniki, a major hurricane, directly hit Kauai 30 years ago this year, and those impacted still remember the incredible destructive power Iniki delivered," said Chris Brenchley, director of NOAA's Central Pacific Hurricane Center.
The outlook, put out by NOAA's Central Pacific Hurricane Center and NOAA's Climate Prediction Center, also indicates a 30% chance for near-normal activity and only a 10% chance of an above-normal season.