River surge causing 'catastrophic' flooding in British Columbia at Washington border
Nooksack River, Fraser River levels must drop before any flooding relief, officials say

Flooding at the Washington-Canadian border has devastated parts of the Sumas Prairie area, aerial photos show.
The flooding is connected to heavy rainfall, wind and surging rivers caused by an atmospheric river that slammed into western North America this week, dropping more than a foot of rain in some areas in Washington.
Residents in Abbotsford, British Columbia, were told to evacuate Tuesday night due to the imminent failure of a pump station that prevents the Fraser River from flowing into the Sumas valley. 
"This event is anticipated to be catastrophic. Residents remaining and can't evacuate safely are requested to call 911 and report their location immediately," Abbotsford city officials said.
As of Wednesday morning, the pump continues to function, city officials said.
Abbotsford Mayor Harry Braun said the surge in water is coming from the Nooksack River in Washington. The river crested Tuesday at 150 feet reaching a major flood stage.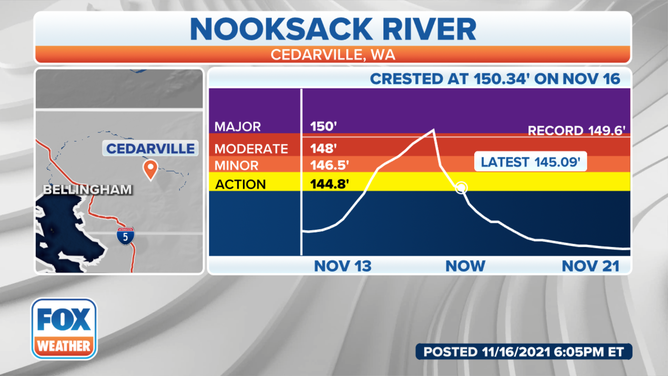 Braun said 184 people who could not evacuate were rescued by air and boats. First responders are still attempting to reach about 300 people.
"The City of Abbotsford has issued an immediate and urgent notice to all residents who did not evacuate the Sumas Prairie earlier today to evacuate immediately," Mike Farnworth, B.C.'s Minister of Public Safety, said Tuesday in a statement. "The city has indicated that conditions within the Sumas Prairie have escalated and pose a significant risk to life due to the imminent failure of the Barrowtown Pump Station."
Braun said the Fraser River needs to drop another meter before opening the Barrowtown Pump to allow more water through. However, if more rain comes, Braun said, "we are in deep doo doo."
"I feel much better today than I did last night," Braun said, adding, "we're not out of this yet. The Nooksack (River) is still pouring across our border."
Farmers were attempting to get their livestock out of the flooded area Tuesday. First responders asked people not to kayak in floodwaters because they were impeding evacuation efforts for farmers and rescuers.
According to Braun, the water is also full of waste, including cow manure, part of a reservoir now under floodwaters.
RELATED: How floodwater can make you very sick
According to the Vancouver Sun, Fraser Valley farmers supply 50 percent of British Columbia's eggs, chicken and dairy. 
As of Wednesday, at least one death has been confirmed in British Columbia from a landslide triggered by heavy rainfall, reports The Associated Press.
Across the U.S. border, area officials in Sumas and Everson, Washington, are cautioning residents that impacts from the flooding to the north could take days to reach their area. 
In Whatcom County that borders Canada, a flood warning remains for the Nooksack River in Ferndale.
The Whatcom County Sheriff's Office reports water levels began receding late Tuesday. The sheriff's office responded to 100 rescue calls in flooded parts of the county. About 300 people are staying in shelters, according to the sheriff's office.
The search continues for a man who was swept away by floodwaters.
The National Weather Service issued a flood warning for areas in Skagit County along the Skagit River, including Mt., Vernon and Concrete.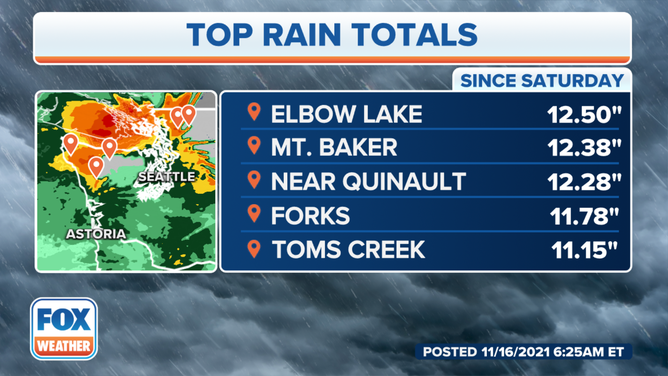 Drier weather has moved it and will remain through the next few days, but the NWS warns there is still too much water from rain and previously flooded rivers that it will take time for the floodwaters to drain.
Washington Gov. Jay Inslee declared a state of emergency in 14 counties earlier in the week.