Bryan Norcross talks to FOX 13 Chief Meteorologist Paul Dellegatto
From hurricanes to innovation, Paul Dellegatto recounts his journey as a meteorologist.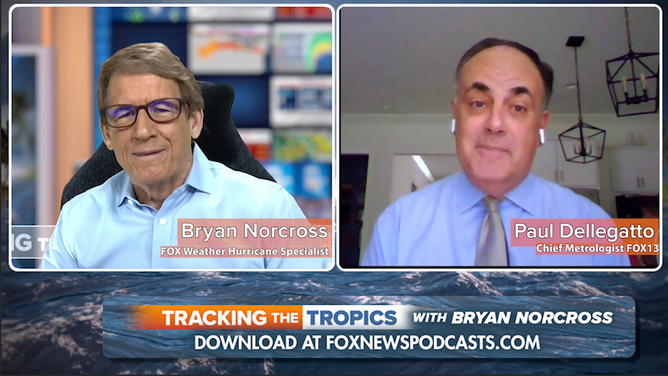 Join FOX Weather's Hurricane Specialist Bryan Norcross and Paul Dellegatto, the Chief Meteorologist at WTVT FOX13 in Tampa/St. Petersburg on this week's episode of Tracking the Tropics with Bryan Norcross. 
NOAA FORECASTS ABOVE-AVERAGE 2022 ATLANTIC HURRICANE SEASON WITH UP TO 21 NAMED STORMS
Bryan and Paul recap Paul's career, from humble beginnings after living through the Boston Blizzard of 1978 during his senior year of high school, an experience that was instrumental in Paul's journey as a meteorologist. 
Bryan: "So pretty much every meteorologist I've ever met, especially in TV and maybe any meteorologist, says there was this storm when they were a kid and so forth and so on. Was that your story?"
Paul: "You know, I guess so. I mean, I know a lot of you watching right now certainly remember the blizzard of '78 in our kind of generation."
Bryan: "Harvey Leonard. Yeah."
Paul: "Harvey Leonard and I interned with Harvey, who just retired. That was the storm that, you know, I look back on and I was a senior in high school."
Bryan: "So this was in the Boston area. The blizzard of '78 was really impactful."
Paul: "Natick, a suburb of Boston. And I remember sitting in school looking out the window at noon on February 6th and saying, this is, you know, just looking at this is really bad and then never going back to school again for three weeks. And this is in an area that snows a lot. So, you know, we missed a day or two. We don't miss three weeks of school. And it actually worked out good because I was a senior in high school, and that means you never make up time off. So that was a big bonus for us. Right. But that was the, you know, the storm that, you know, I still think back on and as long as it was, was like 40 to 44 years ago now. Yeah, 44 years ago. And I still remember it like it was yesterday."
HERE ARE THE NAMES YOU'LL SEE DURING THE 2022 ATLANTIC HURRICANE SEASON
To Paul, taking over when Roy Leap, a legendary meteorologist in the Tampa Bay area, retired in 1997 after a 40-year career. Paul has kept the tradition of high-level weather coverage at that TV station going.
Listen in as Bryan and Paul break down Paul's career, his approach to hurricane coverage, and how he innovated his coverage as he moved into the digital age. 
BRYAN NORCROSS, RENOWNED METEOROLOGIST AND HURRICANE SPECIALIST, JOINS FOX WEATHER
Listen anywhere you listen to your podcasts.
Watch now on YouTube.
Be sure to download the FOX Weather app to track any storms in your area and receive potentially life-saving weather alerts issued by the National Weather Service. The free FOX Weather livestream is also available 24/7 on the website and app and on your favorite streaming platform. The FOX Weather Update podcast also provides weather information for the entire country.