Super Outbreak of 2011: 350 tornadoes killed 321 people
NOAA reported at least 350 tornadoes formed during the outbreak, including four rare EF-5s with winds over 200 mph.
It's a day that will live in the minds of those in the eastern half of the nation, but especially Alabamians, forever. The 2011 Super Outbreak impacted dozen of states and became known as one of the costliest tornado outbreaks ever seen.
The multiday tornado outbreak kicked off on April 25, and during the next three days, the spring storm system impacted 26 states, killing at least 321 people and injuring thousands.
The National Oceanic and Atmospheric Administration reported at least 350 tornadoes formed during the outbreak, including four rare EF-5s with winds over 200 mph.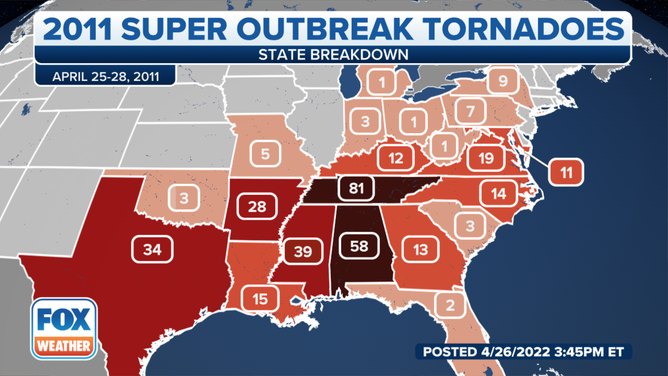 Most of the destruction happened on Wednesday, April 27, when atmospheric conditions came together across the South to produce ideal conditions for long-track tornadoes.
The outbreak was not a surprise to meteorologists at the Storm Prediction Center, who issued a high risk (5 out of 5) threat and placed the bull's-eye zone over northeast Mississippi, south Tennessee and northern Alabama.

A series of squall lines produced many of the tornadoes throughout the day, but where storm cells were able to tap into the unstable environment, they produced strong, long-track tornadoes.
One of the most destructive twisters was an EF-4 that hit populated areas in Alabama that included Tuscaloosa and Birmingham.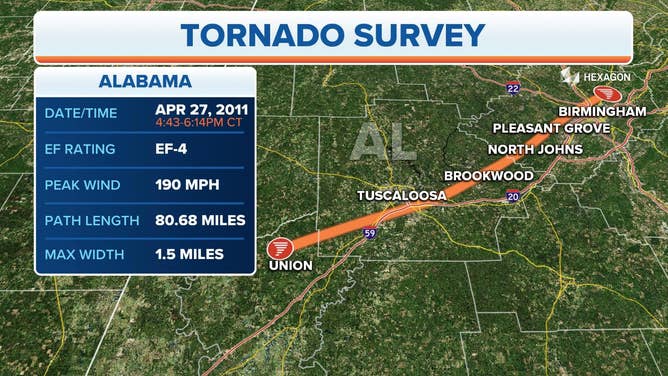 The tornado is believed to have stayed on the ground for 80 miles and had winds around 190 mph at its peak.
Immediately after the storms, Jeff Byard, an executive operations officer for Alabama Emergency Management, said he knew the scope of the damage from unfathomable.
 "It soon became very apparent that the state could not handle the emergency alone. It will go down in history as the worst outbreak of tornadoes in Alabama," Byard said.
NASHVILLE'S SCARS STILL HEALING TWO YEARS AFTER DEADLY TORNADO OUTBREAK
The Federal Emergency Management Agency reported 247 residents in the state, and more than 23,000 homes were either damaged or destroyed.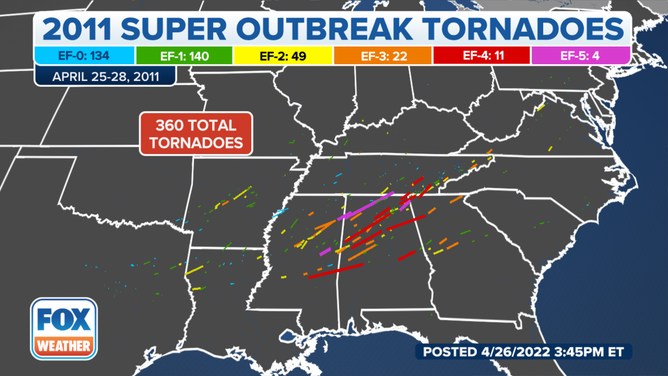 NOAA estimated damages at roughly $12 billion, making it the costliest tornado outbreak in history.
The outbreak was one of several during April 2011 that pushed the tornado count to 751, the most ever reported during a single month.