Nashville's scars still healing two years after deadly tornado outbreak
Signs of damage from the March 2-3, 2020 outbreak still stand across East Nashville, but the city is rebuilding stronger through shared determination and community spirit.
NASHVILLE, Tenn. -- People in Nashville know the dates by heart: March 2-3, 2020, when the city was hit by one of several deadly tornadoes that swept across Middle Tennessee.
Multiple supercell thunderstorms would form across Tennessee, southern Kentucky, southeastern Missouri and central Alabama that would eventually be responsible for 15 tornadoes in the worst tornado outbreak in the region in nine years.
But it was one supercell in particular that formed near the Mississippi River in Tennessee and spawned 10 tornadoes, leaving a trail of destruction hundreds of miles long across the heart of the state -- including an EF-3 tornado that devastated sections of Nashville.
That tornado began in far western Davidson County and strengthened to EF-2 damage as it approached John C. Tune Airport, racing across the Tennessee countryside at over 55 mph.
"We just got hit by a tornado!" one caller told a 911 dispatcher. "The whole building is gone!"
A second caller nearby told 911 dispatchers: "We've got trailers flipped over at the food delivery service. I'm right next to John C. Tune Airport, and all I can see is orange in the distance from the flames."
The twister swept across Germantown and through North Nashville.
'I can't move! There's a bunch of people screaming!'
A third caller reached 911 moments before the tornado hit a building near the Jefferson Street Bridge, asking if confirmed tornadoes were on the ground. Eight seconds later, the call is interrupted by the sounds of raging winds that last for 30 seconds as the tornado ripped through.  
Another 30 seconds pass until the caller can report to the dispatcher that he was hit and trapped under the bridge. "Tornado came through and got us," the victim yelled, saying he was trapped under debris and there were several others trapped with him. "I can't move! There's a bunch of people screaming…. The tornado hit us pretty bad… I'm buried. I got hit by something really hard, and it's on top of me."
The tornado intensified further to EF-3 strength as it moved into East Nashville and the Five Points neighborhood, where two people were killed.
As it moved east out of Nashville and crossed the Cumberland River, the tornado briefly weakened to EF-1 and EF-2 before regaining strength to EF-3 status as it moved into Donelson.  It strengthened again to EF-3 intensity over a six-mile stretch of Wilson County near Mount Juliet, killing three more.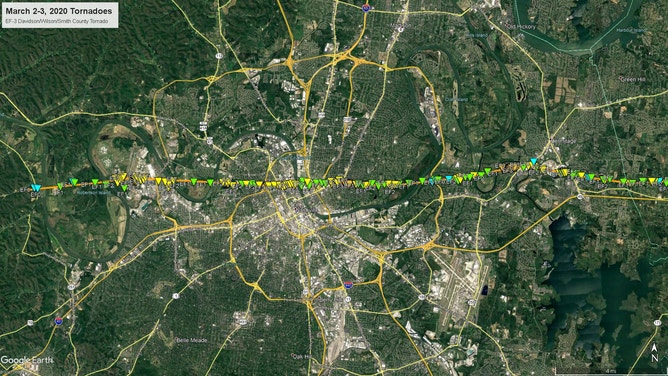 The tornado moved through Lebanon, tearing apart an industrial park and crossing I-40 into Smith County near New Middleton and into Gordonsville, finally ending after scraping 60.13 miles of the Nashville area.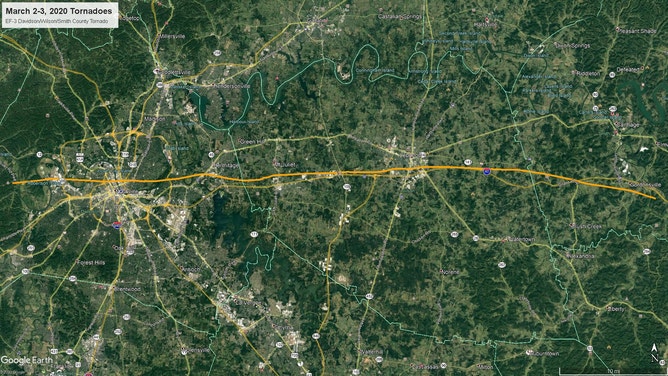 In official records, it would go down as the longest tornado path for Middle Tennessee and second-longest by all accounts since the late 1800s. Its peak wind was rated at 165 mph by the National Weather Service.
The supercell wasn't finished though. It would continue to spawn four more tornadoes in Tennessee, including an EF-4 monster that would kill 19 more in Putman County just west of Cookeville. In all, 25 people died in the twisters that night; hundreds more were injured. It's the sixth-costliest tornado outbreak in U.S. history.
Memories Yet to Fade
Two years later, the scars from that storm linger across the East Nashville area. Blue tarps dot homes still awaiting repairs. Some lots still stand empty where some businesses once stood.
Nashville is known for incredible food and restaurants, and behind the mouth-watering Nashville-style Barbecue, craft pizza, and New England-style seafood joints are the men and women who keep this area of Music City together.
"I don't think it's fully healed yet," said Nick Gajewski with Nobel's restaurant in East Nashville. "I mean, for those who live over here and went through the entire tornado that night, they still think of it every time they drive down the street. I know I do."
Gajewski said he awoke that morning after the storms to 24 missed phone calls. "They said a tornado hit Five Points, East Nashville area."
Gajewski learned Nobel's entire roof was gone.

"Water damage to the entire building," he said. "Every piece of electrical equipment in here was gone."  There were 2-3 inches of standing water on the ground.
"I don't think we really knew until later on in the afternoon the devastation that had occurred," said Mark White with Noble's. "It was really, really bad."
"The only thing that was left here was, strangely enough, our kitchen and that bar over there. Everything else was gone," Gajewski said. "Our first thoughts were pull everything out of the kitchen and let's start cooking on our smoker for the neighborhood. And as soon as we started doing that, the neighborhood started coming to us. Bringing us 'to-go' boxes, bringing us bottled water…"
18 Years Gone in a Flash
"What I tell people is: What took me 18 years to build, took about one minute to be destroyed in a tornado," said Matthew Charette, who owns three restaurants in Nashville.
Charette was home with his family when the storm alerts sounded on his phone.
"We all go down to the basement, and it was loud and (the tornado) passes by," he said. "Of course, you're scared; we're all scared."
He soon found out his restaurants had been hit.
"We've got people hurt; there's a lot of damage windows and doors are blown out," Charette said. One of his buildings was destroyed. Trees are through one roof, roofs pulled back, and water pouring in. "Just a lot of destruction-- broken windows; broken doors…
"You're just in shock, and you don't know what to do, but then you see Nashville," Charette said. "You see Nashville comes to your aid. Your neighbors come people from surrounding communities come, the food -- the amount of food…"
The community outpouring of support continued for days.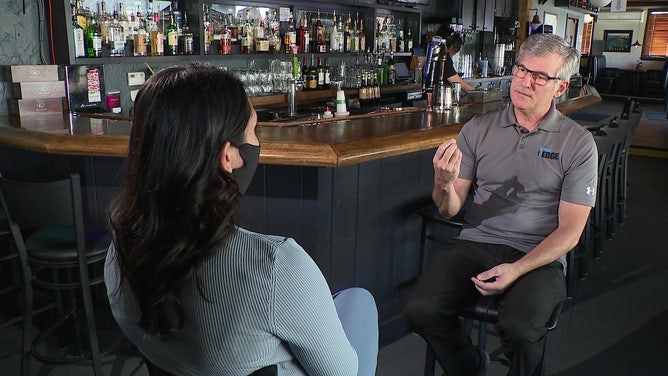 "I don't think it really hit me until maybe two days later," Charette said. "I'm walking across the street over here to see my neighbors, who I've known since I put my business is here to make sure that they were OK because their house was hit too. And some kid offers me a hot dog, and I start bawling because everywhere you turned around, it's 'hey, do you need some water? Hey, would you like something to eat?' People were coming with their food trucks and trailers and setting up and just giving us whatever they could."
'We Were Right in the Center of it'
James Figueredo's Bombozz restaurant wasn't spared the storms' wrath either.
"I knew once I pulled up to the corner right here next to my building because really that's where most of the destruction on this side of town really started," he said. "I had half of the building next door inside of my building."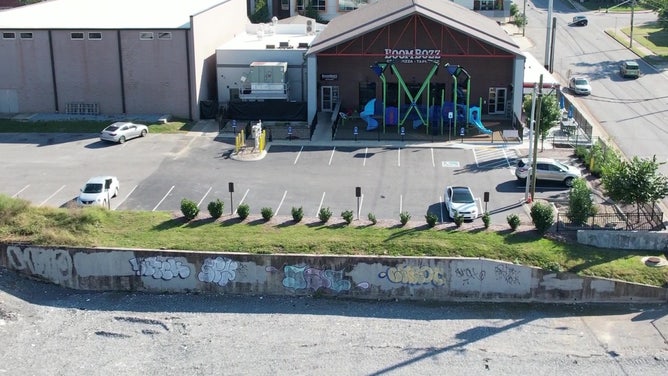 Only one in four walls was left standing.
"I mean, my roof was on somebody's house three streets over, so the destruction was all across Nashville from east to west, and we were right in the center of it," he said. "It was crushing; I'm going to say that."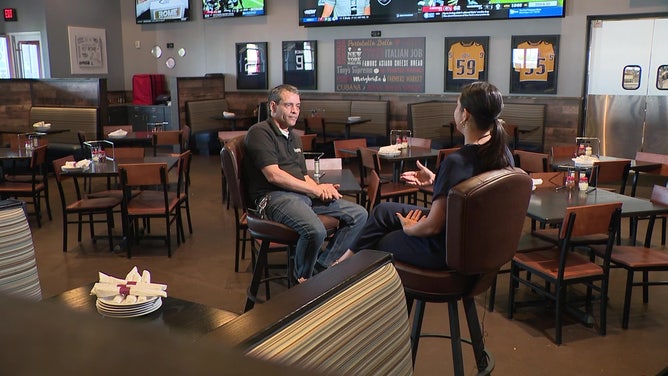 'We're Almost in a Weird Tornado Alley'
For many who have lived in the city for years, the tornado was an eerie coincidence to another tornado that swept through in 1998 along a nearly identical path. And both of those tracks mimicked a tornado track in 1933.
"You know, what was really interesting and tragic about East Nashville is that this major tornado that came through in 2020 is not the only tornado that's come through this part of Nashville and done major, major destruction," said Will Newman of Edley's BBQ - also damaged in the storm. "I believe the first tornado that came through was in '33 and it did major destruction in east Nashville. I was in college in 1998 when the second major tornado came through and it also came through East Nashville. Again major, major damage. And here we are in the third one and it's all within I mean if you saw a line on a map they're all within just blocks of each other.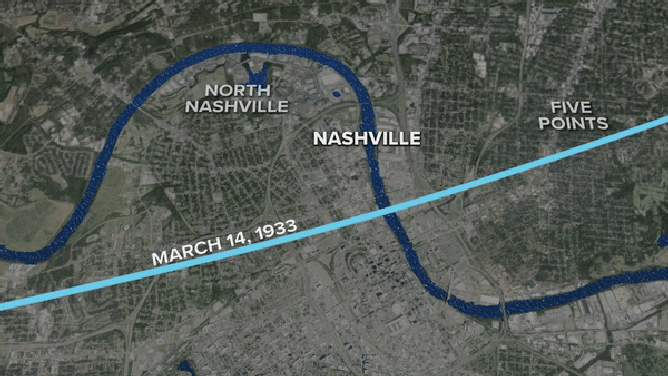 "In a sense we're almost in a weird mini-tornado alley." 
New Life Among the Scars
Efforts continue to this day to rebuild East Nashville. Many -- but not all -- of the damaged restaurants have been rebuilt.
Nobel's needed five months to reopen.
"I think we know that we are extremely blessed to be in the position that we are in," White said. "We are one of the first to get back open after the tornado, we have friends that own businesses right up the street that really, really struggled to open, and we so want them to get back open because we are not the same; it is not the same feel as it was before the tornado. Because there are so many businesses that won't ever reopen. And then there are some that are struggling to get back to reopening."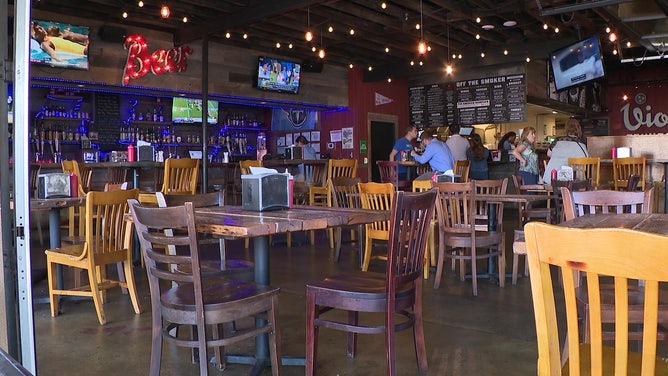 Charette's Beyond the Edge just reopened seven months ago, but his Drifters Tennessee BBQ remains closed due to damage.
Still, he's not going anywhere. 
"When a community comes and loves you that much, you'd be a fool to leave that community," he said. "And so I'm probably going to be here for the rest of my life."
It took a year for Figueredo to reopen Bombozz.
But Figueredo says East Nashville is going to emerge better than before.
"It's still going take probably a couple more years to fully rebuild from this. But there's more people out here; there's more redevelopment; all the older buildings are being replaced with newer, stronger, more energy-efficient better quality homes for the people in this community, so overall, I think we're going be stronger," he said.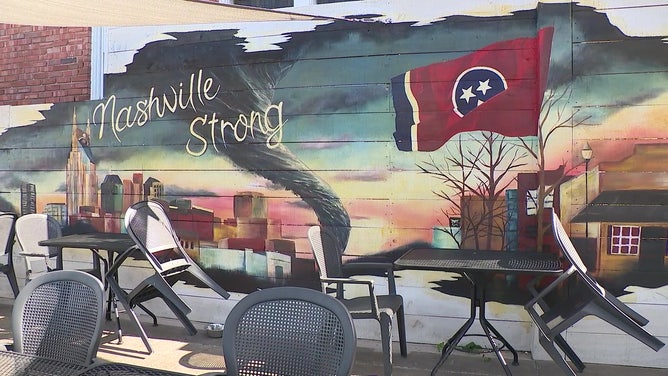 And there are tangible signs of progress.
"You know, we've got 31 new offices opening up around us," Figueredo said. "Fourteen new restaurants are coming out, and the community is getting back out there. Overall, you see the traffic coming back, the people on the streets. It's just wonderful to watch things come back to life again."
Newman notices it too.
"Just in the last couple weeks, businesses a little further in downtown on Main Street have reopened, built back in, so it's beginning to feel more like East Nashville," Newman said.  "It gives me a great sense of pride of where we come, to be here on the ground to experience how much, how far we've come in that period of time is pretty amazing.
"I'm just very proud to be a Nashvillian."