500-acre wildfire destroys several homes near North Texas lake
Fire in Palo Pinot County consumes 500 acres, destroys lake houses
PALO PINTO, Texas - The hot dry weather is helping to fuel several wildfires in North Texas. The Texas A&M Forest Service said fires are burning in Kaufman, Boseque, Somervell and Palo Pinto counties.
Near Possum Kingdom Lake in Palo Pinto County, an extremely destructive wildfire has already destroyed waterfront homes and lake houses. At least check, it had burned at least 500 acres and was about 10% contained.
People who live in the area were told to evacuate. That evacuation order was lifted overnight.
"In our region, wildfire is becoming a rapidly, ever-present word," said Adam Turner with Texas A&M Forest Service. 
Reports about the fire came in around 1 p.m. Monday afternoon. Two reporters for area online news outlets were out on the lake around the time. 
"Went to check to make sure people didn't need help evacuating before the game wardens came. Because we were some of the first ones on the scene," said Bryce Gentry with the Possum Kingdom Lake Reporter.
'SHEEP FIRE'? 'PIPELINE FIRE'? 'HAYWIRE FIRE'? HOW WILDFIRES GET THEIR NAMES
Gentry said he watched aircraft grab water from the lake and dump it on hotspots.
"The amount of cedars we have out here, it's just like a match box ready to be lit," he said.
Turner said the stuff that's fueling the fire is drier than it's been in years thanks to drought conditions.
"We are experiencing dry fuels to a level that we haven't seen in the past ten year," he said. "Any spark that lands in tall grass or even lands in some short grass right now is liable to spark."
Turner said this wildfire season could rival the one from 2011.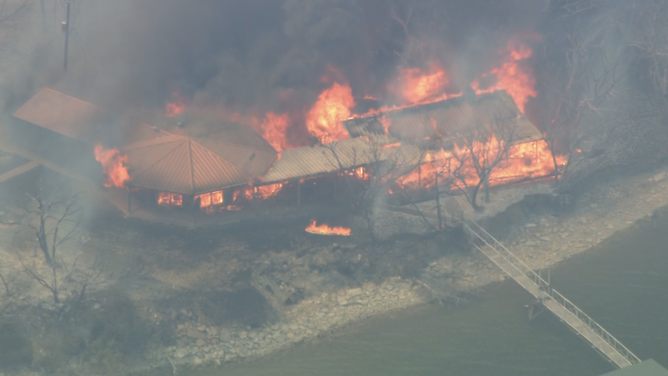 "This year is going to be a record book year," he said.
Meanwhile, another fire called the Chalk Mountain Fire has burned about 1,200 acres in Somervell County near Dinosaur State Park just outside of Glen Rose. It's only 5% contained.
WHAT YOU SHOULD KEEP IN YOUR EVACUATION 'GO' BAG DURING WILDFIRE SEASON
The Texas A&M Forest Service said it is being fought form the ground and air. Bulldozers dug fire lines to protect structures. It's not clear yet how much damage has been caused by the fire.        
Two other fires in Bosque and Kaufman counties are still burning. The one in Bosque has burned about 200 acres and is 30% contained. The fire in Kaufman County has scorched about 450 acres and is 75% contained. 
Over in southern Tarrant County, another brush fire threatened a neighborhood near the Mansfield/ Rendon border just off Highway 287. Crews worked to put out that fire, and homeowners with garden hoses watered down their property.
No injuries have been reported in any of the fires.Gentry said the area impacted by the wildfire is less populated and mostly vacation homes. But one nearby church did take in several evacuees.