Wind energy becomes second-largest source of US power for 1 day in March
EIA says daily wind-powered electricity has surpassed coal and nuclear electricity generation separately on other days but had not surpassed both on a single day
Wind energy became the second-largest source of electric generation in the United States for one day this past March, marking the first time that has occurred.
According to the U.S. Energy Information Administration, wind turbines in the lower 48 states produced 2,017 gigawatt-hours of electricity on March 29, making it the second-largest source of electricity generation behind natural gas.
The EIA said daily wind-powered electricity had surpassed coal and nuclear electricity generation separately on other days but had not surpassed both sources on a single day.
HOW TO WATCH FOX WEATHER ON TV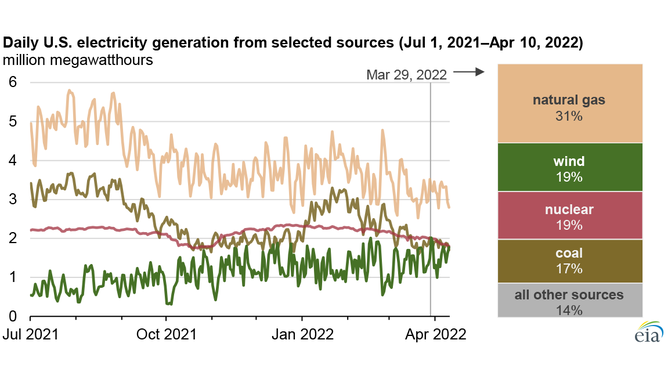 Natural gas produced 31% of the electricity generation on that day, with both wind and nuclear producing 19%. Behind that was coal at 17% and other sources of electricity coming in with 14%.
According to the EIA, the United States has seen consistent growth with the installation of wind turbines, which has led to more wind-powered electricity generation.
7 GREENEST STATES IN THE NATION - AND THE 7 LEAST GREEN
In fact, the EIA says wind power capacity surpassed the U.S.' nuclear capacity in September 2019 but still generated less electricity.
This is because the average capacity factor of U.S. wind generators was 35% in 2021, which is lower than nuclear generators, which was 93% in 2021.
The capacity factor is the ratio of electrical energy produced by a unit (like wind turbines or nuclear power plants) for the period of time considered to the electrical energy that could have been produced at full-power operation during the same period.
The EIA says nuclear generators are designed to run at or near full power, which it typically does.
TARGET TESTING FIRST NET-ZERO EMISSIONS STORE IN CALIFORNIA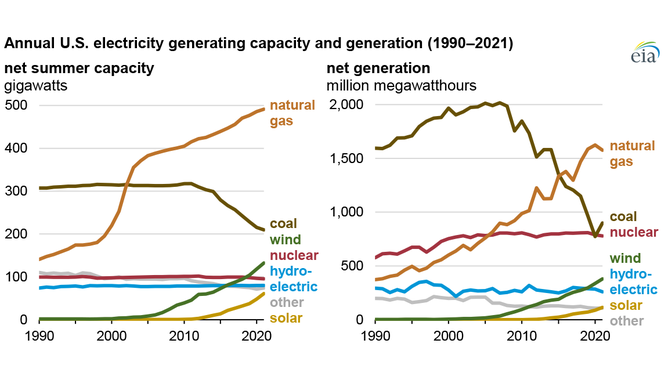 So, what led to wind power becoming the second-largest source of electricity on March 29?
The EIA says wind power generation typically peaks during the spring. And because electricity demand tends to be lower in the spring and fall, some energy producers, like coal and nuclear, reduce their power output or take the time to perform upgrades during those months.
CALIFORNIA'S FIRST-IN-THE-NATION PROJECT AIMS TO COVER CANALS WITH SOLAR PANELS
In addition, when weather patterns lead to more wind power generation, coal and natural gas suppliers are called upon to reduce their output, so overall supply matches the demand.
And while this event marked a significant milestone, the EIA says it doesn't expect wind power to surpass either coal-fired or nuclear generation during any month through 2023.