Satellite launch completes triple-launch weekend for SpaceX
Three Falcon 9 launches happened in Florida and California this weekend
SpaceX has a busy Father's Day weekend with three launches planned, lifting off from Florida and California. 
First up, SpaceX continued to build its Starlink internet constellation with the launch of another 53 spacecraft.
A Falcon 9 rocket lifted off at 12:09 p.m. Friday from Kennedy Space Center Launch Complex 39A in Florida.
HOW TO WATCH FOX WEATHER ON TV
The rocket booster returned to Earth about 8 minutes after liftoff, landing on a drone ship in the Atlantic Ocean called A Shortfall of Gravitas. This marked the 10th Starlink launch for the booster and the 13th mission overall. 
The weather on Friday afternoon was looking good for the launch. Forecasters with the Space Force 45th Weather Squadron predicted a 90% chance of favorable conditions for the instantaneous launch window.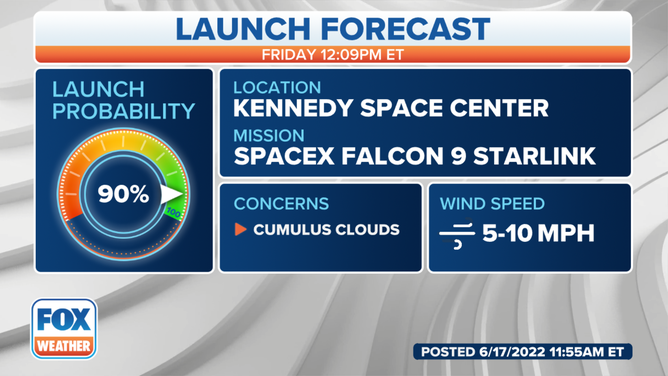 Less than 24 hours later, SpaceX was back at it but on the opposite coast. Another Falcon 9 launched from Vandenberg Air Force Base on the California coast. 
STARLINK INTERNET 'DISHY' FACES OFF AGAINST SNOW, WILDFIRES IN REMOTE CANADA
SpaceX targeted 7:19 a.m. Pacific (10:19 a.m. Eastern) to launch SARah 1, a radar remote-sensing satellite, for the German military. 
It was about 50 degrees in Vandenberg at the time of liftoff with some cloud cover around the launch site. 
And as planned, the Falcon 9 booster landed at Landing Zone 4 in Vandenberg. 
Working dads at SpaceX started their Father's Day very early Sunday. 
At 12:27 a.m. Eastern, Falcon 9 launched Globalstar FM15 to low-Earth orbit from Cape Canaveral Space Force Base.
While initially concerning, weather conditions proved favorable for liftoff on Florida's Space Coast. 
SpaceX said that after the launch, Falcon 9's first stage successfully landed on the droneship called Just Read the Instructions.
CLICK HERE TO GET THE FOX WEATHER UPDATE PODCAST
Be sure to download the FOX Weather app to track any storms in your area and receive potentially life-saving weather alerts issued by the National Weather Service. The free FOX Weather livestream is also available 24/7 on the website and app and on your favorite streaming platform. The FOX Weather Update podcast also provides weather information for the entire country.