Don't look up: Why some consider June's meteor showers to be invisible
As the Northern Hemisphere enters its longest days, astronomical events are usually difficult to spot due to the maximum sunlight. The summer solstice will occur on June 21, after which days get shorter.
During the upcoming weeks, several meteor showers will peak, but astronomers warned that because many events are happening in the daytime, North America could be shut out from seeing any spectacles in the sky.
The Arietid meteor shower is expected to peak on June 7, zeta Perseid meteors will reach their height on June 10 and the always illusive June Bootids are expected to peak on June 27.
Astronomers said if there is a chance to catch the best view, it is around dawn or dusk when there is a transition between the sun and the moon. NASA said a surprise outburst is possible but unlikely.
WATCH OUT FOR THESE ASTRONOMICAL EVENTS IN 2023
Astronomical events during the early summer are notoriously difficult to spot due to North America being in the time of year when there is the most daylight.
Cities around the country will see daylight hours peak around June 21 on the summer solstice.
Before days start getting shorter, Chicago will see more than 15 hours and 31 minutes of sunlight, and Seattle's longest day of the year comes in at about 16 hours.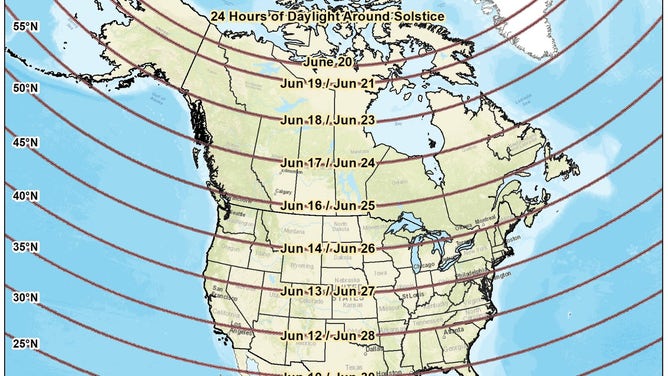 SONIC BOOM: HEAR THE SOUNDS OF A METEOR BREAKING UP OVER UTAH
If you are a devoted stargazer, meteor showers in the latter half of the year could be more worthwhile.
The Perseid meteor shower in mid-August and the Geminids in mid-December could be two of the bigger events due to the barrage of natural space debris and the lack of viewing interference from the sun and the moon.
Astronomy experts said that due to the speed and composition of meteors, the space material vaporizes in the upper levels of the Earth's atmosphere and does not pose a threat to viewers on the ground. Meteors showers usually lack large amounts of metallic and rocky materials needed to survive a trip through Earth's atmosphere.
It is estimated that several hundred meteorites reach Earth's surface every year, but less than a dozen are actually found.