Museum offers $25,000 reward for Maine meteorite hunt
On Saturday, April 8, a fireball was spotted streaking the sky of Washington County, Maine. The museum says spotting of fireballs during the daytime are rare. A fireball is another term for an unusually bright meteor.
BETHEL, Maine – A spectacular fireball that was spotted streaking through the northern sky might be the golden ticket to a reward of at least $25,000 for a lucky person if they can stumble across remnants of a meteorite.
The Maine Mineral & Gem Museum has put up the money to help get their hands on the rare material to study the makeup of outer space.
Satellites, radar and even humans observed the unusually bright meteor streaking through the sky on Saturday, and some material is believed to have landed in far eastern Maine and the Canadian province of New Brunswick.
SEE THE METEORITE CHUNK THAT WAS FOUND AFTER SLAMMING INTO TEXAS
 "When a fireball is sufficiently bright to be seen in broad daylight, it would have been extraordinarily bright had this been at night. The existence of positive doppler radar returns-meteorites detected descending through the atmosphere just several miles above ground – assures us there are meteorites waiting to be found," said Darryl Pitt, the chair of the meteorite division at the museum.
NASA said the event was the first recorded time a radar observed meteor materials falling over the state.
According to the space agency, the material is likely strewn around a one-mile path stretching from Waite, Maine, to Canoose, New Brunswick.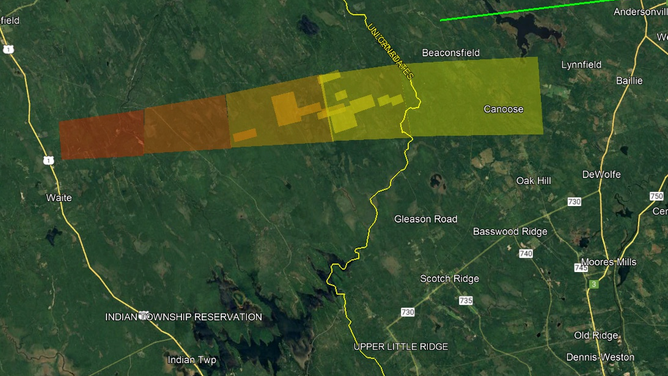 Planetary experts estimate only 500 meteorites reach the surface of the Earth each year, with less than a dozen that are ever recovered.
SONIC BOOM: HEAR THE SOUNDS OF A METEOR BREAKING UP OVER UTAH
The museum, which has the world's most extensive collection of meteorites, is looking for at least 2.2 pounds of material from the latest event but will consider a reward for any sized specimen.
The center previously offered money for meteorite debris in 2016, but likely due to the state's forested terrain, the reward went uncollected, with no pieces ever publicly acknowledged to have ever been found. 
Officials caution interested adventurers to always obtain a landowner's permission before wandering onto any private lands.
All collected specimens will be tested to confirm that the material is, in fact, from the meteorite and not another event.