Summer of the shark: Sightings close another New York beach hours after 2 attacks
Officials supercharge shark monitoring along Long Island's beaches after 5 were bitten and find a school of 6 thresher sharks. The July 3rd bite victim just returned to work Thursday as well.
OYSTER BAY, N.Y. – A group of thresher sharks closed down another beach on Long Island, New York, less than a day after two beachgoers suffered shark bites. As a precaution, lifeguards prohibited swimming for at least an hour after the sightings.
"We normally see sharks this time of year because the water warms up and of course, you have all the bait in the water. But today was very unusual," Oyster Bay Supervisor Joseph Salado told FOX Weather. "There have been three other shark attacks on Long Island, in Suffolk County, the Eastern End, and now we saw six thresher sharks at one time in the water."
2ND SHARK BITE REPORTED ON LONG ISLAND IN LESS THAN 12 HOURS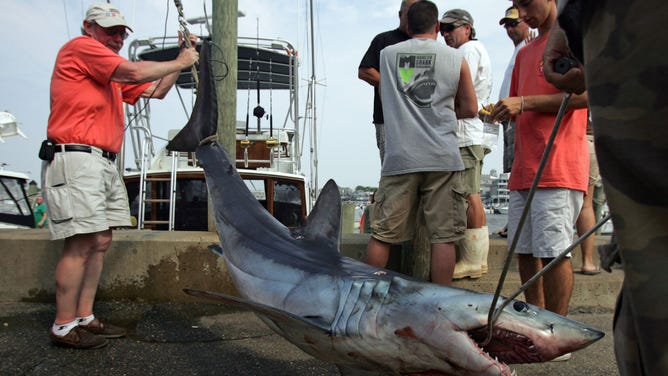 Drones, helicopters and lifeguards hit the air and sea and determined the fish to be four to six feet long.
"Our lifeguards go through a rigorous training," Salado explained. "It's all about understanding the shapes underwater and then looking for bends and so forth at the surface."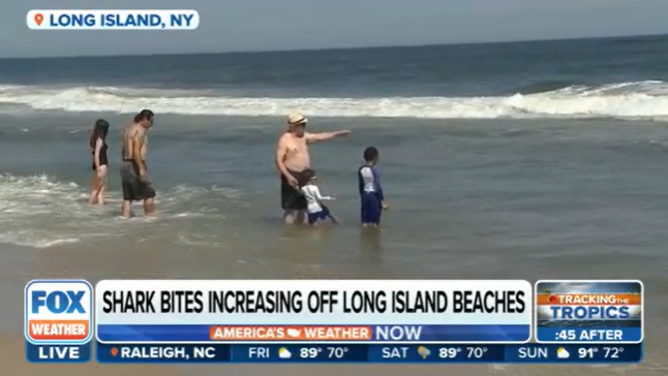 During the last 11 days, a lifeguard, surfer and tourist were bitten in the areas around Smith Point and Seaview.
5 SHARK ATTACKS ON LONG ISLAND PUTTING BEACHGOERS ON ALERT
The Smith Point Beach lifeguard was just returning from medical leave following his encounter when the dangerous marine life was spotted again.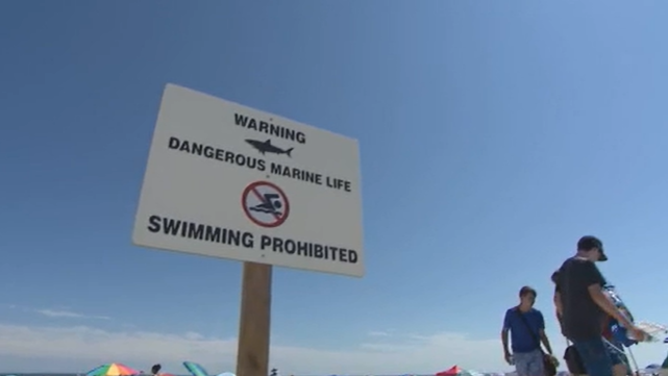 "As I was pulling up to work, I was in my car by myself, there was a slight like, 'well, I'm going back in the water today? You're going to be all right,'" lifeguard Zach Gallo said at a news conference. "But once I was in the water, I was just so happy to be back. My fellow guards and I were yelling at the water, 'Who's ready for round two?"
STAY SHARK SMART: WHAT TO KNOW WHEN YOU HEAD INTO THE WATER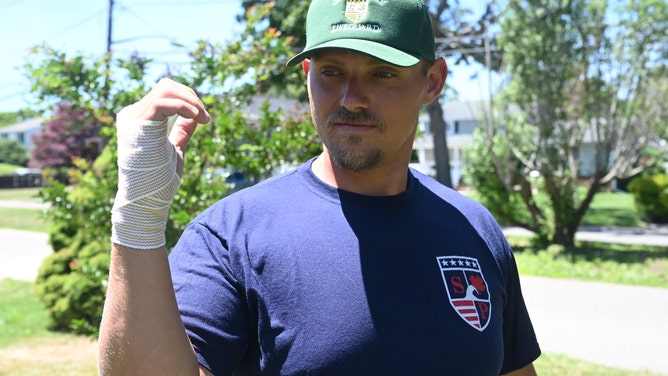 Gallo was the first shark bite victim at Smith Point since it opened in 1959. Last year was the first year on record that Suffolk County ever had a beach closure due to a shark, according to Steve Bellone, Suffolk County Executive.
"This is a rare thing at this point. It's hard for me to say that I'm hopeful that this is an aberration and this goes back to being a very rare thing. But, you know, I've experienced enough to know that this just may be a reflection of a new reality that we're in," Bellone said at a news conference. "So we're having conversations. We are speaking to our own experts… saying, give us a sense of what may be happening here. Is this something that we're going to see over the long term?"
Other officials agree that shark bites have been rare for Long Island but efforts to clean up surrounding waters resulted in more fish. Those fish attract sharks.
SHARK SPOTTERS: SCIENTISTS ASK BEACH GOERS TO HELP KEEP TRACK OF SHARKS
"The water is cleaner and warmer and there's more bait in the water," said Salado. "And all of these things add up to more sharks closer to where we swim."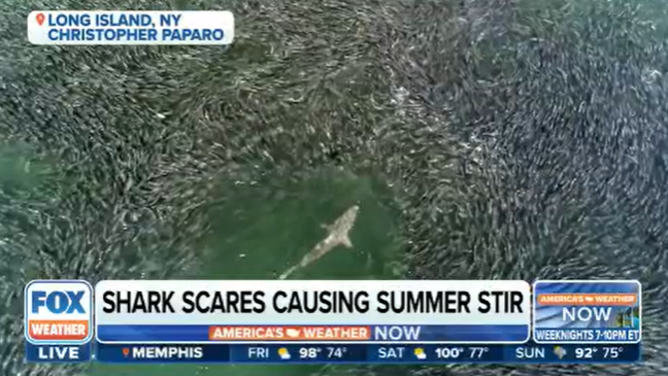 Suffolk County Fire and Rescue employs six drone pilots that are tasked with searching for sharks. The drones have high-definition video, thermal imaging, audio broadcast ability and can hold a spotlight. The team assembled last year initially trained for searches in remote areas, surveillance and aerial views of fires shifted to searching for seaborne carnivores.
"Our response time for these incidents has been under an hour, we've had a drone in the air," said Suffolk County Commissioner of Fire, Rescue and Emergency Services Patrick Beckley. "We could probably use the big drone from 35 to 45 minutes in these weather conditions. We have to bring it down for about a minute, swap out the batteries, put it back up."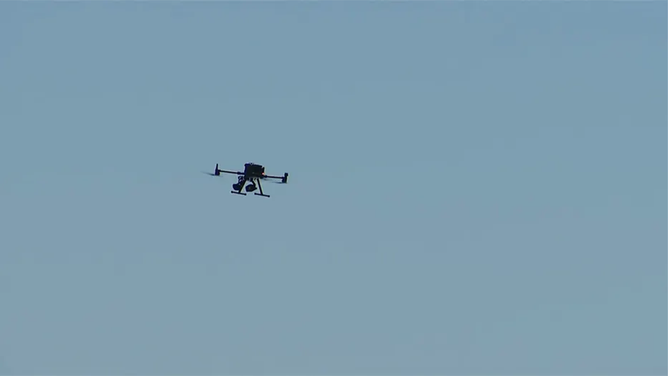 Smith Point Beach was closed for over five hours Wednesday while drones searched for sharks.
The county says it'll employ "enhanced efforts" to monitor the water this weekend which is traditionally very crowded for New York beaches.
Track the temperatures and storms in your area with the FOX Weather app. The free FOX Weather livestream is also available 24/7 on the website and app and on your favorite streaming platform. The FOX Weather Update podcast also provides weather information for the entire country.