2nd shark bite reported on Long Island in less than 12 hours
This is the second shark bite on the Long Island, New York, beach in just two weeks. The only shark bites ever in the history of the beach.
SUFFOLK COUNTY, NY – Officials were forced to close two separate Long Island beaches Wednesday after two people were bit by sharks. This makes the area's third report of a shark encounter in just 10 days.
Smith Point Beach on Long Island, New York was closed for hours on Wednesday as drones and lifeguards on Jet Skis searched for a shark that bit a paddleboarder around 7:30 Wednesday morning.
Police say another man was attacked at nearby Seaview Beach on Fire Island.
Officials say that both men were fortunate as the outcome could have been much worse. 
7:30 a.m. Smith Point Beach
"[He] was knocked off the paddle board, took a punch at the shark and saw the shark coming back around," explained Steve Bellone, Suffolk County Executive, at a press conference. "[He was] so very fortunate that a wave came in and pushed him towards the shore."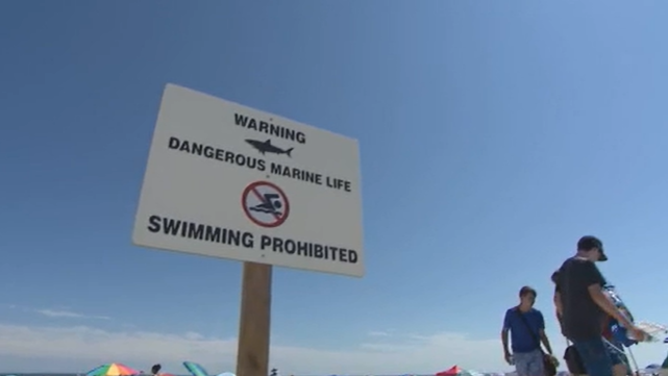 Second bite at Smith Point in 2 weeks
This was only the second shark bite reported since the beach opened in 1959. The first one was on July 3 when a shark bit a lifeguard on a training exercise.
 SHARK BITE FORCES CLOSURE OF 2 NEW YORK BEACHES SUNDAY
"We are looking at something that just may represent the new normal," said Bellone.
Experts feel that the four-inch bite on the paddleboarders came from a four-foot-long sand tiger shark. The man was attacked around 7:30 in the morning and had to walk to find a park ranger to call 911 on the empty beach. Doctors called the 41-year-old's bite a non-life threatening injury, according to FOX 5 New York.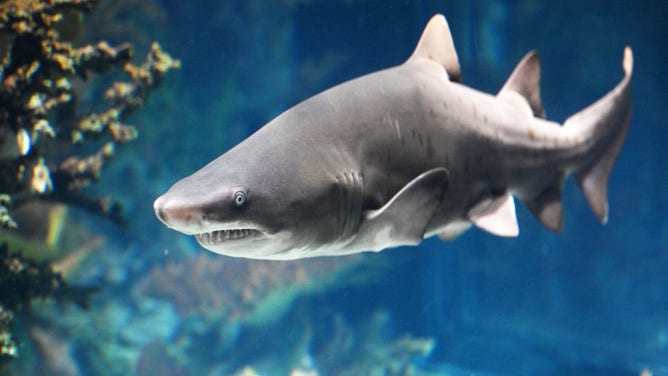 6:00 p.m. Seaview Beach
An Arizona man was attacked from behind on Seaview Beach. He was standing in waist-deep water when a shark bit his left wrist and buttocks. The 49-year-old was able to walk out of the water but was airlifted to a nearby hospital. Later the Suffolk County Police confirmed that the injuries were non-life threatening.
Shark attacks on the rise
Long Island counties have police helicopters in the air, lifeguards on beach patrol and drones that regularly patrol for sharks near beaches. 
"If there is a shark that comes close to the shore, we close that beach for at least an hour to make sure that the ocean is clear and that it's safe to swim," Nassau County Executive Bruce Blakeman told FOX Weather. "I do want to stress that it's extremely rare that someone would get a shark bite. 
SHARK-TRACKING APP LETS YOU SPY ON THIS 1,000-POUND GREAT WHITE FROM SAFETY OF SHORE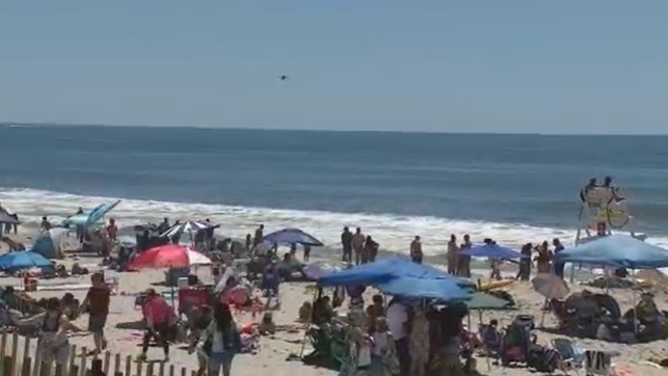 More sharks off beaches
Blakeman said part of the problem is actually cleaner water in the Long Island Sound after monumental legislative efforts. More fish thrive in the cleaner water and draw in sharks looking for a meal.
"People do not have to worry about sand tiger sharks. People do not have to worry about sharks period. The sharks are here specifically to eat the abundance of populations of Atlantic menhaden and other bait fish," Frank Quevedo, Executive Director of the South Fork Natural History Museum which runs the Shark Research and Education Program. "That is a food source for them. They're not here to eat people."
Water temperatures along the coast are also warmer than normal Blakeman said, "Right now, our ocean waters are about 70 degrees, which we usually don't reach 70 degrees until sometime in mid-August."
STAY SHARK SMART: WHAT TO KNOW WHEN YOU HEAD INTO THE WATER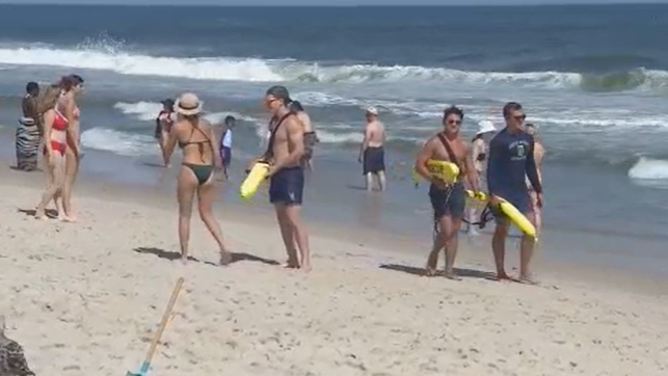 Be sure to watch FOX Weather at 8 p.m. ET or 10 p.m. ET on Saturday, July 16th and Sunday, July 17th, for Sharks: From the Depths courtesy of KTTV, FOX 11 Los Angeles. Take a look inside the illegal shark finning trade, how shark behavior affects the environment, and one on one with a shark attack survivor. You won't believe what he's doing now.
HOW TO WATCH FOX WEATHER ON TV 
Stay safe in the water
Blakeman said he was in the water just that morning and recommended several common-sense cautions to keep swimmers safe:
Swim in protected areas with lifeguards.
Stay away from the fish: "If you see a lot of birds in the water or birds diving in the water, that means that there are fish there be a little more cautious… we know the sharks, they follow the fish. They're not looking for humans to eat. They're looking for fish. They'll just bite a human being casually just to taste them, to see if there are fish or not. They don't like human beings."
Stay away from fishermen: "If people are fishing nearby where you're swimming, don't go there. They're trying to attract fish and that will attract sharks."
Don't swim at dusk and dawn when sharks tend to feed
SHARK SPOTTERS: SCIENTISTS ASK BEACH GOERS TO HELP KEEP TRACK OF SHARKS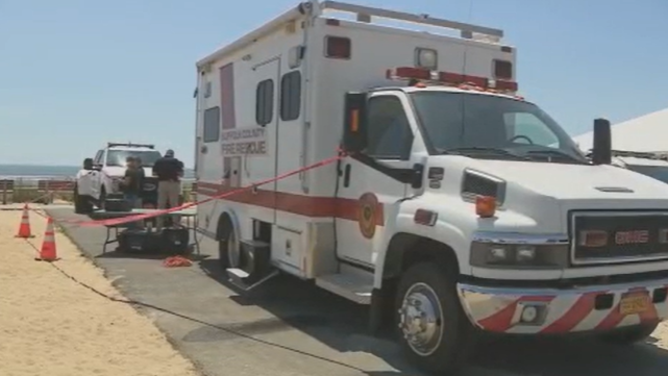 Since 1837 there have been 1,555 shark attacks in the U.S., according to the International Shark Attack Files at the Florida Museum of Natural History.  New York has only had 12 of those. Florida tallied up 896, Hawaii 182, California 132 and South Carolina 111. All other states had bite counts in the single and double digits.
Track the temperatures and storms in your area with the FOX Weather app. The free FOX Weather livestream is also available 24/7 on the website and app and on your favorite streaming platform. The FOX Weather Update podcast also provides weather information for the entire country.