Strawberry Moon creates lunar rainbows over Yosemite waterfalls
Most would think of rainbows during the day after a rainstorm when the sun is out. In this case, the rainbows were created by moonlight.
June's Strawberry Moon created a magical nighttime scene at Yosemite National Park just in time for the Sierra snowpack to melt and waterfalls to flow.
Photographer Shreenivasan Manievannan camped out on the night of June 2 during the full Moon and captured Yosemite's waterfalls and lunar rainbows.
"Moonbow this year was phenomenal with epic snowpack in the Sierra Nevada!" Manievannan wrote on Instagram. "This is a combo of real-time video capture along with Timelapse shots to capture the trailing stars on a full moon night."
7 AMAZING REASONS TO VISIT YOSEMITE NATIONAL PARK
Manievannan said that Yosemite Valley was flooded, allowing the rainbows to reflect even more. An edited long-exposure photo by Manievannan captured the bright stars and the lunar rainbows.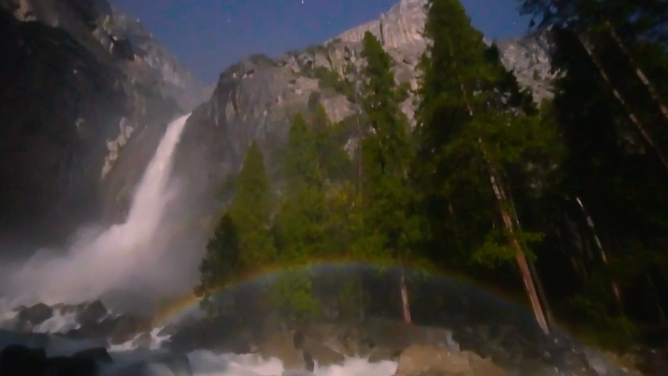 When most people think of rainbows, they think of the ones that follow rainstorms when lit by the sun. Rainbows form through a combination of light reflection and refraction inside water drops. In this case, the rainbows were created by light from the moon. Just like on a sunny day in the national park, moonlight can also be bent and reflected by the waterfalls.
WATCH OUT FOR THESE ASTRONOMICAL EVENTS IN 2023
The bright full moon provided the light reflection to create the dancing rainbows across the waterfalls.