SpaceX in 'good shape' for Crew-3 astronaut launch Wednesday night
After several delays, the Falcon 9 launch is scheduled for 9:03 p.m. from Kennedy Space Center.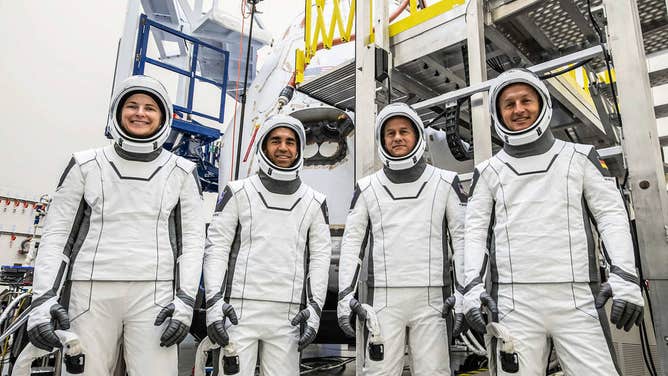 KENNEDY SPACE CENTER, Fla. – SpaceX and NASA are moving ahead with the Crew-3 mission, the next astronauts to launch from Florida, a little more than two days after the private company returned four astronauts to Earth.
The Crew-3 mission marks the fourth astronaut launch by SpaceX under NASA's Commercial Crew Program and the third long-duration trip to the International Space Station for the company.
SpaceX will launch the Crew-3 astronauts on a Falcon 9 rocket at 9:03 p.m. from Kennedy Space Center's launchpad 39A. The crew named their SpaceX Crew Dragon spacecraft Resilience. 
The launch will mark the third spaceflight for NASA astronaut Tom Marshburn. It's the first space trip for Crew-3 commander Raja Chari, NASA's Kayla Barron, and European Space Agency astronaut Matthias Maurer.
During a launch readiness review Tuesday evening, NASA and SpaceX managers said they are not working on any issues ahead of the launch.
Teams delayed the pre-launch news conference several hours to take more time to review the splashdown data from the Crew-2 return Monday night, according to NASA's Commercial Crew Program Manager Steve Stich.
"We're in good shape to go proceed toward launch tomorrow," Stich said after the hours-long review.
The liftoff has faced several delays due to weather and a minor medical issue with one astronaut.
Ultimately, SpaceX and NASA decided to bring the last astronauts to launch to the ISS in Crew Dragon home before it scheduled the Crew-3 launch again. 
A SpaceX Dragon called Endeavour brought the Crew-2 astronauts home with a Monday night splashdown off Florida's Gulf Coast. The landing was flawless except for one parachute that took more time to deploy. 
SpaceX vice president of Build and Flight Reliability William Gerstenmaier said teams have reviewed the parachute deploy delay in detail. He says this is a known condition that can occur with the four main parachutes. 
"This one was a little bit slow deployed, about 75 seconds late. But again, all within the design criteria," Gerstenmaier said, adding that the parachutes were flown back to Cape Canaveral and examined in a hangar by SpaceX and NASA teams. SpaceX also spoke with the parachute manufacturer.
The Crew-3 astronauts have been in Florida for a few weeks now, awaiting their launch.
NASA Johnson Space Center chief flight director Holly Ridings said the crew had taken the extra time to spend with their families. 
"Their families have been here as well. So, you know, they've had an opportunity to spend a little additional time with them," Ridings said. "They're excited, and they're ready to go, you know, tomorrow, wake up … have breakfast, get a weather briefing. Get suited up and hopefully go out for a really great launch."
If the launch goes, the Dragon will dock at the ISS Thursday night. Ahead of its arrival NASA ISS manager Joel Montalbano said the space station will move a few degrees to avoid a piece of space junk about six hours before Crew-3 launch. He said it won't impact the launch or docking. 
Weather is 'go'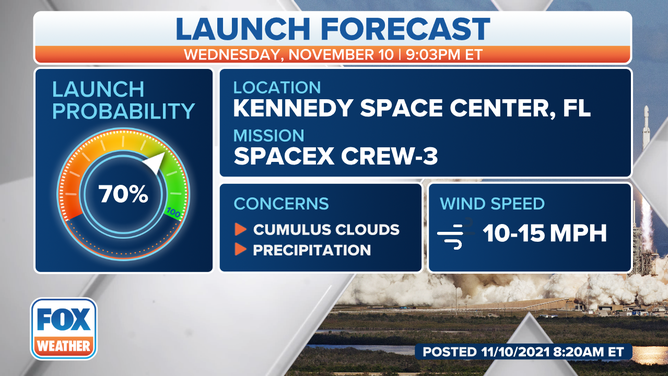 The weather for Wednesday's liftoff looks good. The 45th Weather Squadron forecast indicates a 70% chance of good weather for liftoff. 
While the launch forecast doesn't include the ascent corridor along the Atlantic Coast in case of an abort, Stich said both forecasts are looking good. The Dragon capsule has an emergency abort system that will separate the spacecraft from the Falcon 9 rocket for a sea landing. Wave height, wind, and weather conditions must meet specific criteria before the rocket launches to ensure the crew and recovery teams' safety at sea.
"The weather is 'go' for launch tomorrow. Both the abort corridor and also the launch weather and all aspects of the weather," Stich said. "That high-pressure system that allowed us to land at Pensacola (Monday) has moved over to this part of the Florida east coast and up the coast. And that high pressure is giving us really good weather."
Before returning to Earth Monday, NASA astronauts Shane Kimbrough and Megan McArthur, Japan Aerospace Exploration Agency astronaut Akihiko Hoshide, and European Space Agency astronaut Thomas Pesquet spent 199 days working on the International Space Station, conducting experiments and research in low-gravity.
Despite one group of astronauts landing and another launching within three days, human spaceflights from U.S. soil are still a rare occurrence, and NASA's Commercial Crew Program is still evolving.
"Each one of these flights is really a gift for us," Gerstenmaier said. "We're still learning how to operate these vehicles … you learn from each and every flight."