Back on Earth: Crew-2 astronauts complete spaceflight with nighttime splashdown
American, Japanese and European astronaut crew splash down off Pensacola, Florida.

PENSACOLA, Fla.-- The second group of astronauts to travel to the International Space Station courtesy of SpaceX's Dragon Endeavour spacecraft have returned to Earth, splashing down off the coast of Pensacola, Florida, in the darkness of night.
NASA astronauts Shane Kimbrough and Megan McArthur, Japan Aerospace Exploration Agency astronaut Akihiko Hoshide, and European Space Agency astronaut Thomas Pesquet launched in Endeavour to the space station in April. 
After nearly 200 days in space, the Crew-2 astronauts boarded their spacecraft again and undocked from the ISS Monday afternoon. They completed a 360-degree flyover of the station, their home for the last six months, before beginning the journey to Earth.
Dragon arrived home barreling through Earth's atmosphere at more than 350 mph before plopping down in the Gulf of Mexico at 15 mph, aided by SpaceX's parachute system. 
"Endeavour, on behalf of SpaceX, welcome back to planet Earth," SpaceX mission control told the crew just after 10:33 p.m. ET.
This marked the second team of astronauts to fly via Dragon Endeavour. 
McArthur's spouse, NASA astronaut Bob Behnken was one half of the spacecraft's first human spaceflight. Behnken and NASA astronaut Doug Hurley completed the Demo-2 test flight last summer to the space station, also ending in a splashdown in the Gulf of Mexico. The pair named the Crew Dragon Endeavour in light of the ongoing coronavirus pandemic and in honor of the teams who made the return to human spaceflight from the U.S. possible after a nine-year gap.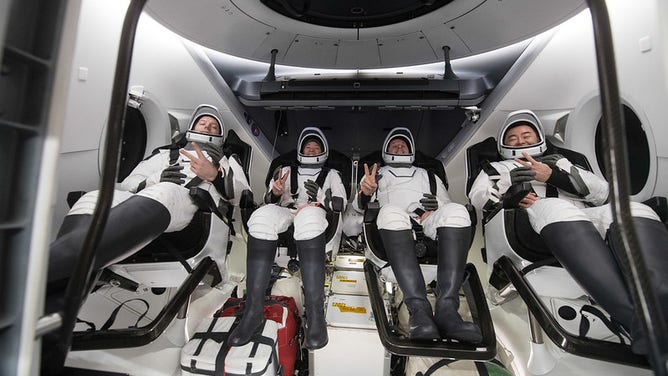 After Dragon Endeavour landed, recovery crews stood by and made their way on fast boats to secure the spacecraft. The once primarily white capsule was then brought on board SpaceX's recovery boat, looking like a toasted marshmallow with visible signs of its journeys to space.
The splashdown was in Pensacola because of the "glass-like" condition in the Gulf Monday night. NASA and SpaceX commentators said it was "basically like a lake out there." The landing location is selected from seven options based on various conditions, including wave height and wind. 
The crew appeared to be in good spirits after the hatch opened waving and smiling to the people outside Dragon. Recovery teams helped the astronauts out of their spacecraft one by one. Hoshide offered a fist bump to a recovery team member and all the astronauts held up a "peace sign" symbolizing the second long-duration mission under NASA's commercial crew program. 
After undergoing medical checks on the boat, the astronauts will take a helicopter back to solid ground and be reunited with their families hours later.
Monday's successful splashdown paves the way for SpaceX to launch the next four astronauts to the space station. NASA and SpaceX are targeting Wednesday at 9:03 p.m. to launch the Crew-3 astronauts from Kennedy Space Center.