After several delays, SpaceX to launch Crew-3 astronauts Wednesday night
Falcon 9 launch with Dragon Endurance spacecraft scheduled for 9:03 p.m. Wednesday from Kennedy Space Center.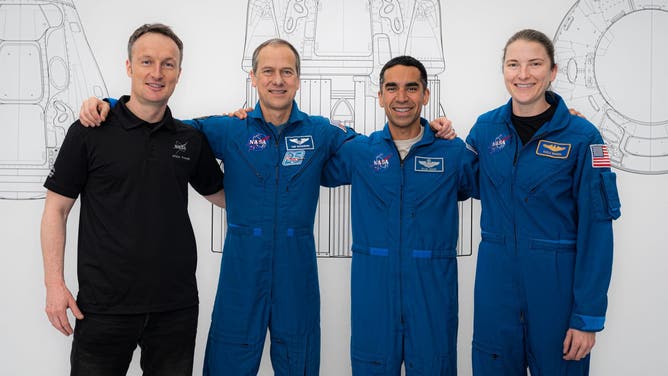 It will be a busy week in human spaceflight for SpaceX as Elon Musk's company attempts to launch more astronauts to the International Space Station two days after bringing home four space explorers following their six-month stay in space.
NASA and SpaceX will first bring home the Crew-2 astronauts Monday night, and if all goes well, they will pivot to launching the Crew-3 astronauts Wednesday night.
Under the current timeline, SpaceX is targeting a splashdown around 10:30 p.m. off Florida's coast for the Crew-2 astronauts. Then, SpaceX will launch the four Crew-3 astronauts from Kennedy Space Center no earlier than Wednesday at 9:03 p.m. ET.
The Crew-3 mission is commanded by NASA astronauts Raja Chari. NASA astronauts Tom Marshburn, Kayla Barron, and European Space Agency astronaut Matthias Maurer complete the four-person spaceflight team.
Space Force forecasters with the 45th Weather Squadron predict an 80% chance of favorable launch conditions at KSC launchpad 39A.
LEARN: Why forecasting astronaut launches is more complicated
However, that's just the weather around the launch site. The primary weather concern will be cumulous cloud cover. If the launch delays, chances drop to 70%, with potential rain in the forecast.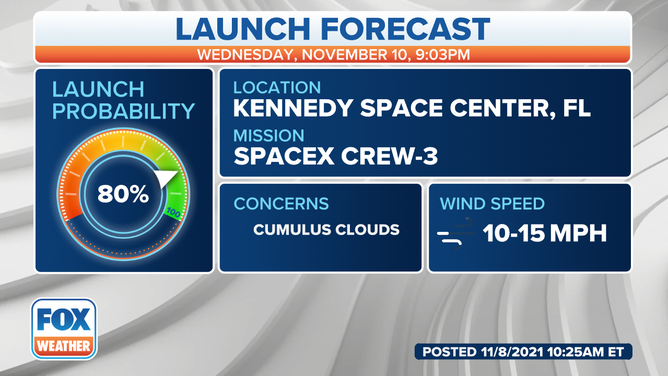 This is the fourth launch timeline for the Crew-3 mission in just over a week. The first delay was due to poor weather along the ascent corridor as the SpaceX rocket launched. The area along the spacecraft's path to space must have favorable weather in the event of a launch abort during which the capsule lands in the Atlantic Ocean. The potential landing area for an abort runs from Florida up to the North Atlantic and to Ireland. 
Last week, NASA said it was delaying an attempt due to one astronaut's "minor medical issue." The agency said it continues to monitor the issue and said it is expected to be resolved by launch.
The Crew-3 astronauts have named their capsule Endurance. If the current launch time holds, Endurance will dock at the space station around 7:10 p.m. Thursday.
Endurance and the Crew-3 astronauts will remain on the ISS until April 2022.