Crew-2 astronauts ready to return to Earth with splashdown off Florida coast
Dragon bathroom won't be working for the astronauts' trip back to Earth.
After six months away from their families and gravity, SpaceX will bring a team of international astronauts home Monday in the Crew Dragon spacecraft, splashing down off Florida's Gulf Coast. 
SpaceX and NASA have been working around poor weather conditions at sea as they try to bring home the Crew-2 mission astronauts and send up the next four under the Crew-3 mission.
NASA astronauts Shane Kimbrough and Megan McArthur, Japan Aerospace Exploration Agency astronaut Akihiko Hoshide , and European Space Agency astronaut Thomas Pesquet have lived and worked on the International Space Station for nearly 200 days since launching from Kennedy Space Center in April. The Crew-2 astronauts mark the second long-duration mission to the ISS made possible by SpaceX and NASA's Commercial Crew Program.
[Watch the Crew-2 undocking in the video player above] 
Dragon Endeavour doesn't have a working toilet for the journey home, but McArthur said the crew isn't too worried.
"We are unable to use the toilet on Dragon for the return trip. And, of course, that's suboptimal. But we are prepared to manage that and the time that we're onboard Dragon on the way home," she said on Nov. 5. "Spaceflight is full of lots of little challenges. This is just one more that we'll encounter and take care of in our mission. So we're not too worried about it. I think we have a good plan going forward."
A problem with the Dragon bathroom urine storage system was discovered during the Inspiration4 mission, the first all-civilian spaceflight in September. SpaceX had the astronauts inspect the Dragon docked at the ISS and found a similar problem with that spacecraft. 
The American, Japanese and European astronauts boarded their spacecraft docked at the ISS on Monday and the hatch closed just after 12 p.m. ET.
The Crew Dragon spacecraft, named Endeavour, undocked from the ISS around 2:05 p.m. Dragon conducted a 360-degree flyover maneuver over the ISS before beginning its journey home. 
The splashdown will happen around 10:33 p.m. off the coast of Pensacola, Florida.
There are seven possible options for Dragon to splash down around the Florida Peninsula. NASA and SpaceX look at conditions such as wave height, wind, and other weather factors before selecting the final spot for Dragon to land added by parachutes.
FOX Weather Meteorologist Jason Frazer said a departing low-pressure system in the Atlantic Ocean would create higher wind gusts on Florida's east coast. He was correct in his forecast that NASA and SpaceX will use one of the splashdown zones in the Gulf of Mexico.
NASA has specific criteria for a successful spacecraft recovery, including wind speed no greater than 15 feet per second and wave height no greater than 7 degrees wave slope. According to NASA's landing criteria, lightning must be further than 10 miles out, and rain chances also need to be around 25%.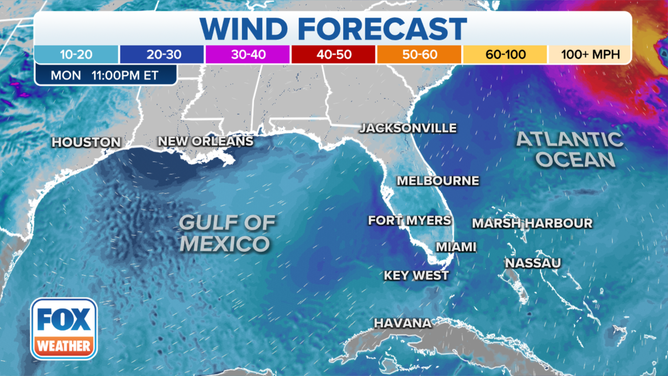 Winds in the Atlantic could be up to 30 mph in some areas, including potential landing sites. On the Gulf Coast, closer to the Florida Panhandle winds will be more favorable for a spacecraft splashdown.
Wave heights on the Gulf Coast should be 1 to 2 feet providing a safe landing area for Dragon and her crew.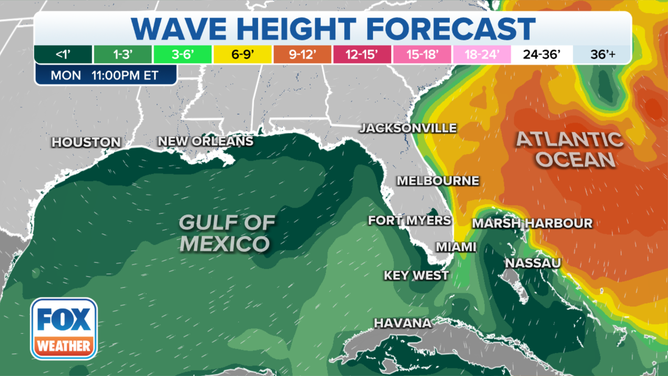 Recovery teams will be waiting to retrieve the capsule and help the astronauts onto a boat. The crew will arrive back on shore before flying back to Houston and being reunited with their families for the first time in six months.
"When you come back to Earth, you've been in free fall for, in this case, 199 days, well over six months, so the crew is deconditioned in terms of normal gravity," retired NASA astronaut Tom Jones said. "When they come back home, they are back to Earth gravity, and a lot of physiological rehabilitation has to take place."
The astronauts exercise in space to keep their bones and muscles healthy, but Jones said they would experience some balance and coordination issues because they haven't been using those systems for nearly 200 days. The crew will enter a four to six-week conditioning program to help them readapt to Earth life, explained Jones. 
Meanwhile, NASA said it's now targeting Wednesday at 9:03 p.m. to launch the Crew-3 astronauts via SpaceX's Falcon 9 rocket and Dragon spacecraft. The launch has faced several delays due to weather and a minor medical issue with one astronaut. The astronauts have been at Kennedy Space Center in Florida for over a week awaiting their launch.
The Crew Dragon, named Endurance, will dock at the space station around 7:10 p.m. Thursday if this launch time holds. 
When Crew-3 launches from Kennedy Space Center, NASA astronauts Raja Chari, Tom Marshburn, Kayla Barron, and European Space Agency astronaut Matthias Maurer will remain on the ISS until April 2022.