SpaceX ride-sharing mission marks first rocket launch of 2023
SpaceX launched 114 ride-sharing satellites into orbit Tuesday in the first launch of 2023 from Florida. The Falcon 9 rocket booster landed back at Cape Canaveral, marking its 15th mission.
CAPE CANAVERAL, Fla. – Three days into the new year, a SpaceX Falcon 9 rocket became the first to launch in 2023, kicking off another busy year in spaceflight.
In 2022, SpaceX achieved 61 launches, sending up a rocket nearly every week of the year. The company closed out December with seven additional launches.
According to SpaceX, after 2022, the Falcon 9 holds the world record for most launches of a single vehicle type in a single year.
This year will be even busier for SpaceX and the space industry as a whole.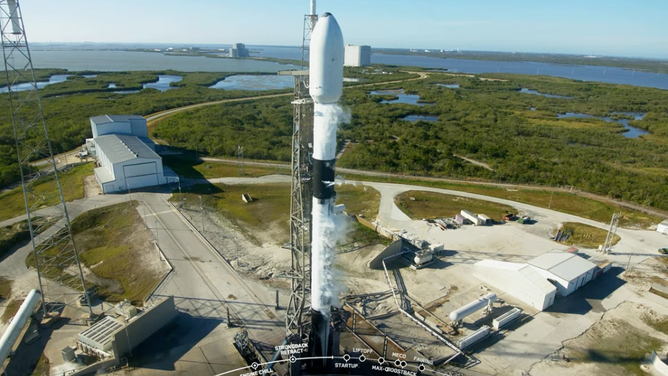 On Tuesday, SpaceX launched a Falcon 9 rocket carrying 114 different ride-sharing spacecraft into low-Earth orbit. Liftoff happened on time at 9:56 a.m. EST from Launch Complex 40 at Cape Canaveral Space Force Station. 
WATCH OUT FOR THESE ASTRONOMICAL EVENTS IN 2023
About eight minutes after launch, the rocket booster came back to Earth, landing at Landing Zone 1 in Cape Canaveral. This marks the 15th launch and landing of the Falcon 9 rocket booster used for Tuesday's mission. 
SpaceX says this was the 161st booster landing for the company overall and the 200th launch.
The mission known as Transporter 6 is the sixth dedicated ride-sharing mission of SpaceX's small satellite launch series. About every four months, SpaceX launches a mission dedicated to customers who can pay as little as $275,000 to get their 110-pound satellite into orbit.
According to SpaceX, Tuesday's Transporter 6 mission included small satellites, shoebox-sized cubesats and even smaller microsats and picosats.
Florida's weather offered a beautiful backdrop for Tuesday's launch. The rocket launched into a mostly clear blue sky above the Space Coast. 
The forecast for the launch was about 90% favorable, according to the Space Force's 45th Weather Squadron.