'Bizarre game of galactic billiards' creates runaway black hole leaving trail of stars in its wake
NASA believes the streak of stars, measuring some 200,000 light-years across, originated from the multiple collisions of three supermassive black holes and now one ejected black hole being shot across the universe is leaving a massive star field in its wake as it blasts through cosmic gasses.
WASHINGTON -- A collision between three black holes at the center of distant galaxies has led to a stunning discovery for NASA astronomers: A trail of stars twice the size of our own galaxy. It's marking the path of "an invisible monster" now streaking across the far away heavens after what astronomers termed a "bizarre game of galactic billiards."
The supermassive black hole, estimated to weigh as much as 20 million of our suns (or roughly 87,000,000,000,000,000,000,000,000,000,000,000,000 pounds), is moving so fast now that to put its speed in perspective, it could travel the distance between the Earth and the moon in 14 minutes, NASA said.  
In its path: a "contrail" of newborn stars that so far stretch 200,000 light-years across -- double the diameter of our own Milky Way galaxy, NASA says -- meaning it would take a beam of light 200,000 years to travel from one end of this line of stars to the other.
SEE THE GALAXIES SOON TO COLLIDE IN NEW IMAGES FROM THE HUBBLE SPACE TELESCOPE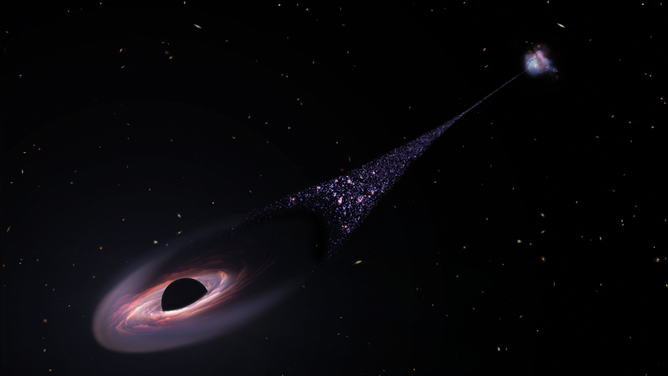 The discovery was made by accident by astronomers studying star clusters from a recent image captured by the Hubble Space Telescope.
"I was just scanning through the Hubble image, and then I noticed that we have a little streak," Pieter van Dokkum, of Yale University said in a NASA news release. "I immediately thought, 'oh, a cosmic ray hitting the camera detector and causing a linear imaging artifact.' When we eliminated cosmic rays, we realized it was still there. It didn't look like anything we've seen before."
Black hole becomes uninvited guest
NASA believes the star streak originated from the multiple collisions of three supermassive black holes. Two of them likely collided some 50 million years ago and merged into one binary system, with the two black holes orbiting around each other.
But the pair eventually found themselves behind the proverbial 8-ball when a third black hole came onto the scene and literally crashed the party. One of the black holes was shot away from the trio while the remaining pair were knocked the other way, leaving no obvious trace of the black holes at their original location.
'BURIED TREASURE': JAMES WEBB TELESCOPE'S NEWEST IMAGES SHOW STAR AT BIRTH
Astronomers aren't sure whether the one creating the star streak was the one who smashed into the pair or whether it replaced one of the original orbiting pair, but the result is a supermassive black hole racing across the universe - though don't worry, it's still not anywhere remotely close to where we have to worry about it on Earth.
'Cosmic Pac Man', but in reverse
NASA says the star line is likely being generated as the orphaned black hole pushes through cosmic gasses during its speedy journey.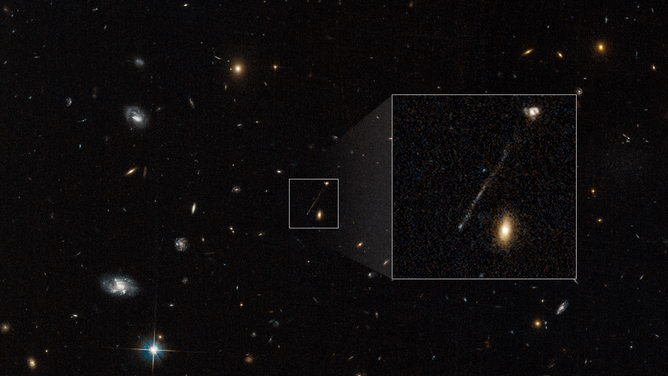 "We think we're seeing a wake behind the black hole where the gas cools and is able to form stars," van Dokkum said. So, instead of like a 'cosmic Pac Man' eating stars ahead of it as it goes, "we're looking at star formation trailing the black hole," van Dokkum said.  And the number of stars must be massive as the star trail is almost half as bright as its host galaxy.
HOW TO WATCH FOX WEATHER ON TV 
Van Dokkum's team published their research Thursday in The Astrophysical Journal Letters, and NASA will now further investigate the discovery using the new James Webb Telescope and the Chandra X-ray Observatory.