Rhode Island becomes first state in the nation to require all electricity be offset by renewable energy
Rhode Island is now the first state in the country to commit to 100% renewable energy by 2033
PROVIDENCE, R.I. – Rhode Island Gov. Dan McKee signed legislation on Wednesday that requires 100% of the state's electricity to be offset by renewable energy by 2033.
HOW TO WATCH FOX WEATHER ON TV
Rhode Island is now the first state in the country to make that commitment.
"Last year I signed the Act on Climate, which sets mandatory, enforceable climate emissions reduction goals leading the state to achieve net-zero emissions economy-wide by 2050," McKee said in a written statement on Wednesday. "Today's historic legislation outlines a firm, 10-year commitment to achieve our climate change mitigation goals, giving Rhode Island the most ambitious renewable energy standard in the nation."
AT COP26, WORLD LEADERS TURN ATTENTION TO CLEAN-ENERGY TRANSITION
Current state law requires an annual increase of 1.5% of electricity to be generated from renewable sources through 2035. But with the new legislation McKee signed on Wednesday, it will accelerate those increases starting in 2023 to achieve 100% by 2033.
"A 100 percent renewable electric supply is vital if Rhode Island is to achieve its Act on Climate goals and reduce economy-wise greenhouse gas emissions to net-zero by 2050," Rhode Island energy commissioner Nicholas Ucci said in a statement on Wednesday. "Our state is once again setting a bold, but achievable pace for the nation, and we are now one step closer toward a more secure, reliable, affordable and equitable energy future for all."
SOUTH LAKE TAHOE PLANS TO RUN OFF 100% CARBON-FREE RENEWABLE ENERGY BY 2030
Offshore wind partnership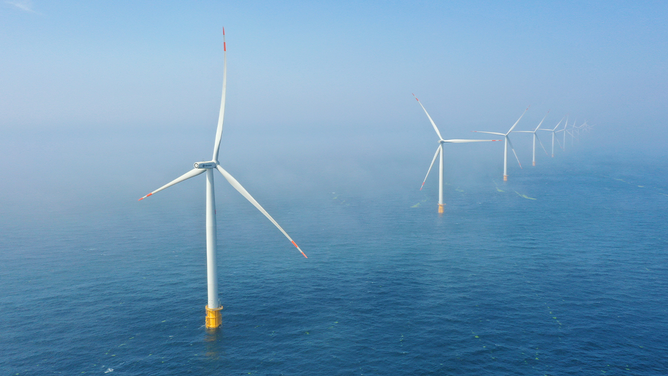 Rhode Island's new legislation comes one week after members of President Joe Biden's administration met with the governors of 11 states, including the Ocean State, to launch a new offshore wind partnership that will boost the expanding offshore wind industry. 
MAJORITY OF AMERICANS FAVOR US TAKING STEPS TO BE CARBON NEUTRAL BY 2050, PEW SURVEY FINDS
The Federal-State Offshore Wind Implementation Partnership is a commitment between the White House and the governors of Connecticut, Delaware, Maine, Maryland, Massachusetts, New Hampshire, New Jersey, New York, North Carolina, Pennsylvania and Rhode Island to collaborate on ways to expand the offshore wind supply chain from manufacturing facilities to port capabilities and workforce development.
Biden said he set a goal for the country to produce 30 gigawatts of offshore wind energy by 2030, which would be enough to power 10 million homes.
CLICK HERE TO GET THE FOX WEATHER UPDATE PODCAST
Since that goal was announced, Biden has approved the first large-scale wind energy projects and established new wind energy areas.
If this multistate partnership is a success, the partnership hopes to expand to areas along the West Coast as well as in the Gulf of Mexico to develop large-scale wind energy projects in those locations.