Father, son catch rare blue lobster off the coast of Maine
The rare blue lobster will be donated to it can be studied or released back into the Gulf of Maine
PORTLAND, Maine - You never know what the waters will turn up, and in Luke Rand's case, it was a rare blue lobster. 
The 36-year-old from Portland, Maine, said he and his father captured the unique crustacean last Thursday in Casco Bay, an inlet in the Gulf of Maine. 
"We caught it early in the day and were taken back by how blue it was," Rand told FOX Television Stations.
HOW TO WATCH FOX WEATHER ON TV
The father and son said they have been lobstering for more than 20 years. 
"My first instinct was to pull out my phone to document the find because it was such a rare occasion," Rand continued. 
GROUNDBREAKING RESEARCH SHOWS GREAT WHITE SHARKS MAY CHANGE COLOR TO BETTER HUNT THEIR PREY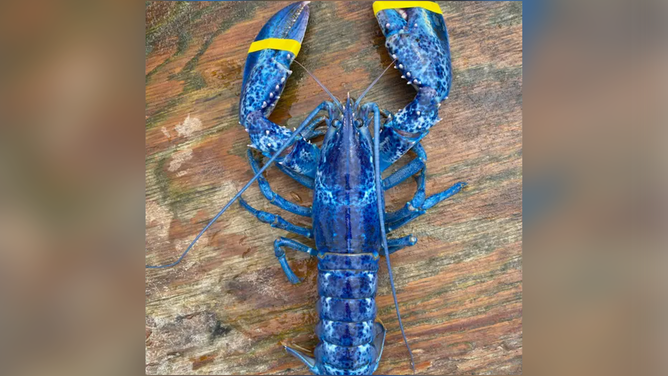 Rand said the lobster would be donated to be studied or released back into the wild. 
According to the Maine Lobstermen's Community Alliance, the color of lobsters can vary.
According to the Alliance, lobster shells contain astaxanthin, a pigment to determine their color. Astaxanthin is naturally red but can change to blue or yellow when combined with proteins.
While the find may be novel to much of the country, Maine has seen its share of rare lobsters, and they've even been discovered at restaurant chains.
"While a blue lobster can be found each season somewhere in these waters, a lobsterman can go his whole life never catching one," Rand added.
HOLD THE BUTTER: RARE, ORANGE-COLORED LOBSTERS SAVED BY RED LOBSTER, RIPLEY'S AQUARIUM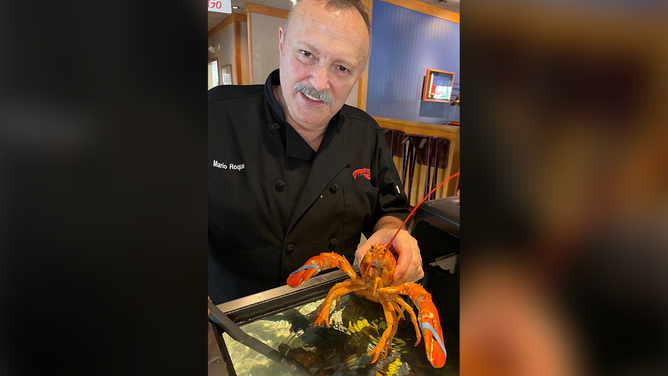 There have actually been a few instances of rare lobsters caught over the past several weeks.
Last month, the internet was abuzz with word that a Red Lobster location made the 1-in-30-million discovery of an orange lobster at its restaurant in Hollywood, Florida. It which was sent off to Ripley's Aquarium in Myrtle Beach, South Carolina, to be forever protected from predators.
Fast-forward to the beginning of August when the popular restaurant chain made another remarkable discovery. This time, another orange-colored lobster named Biscuit was saved. This orange-colored lobster was rescued from a Red Lobster in Meridian, Mississippi. A team from Ripley's Aquarium of the Smokies, located in Gatlinburg, Tennessee, came to the rescue and brought Biscuit to that facility, where it can live out the rest of its days in peace.