Make it rain on Mars: Just one weather experiment Axiom-2 astronauts will research while on the ISS
The Axiom-2 crew has 21 experiments and demonstrations to complete during the 10 day mission. They will test out new solar shields, try to reveal secrets of superbolt lightning and make it rain in microgravity.
No rest for the travel-weary. After a 16-hour flight from Florida to the International Space Station, now it is time to work. The crew has 21 experiments and projects to work on, in microgravity, in just 10 days.
"After 20 years of research, the ISS is now in its decade of results," tweeted NASA. "This is one-of-a-kind testing in a low Earth orbit."
The harsh space environment tests the reliability of materials. Microgravity in the ISS allows experiments to "reveal physical and chemical properties masked by Earth's gravity," NASA added.
AXIOM-2 LAUNCHED SUNDAY, CARRYING 4 ASTRONAUTS TO INTERNATIONAL SPACE STATION
Make it rain
The astronauts are tasked with no easy feats – one is to make it rain on Mars and the moon. Scientists have been searching for water on the red planet for at least half a decade. Future colonies will need the molecule that's so abundant on Earth to sustain the life of future colonies – so why not make it? 
Scientists start with a technology used on Earth called cloud seeding. FOX Weather highlighted an effort on Colorado's Front Range that has actually wrung 5% to 10% more snow out of storm clouds in Colorado.
Scientists seed the cloud or implant particles like silver iodide. Think of the tiny particles as magnets for water vapor, called ice nuclei. Supercooled liquid water, which is below the freezing point but not a crystal structure yet, gloms on onto the particle at warmer temperatures than they would in nature and "harvesting" more water in a cloud, according to the North American Weather Modification Council.
NASA PHOTOS MAY SHOW EVIDENCE OF ANCIENT WILD RIVER ON MARS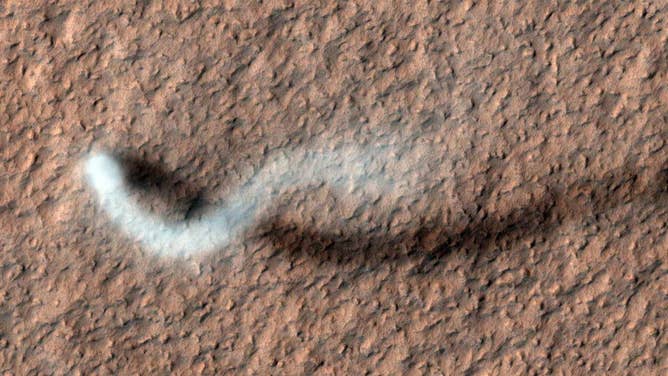 On the ISS, the water vapor meets the silver iodide in microgravity in a reaction chamber. The astronauts will closely watch where the water vapor condenses on the crystals to form water droplets.
"The outcome of this experiment will help develop weather control technology to generate artificial rain in future human settlements on the moon and Mars," Axiom said in a statement.
Learn mysteries of the 'superbolt': Extremely powerful lightning
With a view from 250 miles above Earth, scientists have a great vantage point to study and photograph thunderstorms and lightning that trigger transient luminant events (TLEs). Examples are sprites, blue jets and elves.
NASA WANTS YOUR HELP TO UNCOVER MYSTERIES BEHIND BRIGHT FLASHES IN THE SKY CALLED 'SPRITES'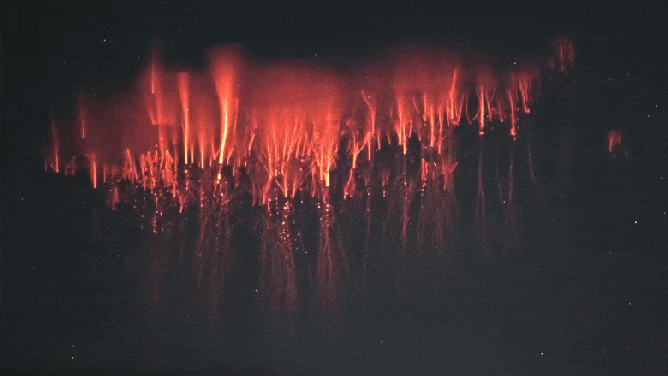 "These electrical phenomena occur at high altitudes above thunderstorms and are a marker of severe weather and extremely powerful lightning, called superbolts," said the Axiom statement.
Researchers will observe from the sky while more look from Earth's surface to monitor the interactions between the upper and lower atmosphere.
NASA says a superbolt is 1,000 times brighter than normal lightning. The bolts are so strong that they can't be reproduced in a lab. 
"We don't understand yet how superbolts can be so powerful," said Jean-François Ripoll, a senior scientist at the Commissariat à l'Energie Atomique in a NASA statement. "And unlike traditional lightning, which occurs more often in summer and over land, superbolts occur more often in winter and over water. We have no idea why." 
NEARLY 200 MILLION LIGHTNING STRIKES HIT THE US IN 2022. HOW MANY HIT YOUR STATE?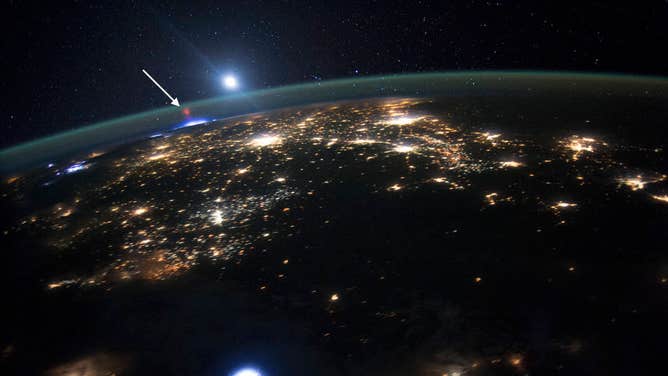 Shielding astronauts from solar weather
The crew will test a new cosmic shield too. The sun and other stars constantly send out cosmic radiation. Here on Earth, the EPA estimates that 5% of annual radiation exposure comes from cosmic radiation. Even flying in airplanes exposes us to more radiation as we have a less protective atmosphere.  The EPA says that a round trip, cross-country flight exposes you to radiation equivalent to a chest x-ray.
Astronauts and spacecraft are even beyond the Earth's protective magnetic shield and are blasted by even more radiation. Solar flares and coronal mass ejections from the sun, which give humans beautiful auroras, mean even more radiation for space travelers and equipment.