Space station open for business: Axiom-1 first of many private missions in new low-Earth orbit economy
Ax-1 is the first all-private astronaut mission to the ISS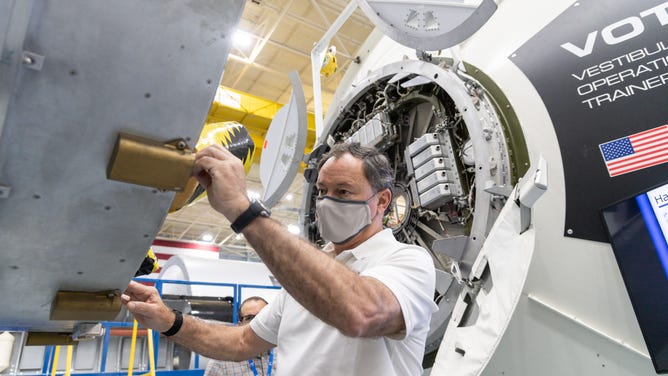 Since NASA opened up the International Space Station three years ago for marketing opportunities, the products visiting the orbiting laboratory have ranged from skincare to beer hops; however, the first all-private astronaut mission is set to jump-start a new kind of space business.
"This mission really represents a significant milestone for our plans for the development of a sustainable LEO economy," NASA Commercial Low-Earth Orbit manager Angela Hart said.
Four private citizens will become the first private astronaut mission to the ISS on Friday at 11:17 a.m. when SpaceX launches the crew on the Axiom mission-1 (Ax-1).
AXIOM-1 TIMELINE: FROM LAUNCH TO SPACE STATION DOCKING WHAT 4 CIVILIAN ASTRONAUTS WILL EXPERIENCE
Three wealthy investors -- American Larry Connor, Canadian Mark Pathy and Israeli Eytan Stibbe – bought the first seats through Axiom Space and trained for the last five months to prepare for their 10-day spaceflight. Axiom Space vice president and former NASA astronaut Michael López-Alegría will be the mission commander, marking his fifth spaceflight.
After launching from Kennedy Space Center and docking at the ISS less than 24 hours later, the crew will get to know the rules in space before diving into the research they have planned. 
Axiom Space Operations Director Derek Hassmann said the four visitors understand the implications for other people to be able to do the same.
"They want to be the best possible private astronauts that you can imagine, and they've trained in that way. They're very well-prepared," Hassmann said. "They understand where they fit in the big scheme of things. They want to be good houseguests."
López-Alegría will show Connor, Pathy and Stibbe the layout of the space station, which is the length of an American football field, and where they will eat and sleep. According to Dana Weigel, NASA's International Space Station Deputy Program Manager, those essential functions are where the differences between previous space tourists and the Ax-1 mission ends.
MEET THE MEN BEHIND THE ALL-PRIVATE MISSION TO THE ISS
"Their interest is usually in two different things: One is using our cupola as they can get great photos out of the window, and the other is using email," Weigel said of spaceflight participants who have previously flown up on the Russian Soyuz. "So really, our experience to date is really, really limited."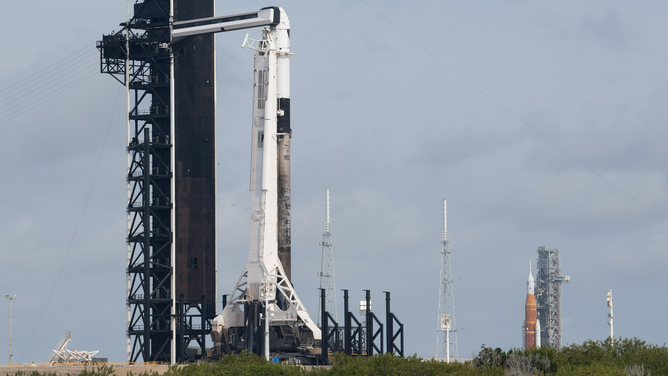 The Axiom-1 mission timeline was designed from scratch with Axiom, SpaceX and NASA teams working together to see how they could accommodate visitors to the space station. Private citizens have launched to the station before, but at most two at a time and for much shorter stays; this will be the first fully private mission for a lengthy stay.
"This is completely different," Weigel said. "So here we've got four people who will be living and working onboard our vehicle."
Axiom Space has plans to build its own space station, starting with modules attached to the ISS. Eventually, the private station will separate and function independently. Axiom already has another crew of customers lined up to fly for Axiom Mission-2, and Hart said NASA will open up the possibility for more private astronaut missions later this year. 
SpaceX Senior Director of human spaceflight Benji Reed said the company is honored to help Axiom in its endeavor to expand space access.
"This is all part of making humans a spacefaring civilization, of taking life on this planet across the stars eventually, and it gives me chills to think about," Reed said.
Because there will be 11 people living on the ISS at one time, NASA had to get creative with the sleeping situation.
Weigel said some would be in a "camp out" configuration. Another crew member will sleep in a Dragon spacecraft, one in an airlock, and two people will sleep in the Columbus module. 
New crew quarters were flown up last year when SpaceX began shuttling astronauts to the ISS, and one person will sleep inside those recent mobile quarters.
Hart said if Ax-1 is a success, she expects an outpouring of interest in the ISS.