Concerning report shows critically endangered North Atlantic right whale population continues to decline
Researcher says the North Atlantic right whale species can recover if we "stop injuring and killing them."
BOSTON - A concerning new report highlights a downward trend for the North Atlantic right whale population amid an ongoing human impact that hinders the critically endangered species' ability to survive and reproduce.
The report, which is released every October by the North Atlantic Right Whale Consortium, showed that the population of the endangered species was estimated to be 336 (+/- 14) in 2020. After additional data from the year was processed, the estimate was adjusted to 348, which was within the margin of error of the earlier estimate.
HOW TO WATCH FOX WEATHER ON TV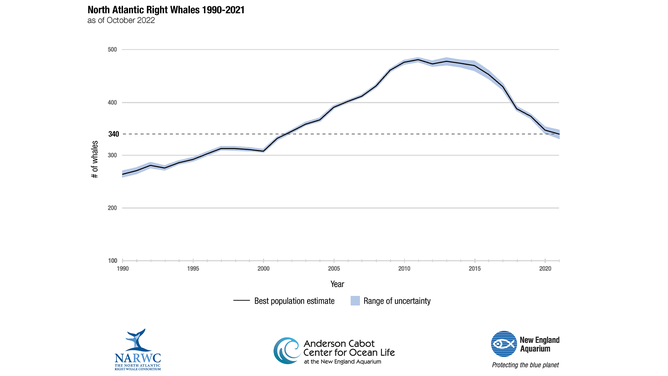 However, the report set to be released this week shows that researchers estimate the population number has fallen again - this time to 340 whales (+/- 7) in 2021. This shows that the current population estimate continues to decline, showing more whales died than were born in 2021.
"While it is certainly good to see the slope of the trajectory slow, the unfortunate reality is that the species continues to trend downward, with fewer than 350 individuals alive in 2021," said Heather Pettis, a research scientist at the New England Aquarium's Anderson Cabot Center for Ocean Life and executive administrator of the North Atlantic Right Whale Consortium.
According to a news release from the New England Aquarium, scientists are expressing concern about the 15 North Atlantic right whale calves that were born in 2022. That number is lower than the 18 born in 2021 and far below the average of 24 calves per year in the early 2000s.
In addition, there were no first-time mothers in the group, which supports a previous finding that shows a downward trend in the number of female North Atlantic right whales that are capable of breeding.
Smaller right whales
More research also found evidence of declining body size, partly due to the frequent entanglements in fishing gear. Scientists said that is concerning because the smaller right whales produce fewer calves.

DOZENS OF SICK AND INJURED WHALES ADDED TO ONGOING NORTH ATLANTIC MORTALITY EVENT
"With this new population estimate, the species number is now down to what it was around 2001," said Philip Hamilton, senior scientist at the New England Aquarium and the identification database curator for the Consortium. "In the ensuing decade, the population increased by 150 whales; that tells us this species can recover if we stop injuring and killing them."
The North Atlantic Right Whale Consortium will also release reports on right whale deaths, entanglements and vessel strikes.
Most right whale deaths are undocumented
According to those reports, there have been no detected right whale mortalities so far in 2022. While that is encouraging news, scientists said that an estimated two-thirds of deaths go undocumented.
WATCH: NEW JERSEY FISHERMEN HAVE A WHALE OF A TALE TO TELL AFTER NEARLY STRUCK BY MASSIVE HUMPBACKS
Right whale "Half Note" lost her calf, and there is reason to believe that that calf of a chronically entangled right whale named "Snow Cone" has not survived.
"There has been a lot of focus on the fact that no right whale mortalities have been detected in 2022, which is certainly a good thing," said Dr. Scott Kraus, chair of the Consortium. "While we can be cautiously optimistic about this, we know that only one-third of right whale deaths are observed, so it is likely that some whales have died this year that were not observed. Additionally, we continue to see unsustainable levels of human-caused injuries to right whales. A lot of work by many stakeholders has gone into protecting these whales, but the hard truth is it hasn't been enough."
According to the New England Aquarium, there have been five whales entangled in fishing gear, and at least five others are known to have interacted with fishing gear, with entanglement injuries severe enough to cause wounds and scars.
According to the aquarium, there was also one detected vessel strike on a right whale in 2022.