New NASA image shows dramatic rings, moons around planet Uranus
While rings were first imaged years ago by Voyager 2 and the Keck Observatory, this image from the James Webb Space Telescope shows the rings in unprecedented detail.
NASA released a new image of the planet Uranus Thursday containing stunning views of the planet's dusty rings, blue atmosphere and moons.
11 of 13 Uranus rings now photographed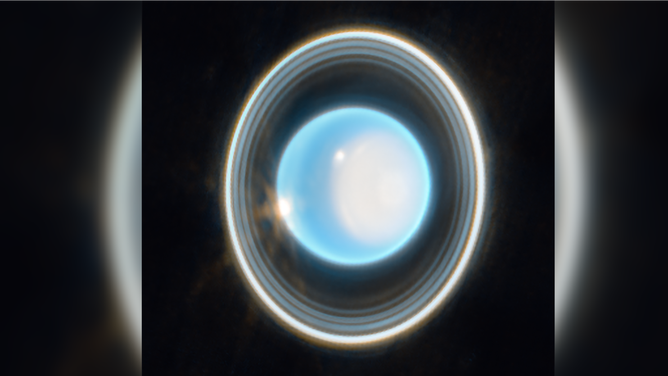 Captured by the James Webb Space Telescope, the new image highlights the ice giant's faint, dusty rings, appearing as slate and eggshell lines tracing around the planet.
Of Uranus' 13 known rings, 11 of them are visible in the new image. Some of the rings appear so bright in the image that they appear to merge into a larger ring.
NASA said nine of the rings are considered the main rings of the planet and two others are fainter, dusty rings. The two remaining rings are expected to be revealed by future images taken by Webb.
JAMES WEBB SPACE TELESCOPE CAPTURES RARELY SEEN VIEW OF SUPERNOVA START WITH EXPLOSION OF COSMIC DUST
New clues about the Uranus' atmosphere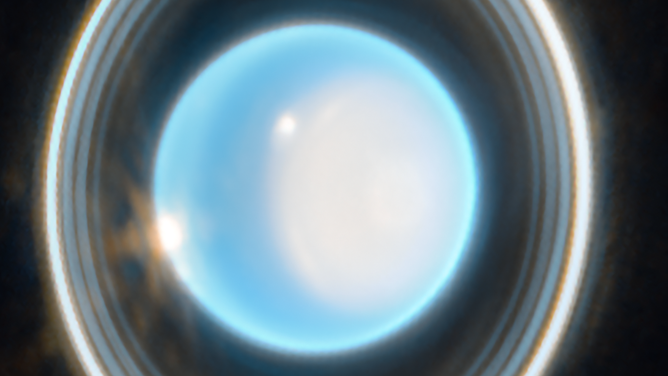 The new image also reveals a surprising aspect of the planet's atmosphere.
Appearing as a bright white region on the right side of the image, a polar cap is seen on Uranus. According to NASA, this polar cap is unique to the planet, as it seems to appear when that side of the planet experiences direct sunlight in the summer but disappears in the fall – with each season lasting more than 20 years.
In its latest image, Webb revealed that the polar cap has a subtle, enhanced brightening at its center. The cap also has white clouds tracing along its edges, which NASA said are connected to storm activity on the planet.
The planet itself is predominantly made of a hot, dense fluid of "icy" materials – namely, water, methane and ammonia – above a small rocky core, according to NASA.
The 27 moons of Uranus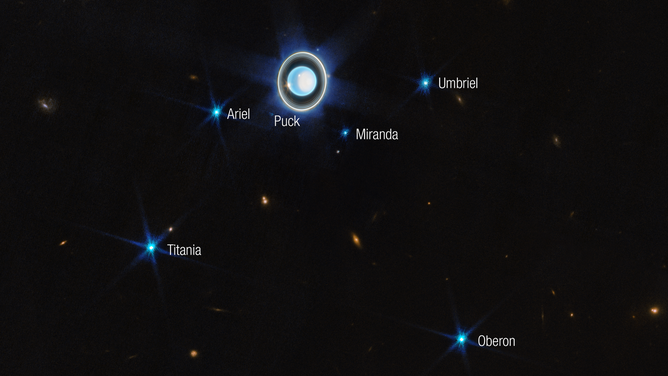 The 27 known moons around Uranus were also imaged by Webb.
While most of the moons are too small and faint to be visible in the new image, the six brightest moons can be seen. Named Ariel, Puck, Miranda, Umbriel, Titania and Oberon, the moons are named after Shakespearean characters.
URANUS DISCOVERED MORE THAN 240 YEARS AGO
How the image was captured
Webb's infrared image was taken by the telescope's Near-Infrared Camera (NIRCam), which combines data from two filters that appear in blue and orange. According to NASA, the exposure was short at just 12 minutes long, but it is merely the beginning of discovering more about the planet by using Webb.
"It is just the tip of the iceberg of what Webb can do when observing this mysterious planet," they said.