NASA prepares another attempt to test Artemis moon rocket
SLS rocket fueling begins June 20 at 7 a.m.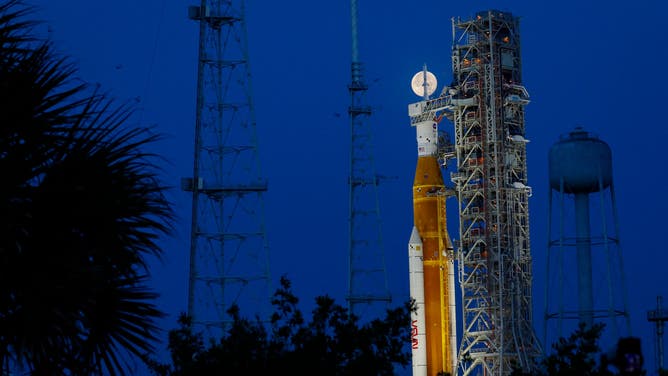 KENNEDY SPACE CENTER, Fla. – Teams at Kennedy Space Center in Florida are ready for another attempt to complete an essential test of NASA's mega moon rocket ahead of the first launch around the moon in over 50 years. 
Beginning this weekend, NASA plans to test the Space Launch System rocket and Orion spacecraft, running it through a countdown, including fueling the 32-story tall vehicle with 700,000 pounds of cryogenic fuel. The test is known as the wet dress rehearsal and was previously attempted four times in April, but after several hardware issues cropped up, the rocket was rolled back into the Vehicle Assembly Building for repairs.
HOW TO WATCH FOX WEATHER ON TV
Now, the moon rocket is back at Kennedy Space Center launchpad 39B to complete the critical launch rehearsal before its maiden voyage later this summer, known as the Artemis-1 flight. No astronauts will be on board the first launch of SLS, but the uncrewed flight around the moon will lay the groundwork for an astronaut mission, Artemis-2. 
During previous wet dress rehearsal attempts, the rocket was never entirely fueled due to issues that popped up during the countdown. 

Artemis-1 Launch Director Charlie Blackwell-Thompson said that many test objectives for the SLS were met during the previous attempts, and the team is now striving to close out all goals.
PHOTOS: NASA'S MASSIVE MOON ROCKET RISES OUT OF THICK FOG AT KENNEDY SPACE CENTER
"We hope to finish them off this time around and get through the cryogenic loading operations along with the terminal count ops. So that will be our goal this time," Blackwell-Thompson said. 
Here is the current timeline for the Wet Dress Rehearsal:
Teams will be ready to go on Saturday, June 18, at 5 p.m. for the call to stations.
Cryogenic propellant loading of the core stage begins Monday, June 20, at 7 a.m.
The upper stage of the rocket will be fueled after the core stage
T-zero is targeted for 2:40 p.m. Monday
At the T-minus 33-second mark, the countdown will stop, recycle and then continue the countdown to about 10 seconds. This is a built-in hold to test for an actual launch delay.
Asked what would happen if NASA cannot complete all objectives of the wet dress rehearsal, NASA associate administrator for Exploration Systems Development Mission Directorate Jim Free said it would depend on the issue. 
ASTRONAUTS TO GET A NEW SET OF WHEELS FOR RIDES TO LAUNCH PAD
"This is the first time we're flying this vehicle, and I think we need to understand everything we can before we commit to launch," Free said. "I think we'd have to look at the issue and say, 'Hey, is that something that's understandable.' But my first caution is to say, we're going to understand what every situation is and run at the ground before we would press to commit to launch."
This go around, launch teams will incorporate some improvements to fueling procedures they learned during previous attempts. 
"Every time we do this, we learn some things. And so we want to take advantage of that learning and incorporate it into our software and into our plans and our procedures," Blackwell-Thompson said. 
If the test is complete, NASA is expected to announce a launch date for Artemis-I. 
The agency will look for Earth and moon alignment that would allow the SLS rocket to complete its trans-lunar injection burn and a period when Orion would not be in darkness for more than 90 minutes to continue providing sunlight to its solar wings. The launch date also needs to be favorable for Orion to splash down in the Pacific Ocean when it returns. 
CLICK HERE TO GET THE FOX WEATHER UPDATE PODCAST
According to NASA, several launch windows this summer meet these criteria. From July 26 to Aug. 10 is the first available opportunity.
However, Free said that window would be difficult to make with the work ahead. The SLS will be rolled back to the VAB after the wet dress rehearsal and then back out to the launchpad again one final time before liftoff.
"If everything goes well on Monday, by the time we would get back to the VAB, do the work that we need to do, turn around and come back and be at the pad. That would be pretty tough," Free said. "I think we're probably looking at the latter part of August."
The next Artemis-1 launch availability runs from Aug. 23 to Sept. 6.