NASA's James Webb Space Telescope finds 'turbulent skies' with clouds, water molecules on exoplanet
Known as VHS 1256 b, the planet has an atmosphere that keeps churning, resulting in dramatic changes in the planet's brightness.
Using NASA's James Webb Space Telescope, researchers discovered silicate clouds in the atmosphere of a remote planet.
The planet is known as VHS 1256 b. According to NASA, it lies about 40 light-years away from Earth and orbits two stars over a 10,000-year period.
"VHS 1256 b is about four times farther from its stars than Pluto is from our sun, which makes it a great target for Webb," said team lead Brittany Miles of the University of Arizona. "That means the planet's light is not mixed with light from its stars."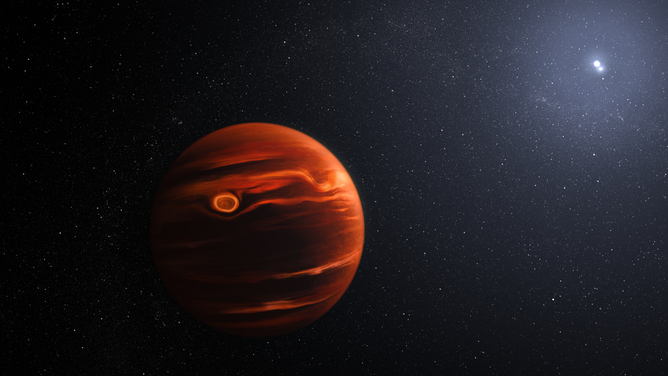 This is significant in that Miles and her team studied the atmosphere of VHS 1256 b by using two instruments aboard the James Webb Space Telescope that detect near- and mid-infrared light. 
Called the Near-Infrared Spectrograph (NIRSpec) and the Mid-Infrared Instrument (MIRI), the instruments allowed researchers to study the constantly churning atmosphere of VHS 1256 b by studying its light emissions.
WEBB CAPTURES RARELY SEEN VIEW OF SUPERNOVA START WITH EXPLOSION OF COSMIC DUST
By seeing the wavelengths of these emissions, they could identify the signature of silicate clouds. According to NASA, silicates are rock-forming minerals that comprise over 90% of the Earth's crust.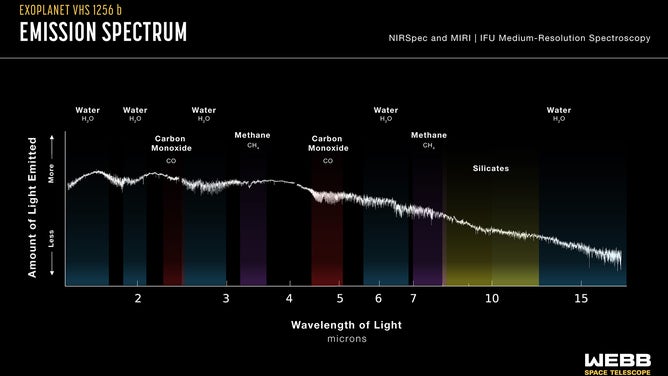 Researchers found that clouds made of large and small silicates were located at higher levels in the atmosphere.
"The finer silicate grains in its atmosphere may be more like tiny particles in smoke," noted co-author Beth Biller of the University of Edinburgh in Scotland. "The larger grains might be more like very hot, very small sand particles."
Where the silicate clouds are located, the temperatures rise to 1,500 degrees Fahrenheit.
SEE GALAXIES IN 'EXQUISITE DETAIL' IN IMAGES FROM NASA'S JAMES WEBB SPACE TELESCOPE
Scientists also identified signatures of water, methane and carbon monoxide, along with evidence of carbon dioxide in the atmosphere. NASA said the discovery includes the largest number of molecules ever identified simultaneously on a planet outside our solar system.
Because of its constant churn, the atmosphere causes the brightness of VHS 1256 b to undergo dramatic changes – so dramatic that it is the most variable planetary-mass object known to date, NASA said.
The dramatic changes in brightness, caused by its "turbulent" skies, are the result of the planet's relatively young age, according to NASA. VHS 1256 b is only 150 million years old – for comparison, Earth is about 4.5 billion years old.
As the planet ages and billions of years pass, NASA said the skies of VHS 1256 b may undergo a transformation. Due to the planet's distance from its suns, VHS 1256 b will become colder, causing its atmosphere to transition from cloudy to clear.