Monarch butterflies are now listed as endangered
Habitat destruction and climate change are pushing the beloved bug to the 'edge of collapse,' scientist says
North America's beloved beacon of spring and summer is now an endangered species.
The migratory monarch butterfly, known for its iconic orange and black coloring, was moved to endangered status Thursday on the International Union for Conservation of Nature's Red List.
Each year, the insects make a 2,500-mile journey from the wintering grounds in California and Mexico to their summer breeding grounds throughout the U.S. and Canada.
HOW TO WATCH FOX WEATHER ON YOUR TV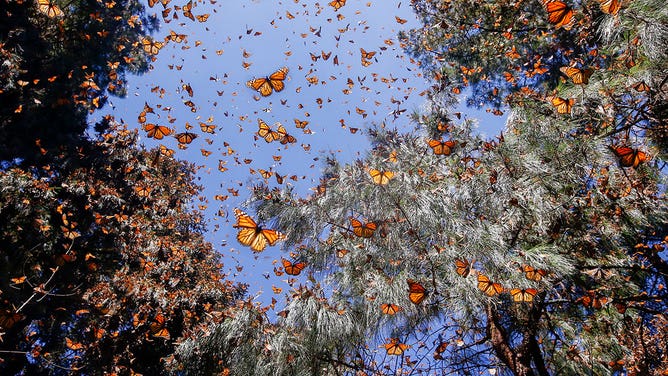 According to the IUCN, the western monarch population is at the greatest risk of extinction, decreasing from as many as 10 million to just 1,914 between the 1980s and 2021. The eastern population has shrunk by 84% between 1996 and 2014.
Scientists said deforestation has led to the loss of the butterfly's habitat. Pesticides and herbicides used in agriculture have also killed both the insects and the milkweed they eat.
HOPE FLOATS: WESTERN MONARCH BUTTERFLY COUNT YIELDS HIGHEST TOTAL IN 5 YEARS
Climate change has also led to significant stress on the species, according to scientists. Warmer temperatures are causing the butterflies to migrate earlier than when their food source is available. Droughts are also limiting the growth of milkweed.
"It is difficult to watch monarch butterflies and their extraordinary migration teeter on the edge of collapse, but there are signs of hope," Anna Walker, who led the IUCN assessment, said in a statement.

Walker said many people and organizations are working to save the pollinators.  
"From planting native milkweed and reducing pesticide use to supporting the protection of overwintering sites and contributing to community science, we all have a role to play in making sure this iconic insect makes a full recovery," Walker said.
According to the U.S. Department of Agriculture, the monarch is the only butterfly known to make a two-way migration, just as birds do.
Planting milkweed in your garden and avoiding the use of pesticides are just a couple of ways the National Wildlife Federation recommends people can help save monarch butterflies.
GET THE LATEST EPISODE OF THE FOX WEATHER UPDATE PODCAST
Be sure to download the FOX Weather app to track any storms in your area and receive potentially life-saving weather alerts issued by the National Weather Service. The free FOX Weather livestream is also available 24/7 on the website and app and on your favorite streaming platform. The FOX Weather Update podcast also provides weather information for the entire country.