Major greenhouse gases increased last year but methane hit record levels, report says
Carbon dioxide is by far the leading greenhouse gas that contributes to climate change, but scientists also closely monitor methane and nitrous oxide levels.
While levels of major greenhouse gases climbed last year, methane concentrations in the atmosphere hit record highs.
According to the Greenhouse Gas Bulletin released by the World Meteorological Organization on Wednesday, the atmospheric concentrations of all three main greenhouse gases – carbon dioxide (CO2), methane (CH4) and nitrous oxide (N2O) – increased. These gases cause climate change by trapping heat in the atmosphere, which raises the average temperature of the planet.
Scientists said carbon dioxide, which contributes to 66% of climate change, climbed to 149% of pre-industrial levels in 2021. Scientists said this means that CO2 levels have rebounded from the 2020 reduction that was caused by COVID-19 restrictions.
THESE 6 AIR POLLUTANTS CAN CAUSE PROBLEMS FOR YOUR HEALTH
Globally averaged CO2 mole fraction from 1984 to 2021. The red line is the monthly mean with the seasonal variation removed; the blue dots and blue line in depict the monthly averages.
(WMO)
---
Levels of methane, which accounts for about 16% of climate change, saw the biggest increases ever recorded during the past two years, according to the report. Those records date back to 1983. There has been an accelerating rate of increases in CH4 since 2007, scientists said.
WHY METHANE HAS TAKEN CENTER STAGE IN CLIMATE CHANGE PLANS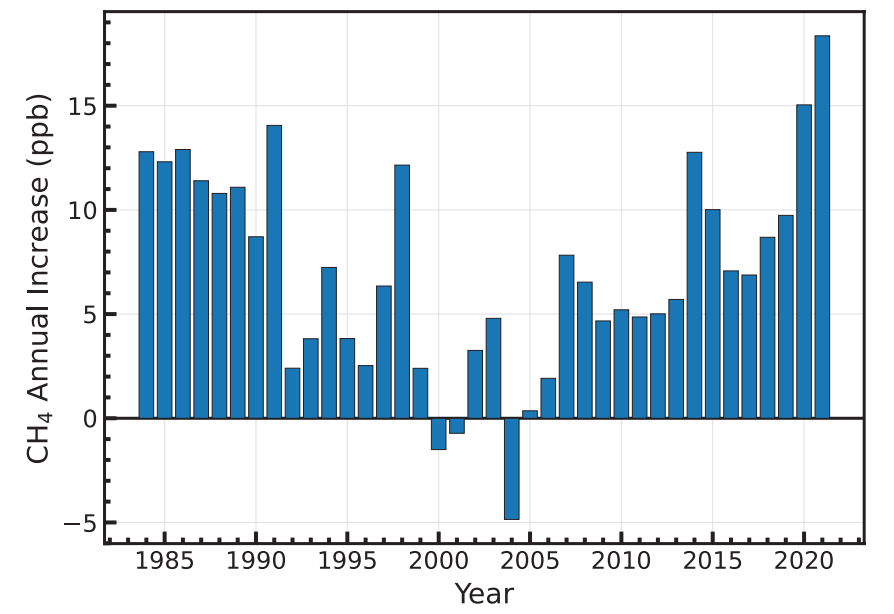 Within-year increases of global average atmospheric mehtane measured by the WMO GAW network over the period 1983–2021.
(WMO)
---
Nitrous oxide is the third most important greenhouse gas, contributing to 7% of climate change. Levels of N2O increased in 2021 over the previous year, according to the report. Scientists said the rate of increase was higher than the average annual growth rate for the past decade.
MAGIC MUSHROOMS: SCIENTIST SAYS FUNGI COULD REVOLUTIONIZE CLIMATE CHANGE FIGHT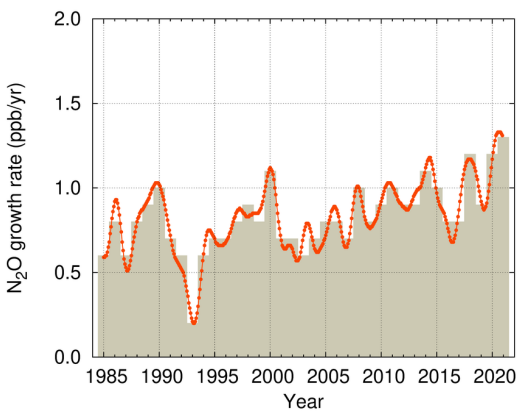 Globally averaged N2O growth rate from 1984 to 2021. Increases in successive annual means are shown as the shaded columns.
(WMO)
---
What's causing the increases?
The bulk of carbon dioxide in the atmosphere comes from the burning of fossil fuels and cement production, according to the report. Scientists said there is also growing concern that so-called "sinks" – land and oceans that absorb CO2 and keep it from entering the atmosphere – are losing their ability to act as a buffer against climate change.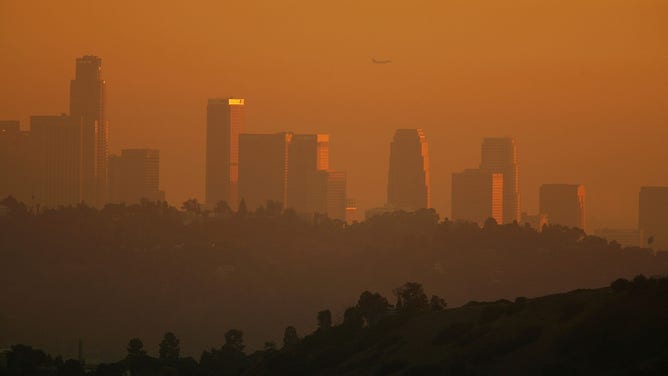 Scientists said they are still trying to determine the driving force behind methane emissions, but wetlands and rice paddies could be behind most of them. Those regions are where warm weather leads to more decomposition of organic matter, which releases methane, according to scientists.
Nitrous oxide emissions are caused by both natural sources and human-driven sources, scientists said. These include oceans, soils, burning of vegetation, fertilizer use and various industrial processes.