'You never think it's going to happen': Drones patrol Long Island beaches after shark attack
An unnamed lifeguard was taken to a hospital to be treated with stitches and is expected to recover
SUFFOLK COUNTY, N.Y. – Two beaches on Long Island reopened for swimming Monday morning after being closed over the Fourth of July weekend when a shark attacked a lifeguard.
HOW TO WATCH FOX WEATHER ON TV
Lifeguards at Smith Point County Park and Cupsogue Beach County Park began their shifts early on Independence Day to scan the water for signs of sharks lurking beneath the surface, Suffolk County spokesperson Nicole Russo said.
FOX 5 New York reported that lifeguards on paddleboards patrolled the shoreline while also using remote-controlled drones to look at the water from the air.
STAY SHARK SMART: WHAT TO KNOW WHEN YOU HEAD INTO THE WATER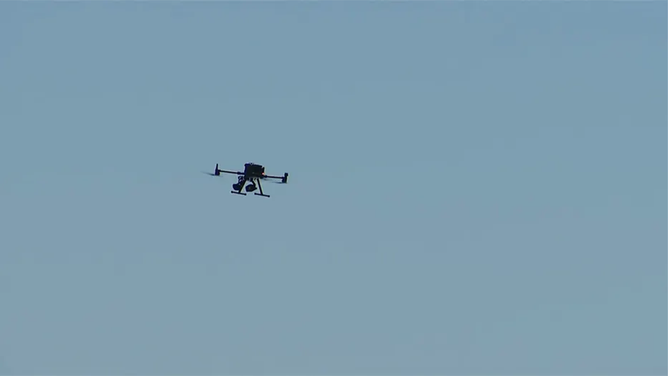 That was in response to a shark that attacked a lifeguard during a training exercise at Smith County Beach on Sunday morning. The shark bit the lifeguard in the chest and hand, according to FOX 5. 
That unnamed lifeguard was taken to a hospital to be treated with stitches and is expected to recover.
"As a lifeguard, you hear stories in Australia and California, and you never think it's going to happen to you until it does," Suffolk County chief of lifeguards Kevin Kolar told FOX 5. "You don't know how you're going to react."
SHARK SPOTTERS: SCIENTISTS ASK BEACHGOERS TO HELP KEEP TRACK OF SHARKS
Officials said murky water, which is common at those beaches, can make spotting sharks more difficult.
But they reiterated that shark attacks are extremely rare, so they don't want to cause a panic or keep anyone out of the water this summer.
CLICK HERE TO GET THE FOX WEATHER UPDATE PODCAST
But if you want to avoid a potential encounter with a shark, keep an eye out for schools of fish, lifeguards said. You should also avoid that area or get out of the water altogether.
"We never had an incident like this occur," County Executive Steve Bellone said on Sunday. "Hopefully, we never will again."