How a Japanese billionaire spent his 2 weeks in space
Yusaku Maezawa delivered Uber Eats, created an NFT and documented his journey on YouTube.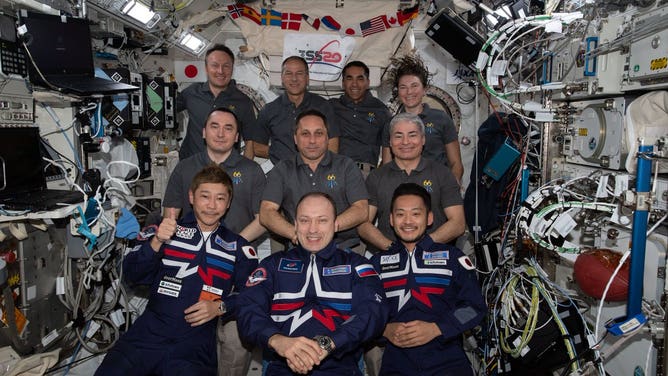 A Japanese billionaire is set to return home after spending nearly two weeks on the International Space Station with future plans to orbit the moon.
A few years ago, Yusaku Maezawa, 46, announced he purchased a ride on SpaceX's Starship for himself and eight others to orbit the moon. The Start Today founder will have to wait a few years for that spaceflight because SpaceX's spaceship is still under development. In the meantime, he purchased a ride to low-Earth orbit from Space Adventures.
Space Adventures arranges spaceflights for paying customers partnering with the Russian Space Agency, Roscosmos, and soon, SpaceX. The launch of Maezawa and his manager, Yozo Hirano, marked the first for the company since 2011. 
According to Space Adventure's website, it has also arranged for a space tourist to conduct a spacewalk in 2023 as part of a Russian Soyuz mission to the International Space Station. It's also working on another spaceflight to moo orbit.
MORE SPACE: William Shatner, Michael Strahan among last to receive FAA commercial astronaut wings
After training in Star City, Russia, Maezawa, Hirano and Roscosmos cosmonaut Alexander Misurkin launched Dec. 8 from Kazakhstan on the Soyuz rocket. 
After 12-days in space, the trio will undock and return home Sunday night. 
Maezawa kept busy during his time in orbit, documenting his journey from start to finish through social media. Space Adventures said he made a list of 100 things to do in space, including flying paper airplanes and playing badminton with a cosmonaut.
Maezawa, an art collector, took his first photo from the space station before even getting out of the Soyuz spacecraft. 
"As we were about to dock into the ISS, I saw this amazing view from the window of the Soyuz, right next to my seat," he tweeted. "I couldn't help but say 'Wow!' and I straight away took out my iPhone to take this photo. I mean, isn't it amazing!? This is real!!!"
He's since turned it into a piece of digital art as a non-fungible token or NFT.
"The photo was taken from the left window of Soyuz MS-20," according to the ArtToday NFT site. "In the photo, you can see the small islands of the Caribbean Sea including the landmass of the Dominican Republic."
Founder of Japanese fashion site Zozotown, Maezawa brought some choice outfits with him and showed his YouTube channel how to stay fashionable on the space station. His other videos include brushing his teeth and "nature calling in space."
At the close of his stay on the ISS, the billionaire is approaching 1 million followers on YouTube.
He also delivered the first Uber Eats order in space. Calling Maezawa a "delivery superman," the company announced he hand-delivered canned Japanese dishes to the astronauts on the space station. 
After traveling 248 miles, the first Uber Eats delivery in space was made on Dec. 11, according to a news release. The dishes included boiled mackerel in miso, beef bowl cooked in sweet sauce, simmered chicken with bamboo shoots and braised pork.
RELATED: SpaceX prepares for trifecta of coast-to-coast launches to end the year
"We're proud to serve the astronauts at the International Space Station. Yusaku Maezawa gets a thumbs up on this delivery, even though it took a bit longer than the usual 30 minutes to arrive," Uber CEO Dara Khosrowshahi said.
Maezawa's moon mission with SpaceX, known as Dear Moon, is slated for 2023. Competition organizers are still deciding which eight people will fly with him around the moon.
According to the mission website, dearmoon.earth, more than 1 million people from 249 counties applied to go on the orbital trip around the moon. Final crew selection is still ongoing.