William Shatner, Michael Strahan among last to receive FAA commercial astronaut wings
Six people launching on the New Shepard rocket, including Super Bowl Champion Michael Strahan, will likely be the final people who receive the FAA wings.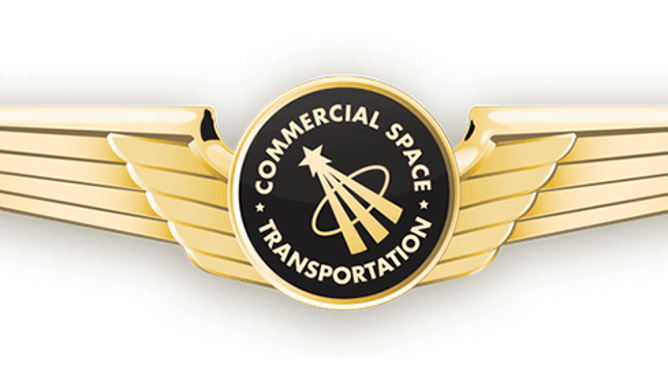 The Federal Aviation Administration announced it will stop handing out Commercial Space Astronaut Wings beginning in 2022, just as space tourists have started regularly flying with companies like Blue Origin and SpaceX.
The agency said in a news release it will still recognize the individuals who fly 50 miles or more above Earth on its FAA human spaceflight website but will no longer provide physical wings to those space flyers. 
The Wings program was created by the late aerospace trailblazer Patti Grace Smith, the FAA Office of Commercial Space Transportation's former associate administrator. There is also a scholarship in honor of Smith's legacy, designed to help Black undergrads succeed in aerospace careers. 
"Its purpose was to recognize pilots and flight crew who furthered the FAA's mission to promote the development of vehicles designed to carry humans into space," the FAA release said of the Wings. "With three commercial space companies now licensed by the FAA to fly spaceflight participants, and companies conducting operations, her vision is largely fulfilled."
Blue Origin's NS-19 spaceflight is scheduled for Saturday at 8:45 a.m. CT from Texas. The six passengers launching on the New Shepard rocket will likely be the final people who receive the FAA wings. Super Bowl Champion and journalist Michael Strahan and Alan Shepard's daughter, Laura Churchley Shepard, 74, will be on NS-19 as guests of Blue Origin. 
MORE COVERAGE: Alan Shepard's daughter ready to blast off with Blue Origin, carrying on his legacy
Blue Origin and Virgin Galactic also provide their passengers with their version of astronaut wings. Blue Origin's pin is in the letter A shape and features the company's feather logo with a tiny blue sapphire. 
There are 24 people currently on the FAA human spaceflight list; 15 people were added this past year.
Names with a plus sign indicate they have flown above the FAA-recognized boundary of space more than once. Those include three Virgin Galactic employees and Scaled Composites test pilot Mike Melvill.
In July, Virgin Galactic Chief Astronaut Instructor Beth Moses wore her FAA wings on her second spaceflight in SpaceShipTwo.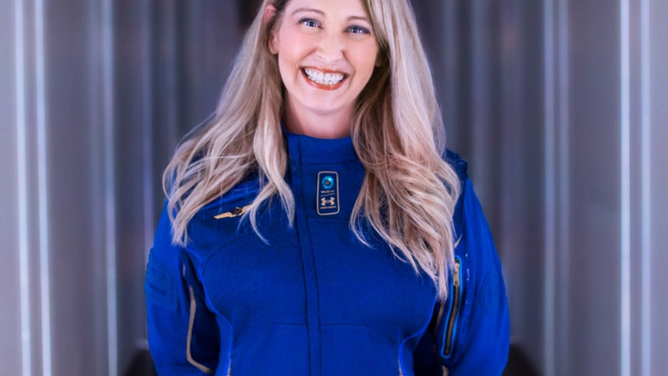 Beth Moses, Chief Astronaut Instructor at Virgin Galactic. Moses will serve as cabin lead and test director on Unity 22, overseeing the safe and efficient execution of the test flight objectives.
The latest round of people to receive the FAA commercial astronauts wings were the passengers on New Shepard's second human spaceflight, actor William Shatner, paying customers Glen de Vries and Chris Boshuizen and Blue Origin executive Audrey Powers. 
De Vries died about a month after his spaceflight in a small airplane crash. 
The list also includes Scaled Composites test pilot Michael Alsbury, who died during a 2014 test flight of SpaceShipOne.
Billionaires Jeff Bezos and Sir Richard Branson also received their wings from the FAA after flying on their independent spacecraft nine days apart this year.
The SpaceX Inspiration 4 crew are the only people on FAA's list to have reached orbital space. That will change early next year when SpaceX launches the Axiom-1 mission to the International Space Station with three paying customers.
"The U.S. commercial human spaceflight industry has come a long way from conducting test flights to launching paying customers into space," FAA Associate Administrator Wayne Monteith said in a release. "The Astronaut Wings program, created in 2004, served its original purpose to bring additional attention to this exciting endeavor. Now it's time to offer recognition to a larger group of adventurers daring to go to space."
The FAA said it plans to award 15 more pairs of wings to the people who flew this year above 50 miles.