SpaceX prepares for trifecta of coast-to-coast launches to end the year
SpaceX is launching Starlink satellites, supplies to the ISS and a Turkish communications satellite before 2021 ends.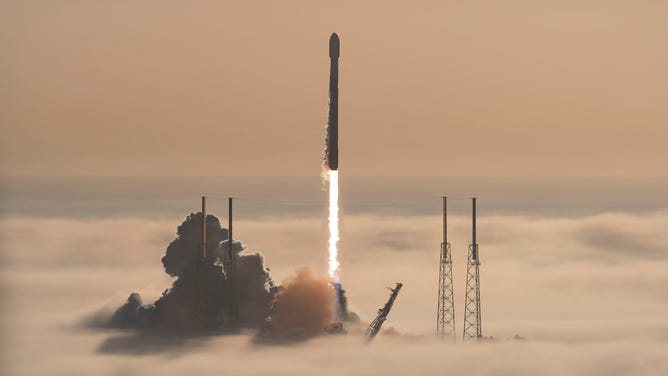 Three Falcon 9 rockets are scheduled to liftoff in less than a week, capping off a busy year for Elon Musk's company SpaceX.
Before Christmas, SpaceX has three launches planned: sending up another round of Starlink satellites, delivering supplies to the space station and launching a Turkish communications satellite.
SpaceX is planning to launch 52 more Starlink internet satellites Saturday from California. 
According to Astronomer Jonathan McDowell's Starlink tracking website, SpaceX is approaching nearly 2,000 Starlink satellite launches since it began the campaign to provide space-based internet more than three years ago. About 1,500 satellites are operational, according to McDowell.
SpaceX has said the goal of Starlink is to provide internet to even remote areas of the globe. It's been over a year since people first began using Starlink. 
The Pikangikum First Nation in northwestern Ontario was one of those remote areas. FSET CEO David Brown said the service had changed the lives of many people in Pikangikum.
"They were struggling with the ability to connect, to communicate, to access resources, to do business … a lot of the things we took for granted and take for granted that people don't realize what a quality of life change it is to have that access to broadband," Brown said. 
More Starlink satellites are poised for liftoff on a Falcon 9 rocket from Vandenberg Air Force Base in California at 4:41 a.m. PT. If the launch delays, there is a backup window on Sunday, according to SpaceX.
There are no current weather concerns for the overnight California launch. 
Across the country, two other Falcon 9 rockets are awaiting launch from Florida's east coast. 
Another Falcon 9 is scheduled to launch later on Saturday or early Sunday morning from Florida with a Turkish communication satellite. The launch from Cape Canaveral Space Force Station is scheduled for liftoff between 10:58 p.m. and 12:58 a.m. ET.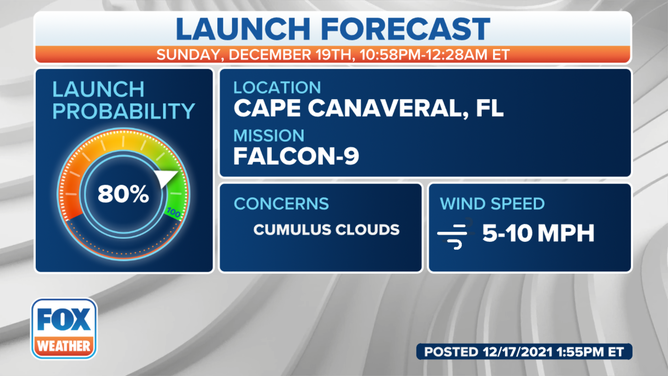 Forecasters with the 45th Weather Squadron give the mission an 80% chance of good weather for liftoff. The main concern on launch day will be cloud cover with the possibility of rain showers due to a frontal boundary approaching the northwest Saturday.
Then on Tuesday, the company's Cargo Dragon spacecraft is making a final delivery run to the International Space Station this year with supplies and science. A Falcon 9 is scheduled to launch on Dec. 21 from Kennedy Space Center launchpad 39A at 5:06 a.m. 
CRS-24 will mark the 24th mission for SpaceX as part of NASA's cargo resupply services program. Cargo Dragon will be carrying 6,500 pounds of supplies, including science investigations conducted in space.
These dates and times could change due to launch delays caused by weather or technical issues. However, SpaceX does have some wiggle room to make all three happen before the New Year.